David DeCoteau on
Crash
No, it's not this Crash. Or this one either! It's Charles Band's seldom seen 1977 haunted car movie with an all-star drive-in movie cast and plenty of smashing, crashing car wrecks, all for under $100K and beating the big-studio version,THE CAR, out by several months. As an added bonus, after the commentary Dave Decoteau takes us on a "making-of" trip behind the scenes to several locations used in the film, sort of a DVD extra that's not on the recent DVD release from Full Moon.
About David DeCoteau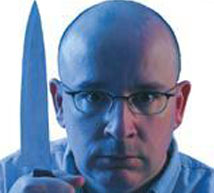 David DeCoteau has worked professionally in the movie business since he was 18 years old. He got his start through a generous offer from movie legend Roger Corman who hired him in 1980 as a production assistant at New World Pictures. In 1986, David directed and produced his first feature film for another generous film legend, Charles Band. David has gone on to produce and direct more than sixty motion pictures over the past twenty five years. He resides in British Columbia, Canada. Learn more about David and his work at Rapidheart.