David DeCoteau on
Knock 'Em Dead
The venerable Mirror Crack'd format gets a workout in Dave DeCoteau's self-described "bitchy and raunchy" mystery comedy, in which three rival actresses who hate each other reunite for a horror movie sequel only to find their crew is being killed off by a mysterious figure who duplicates the murders in the script.
About David DeCoteau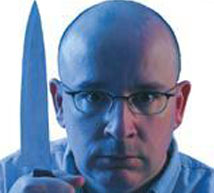 David DeCoteau has worked professionally in the movie business since he was 18 years old. He got his start through a generous offer from movie legend Roger Corman who hired him in 1980 as a production assistant at New World Pictures. In 1986, David directed and produced his first feature film for another generous film legend, Charles Band. David has gone on to produce and direct more than sixty motion pictures over the past twenty five years. He resides in British Columbia, Canada. Learn more about David and his work at Rapidheart.