David DeCoteau on
Crazy Mama
"Oscar-winner Cloris Leachman" falls face first into a wedding cake in this zippy trailer for Jonathan Demme's second directorial outing about a 1950s family crime spree. Believe it or not, this was originally conceived as a time-travel sequel to Big Bad Mama with Shirley Clarke directing!
About David DeCoteau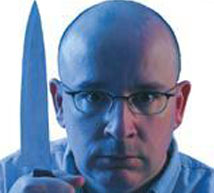 David DeCoteau has worked professionally in the movie business since he was 18 years old. He got his start through a generous offer from movie legend Roger Corman who hired him in 1980 as a production assistant at New World Pictures. In 1986, David directed and produced his first feature film for another generous film legend, Charles Band. David has gone on to produce and direct more than sixty motion pictures over the past twenty five years. He resides in British Columbia, Canada. Learn more about David and his work at Rapidheart.