David DeCoteau on
The Mirror Crack'd
"Queen of Crime" Agatha Christie was not only the world's best-selling mystery writer, but the top-selling author of all time, her sales ranking behind only Shakespeare and The Bible. Many of her works were adapted to well over a hundred movies and TV plays starting in 1928. This 1980 Miss Jane Marple mystery The Mirror Crack'd was preceded by a series of popular Marple films featuring Margaret Rutherford, but here she's played by Angela Lansbury in a dry run for her popular TV sleuth series Murder She Wrote.
About David DeCoteau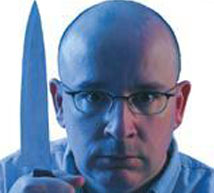 David DeCoteau has worked professionally in the movie business since he was 18 years old. He got his start through a generous offer from movie legend Roger Corman who hired him in 1980 as a production assistant at New World Pictures. In 1986, David directed and produced his first feature film for another generous film legend, Charles Band. David has gone on to produce and direct more than sixty motion pictures over the past twenty five years. He resides in British Columbia, Canada. Learn more about David and his work at Rapidheart.