David DeCoteau on
Ten Little Indians
Director George Pollack shepherded four Agatha Christie thrillers into theaters between 1961 and 1964, each starring Margaret Rutherford as Miss Marple and each a model of lighthearted moviemaking deftly mixing comedy and chills. In 1965, Pollack took an international cast including Hugh O'Brian, Shirley Eaton and Stanley Holloway to Ireland where he tackled Ten LIttle Indians, a remake of another Christie-based film, And Then There Were None. The eccentric presence of Rutherford is missed but there's still fun to be had, particularly in Christopher Lee's uncredited performance as a disembodied mystery man and a William Castle-like gimmick called the "Whodunit Minute" in which the movie comes to a halt in prelude to the reveal of the killer.
About David DeCoteau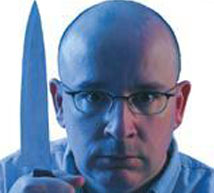 David DeCoteau has worked professionally in the movie business since he was 18 years old. He got his start through a generous offer from movie legend Roger Corman who hired him in 1980 as a production assistant at New World Pictures. In 1986, David directed and produced his first feature film for another generous film legend, Charles Band. David has gone on to produce and direct more than sixty motion pictures over the past twenty five years. He resides in British Columbia, Canada. Learn more about David and his work at Rapidheart.