Larry Karaszewski on
The Last of Sheila
Stephen Sondheim and Anthony Perkins deservedly won the mystery writers' Edgar Award for their witty screenplay to this clever 1973 puzzler based on a series of actual real-life scavenger hunts they organized for their friends. An all-star cast plays an amusing assortment of sybaritic showbiz types whose dark sides get darker as the whodunit progresses.
About Larry Karaszewski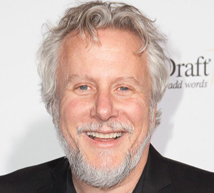 Larry Karaszewski with his writing/directing/producing partner Scott Alexander are best known for writing unusual true stories. They created the hit television miniseries "The People v O.J. Simpson: American Crime Story" for which they won the Golden Globe, the Emmy, the PGA and WGA Awards. They also won the Golden Globe and WGA Award for the film "The People vs Larry Flynt." Other movies include the Oscar winning "Ed Wood" (WGA nomination), "Big Eyes" (Independent Spirit nomination), "Auto Focus" and "Man on the Moon." The team has been inducted into the Final Draft Screenwriting Hall of Fame. Larry is an active Los Angeles cineaste hosting a long running film series for the American Cinematheque. He is also a Governor for writers branch of the Academy of Motion Pictures Arts and Sciences.