David DeCoteau on
Dirty Mary Crazy Larry
Director John Hough made this eccentrically plotted action flick at the height of the American moviegoer's passion for rowdy car chase movies. A Nascar take on Bonnie and Clyde, Peter Fonda stars as a hot-rodder who knocks over a supermarket in order to fund his racing team. Susan George plays the good-time girl who goes along for the ride and Vic Morrow co-stars as the single-minded sheriff in hot pursuit. The film was a solid success bringing in over 12 million dollars in 1974 (most likely collected from drive-in venues).
About David DeCoteau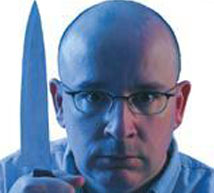 David DeCoteau has worked professionally in the movie business since he was 18 years old. He got his start through a generous offer from movie legend Roger Corman who hired him in 1980 as a production assistant at New World Pictures. In 1986, David directed and produced his first feature film for another generous film legend, Charles Band. David has gone on to produce and direct more than sixty motion pictures over the past twenty five years. He resides in British Columbia, Canada. Learn more about David and his work at Rapidheart.