Michael Schlesinger on
Dark Shadows
Tim Burton's luxurious film adaptation of the threadbare cult television show hits a lot of the right notes, particularly in the casting of Eva Green as the undead Angelique and Rick Heinrichs' sumptuous production design. Johnny Depp has some inspired moments as the anti-heroic bloodsucker Barnabas while the Real McCoy, Jonathan Frid, makes a brief appearance along with Vampire Emeritus Christopher Lee.
About Michael Schlesinger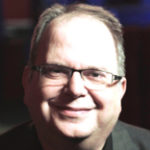 Michael Schlesinger is widely acknowledged as the dean of classic film distributors, having worked for more than 25 years at MGM, Paramount and Sony, keeping hundreds of vintage movies in theatrical release (and later DVD), and instigating the restoration of many more, including the completion of Orson Welles' 1942 documentary It's All True some 50 years later. Behind the camera, he wrote and produced the American version of Godzilla 2000, co-produced such Larry Blamire parodies as The Lost Skeleton Returns Again and Dark and Stormy Night, and has written, produced and directed several short films featuring the faux-1930s comedy team of Biffle and Shooster. No power on Earth will ever convince him that It's A Mad Mad Mad Mad World is not the Greatest. Movie. Ever.