The Eurocrypt of Christopher Lee 2
Collector's box on the horizon: Severin assembles hours of video extras and text illumination for another group of films featuring favorite actor Christopher Lee. The roundup of titles bookends his career as a screen vampire, with one of Lee's earliest vampire roles and also his last turn as Count Dracula. Looming large on the academic side of Severin's research are experts and biographers Kat Ellinger, Barry Forshaw, Troy Howarth, Kim Newman, Nathaniel Thompson and Jonathan Rigby, who also contributes a hundred-page book.

The Eurocrypt of Christopher Lee Collection 2
Blu-ray
Uncle Was a Vampire, The Secret of the Red Orchid, Dark Places, Dracula and Son, Murder Story
Severin Films
1959-1989 / Color / 2:39 widescreen, 1:66 widescreen, 1:85 widescreen
Street Date July 26, 2022
Available from Severin Films / 134.95
Starring alphabetically: Marie Hélène Breillat, Catherine Breillat, Joan Collins, Robert Hardy, Adrian Hoven, Klaus Kinski, Sylva Koscina, Herbert Lom, Susanne Loret, Jean Marsh, Marisa Mell, Bernard Menez, Renato Rascel
and Christopher Lee
Directed by Steno, Helmuth Ashley, Don Sharp, Édouard Molinaro, Eddie Arno & Markus Innocenti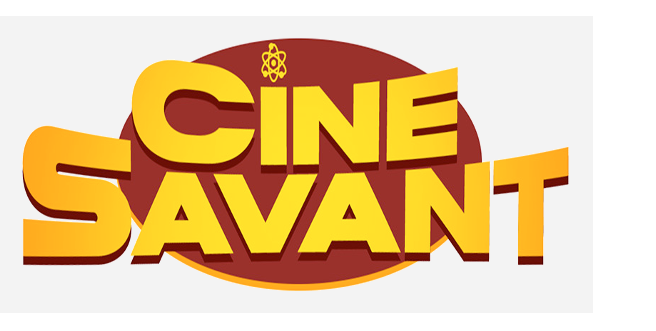 Last July, the first The Eurocrypt of Christopher Lee Collection made a big dent in horror fan bank accounts. Rather than release these lesser-known Chris Lee films in piecemeal fashion, Severin Films applied their tried-and-true Monster Box formula, as had been successful with Al Adamson, Umberto Lenzi, and Andy Milligan. The label gathered in gift packaging rare films accompanied by the best extras available, with an extra soundtrack CD. Charlie Largent's review more than did the set justice.
A year later comes The Eurocrypt of Christopher Lee Collection 2 with five more full features. A couple of them include alternate versions, and a bonus feature is on the list as well.
Hailing from Italy, Germany, France and Holland, the shows stress Lee's performing ease with international productions. Three of the films are beautifully remastered and one represents an unofficial U.S. premiere, subtitled in its original form. The list of extras below shows the concentration of labor applied to the set — just organizing the commentaries and menus must have been a long and complicated process.

In the Fall '73 issue of Cinefantastique magazine, long before the Internet made such research easy, Robert Parish and Michael R. Pitts wrote a long career article naming dozens of Chris Lee pictures we'd never heard of, some with multiple titles, made all over Europe. It's taken us until now to confirm by direct observation that Lee was indeed fluent in several languages. That surely made him even more attractive to producers on the continent.
There were far too many titles to fully ingest — the actor must have been perpetually in transit between assignments. Many may have been one and two-day guest bits. Did you know that Christopher Lee once performed (briefly) in a film directed by Edgar G. Ulmer?  It's 1952's Babes in Bagdad, filmed in Spain. Both of those artists worked everywhere, so I guess we shouldn't be surprised that they'd get together at some point. When the Cinefantastique article appeared Lee still had over forty years of non-stop performing ahead of him. The Eurocrypt of Christopher Lee Collection 2 digs into five worthy titles, three of which were interesting surprises for this reviewer.
---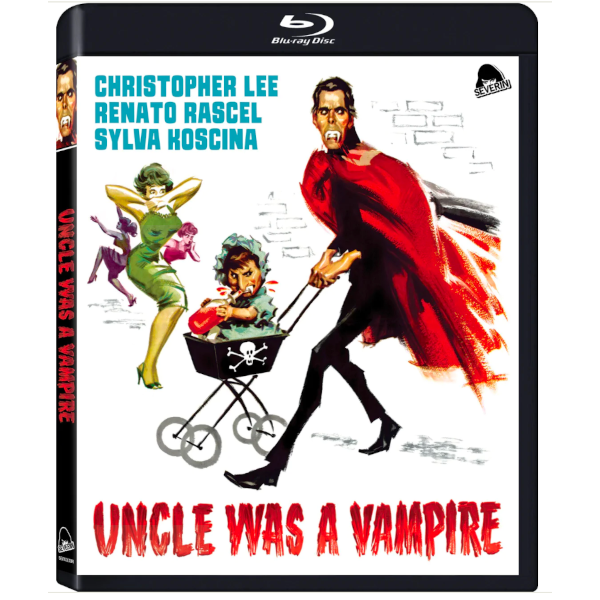 Uncle Was a Vampire
The first disc gives us a film we've never before seen intact, in its original Italian. Christopher Lee had barely hung up his Dracula cape for Hammer's Dracula than he was invited to sunny Italy to wax vampiric for a Renato Rascel comedy. A censor-approved sex farce (no nudity, no sex, nothing really), Tempi duri per i vampiri ('Hard Times for Vampires') is fun middlebrow fare, with the not-bad comic Rascel sharing the screen with a number of sexy actresses (Sylva Koscina, Susanne Loret). Guest star Christopher Lee's commanding presence anchors the thin plot. Producer Mario Cecchi Gori's offer must have sounded good to an actor wishing not to be known only for horror: how could Lee be typed as a vampire count after spoofing himself?
The noble heritage of Osvaldo Lambertenghi (Renato Rascel) doesn't mean much when hard times force him to work as a bellboy in a seaside hotel. Worse, the attractive hotel was once his family estate, 'Castle Lambertenghi.' Osvaldo is trying to make good to impress the innocent, sweet Carla (Sylva Koscina) when an unwelcome guest arrives packed in his own coffin. Having fled Germany when his castle was dynamited to make a military base, Baron Roderico da Frankfurten (Lee) goes on a biting spree as soon as he's unpacked. The Baron's victims include two playgirls busy avoiding the advances of two young men — and Osvaldo himself. Now a vampire, Osvaldo makes an amusingly impish bloodsucker, creeping around the busy hotel looking for victims of his own.
Pretty to look at, occasionally amusing and completely dispensible, Uncle Was a Vampire is a lively example of an aimless Italo comedy, the kind with racy posters but mostly chaste content. We basically like Renato Rascel's sad sack- Lou Costello type, which is more than can be said for the slapstick duo Franco Franchi and Ciccio Ingrassia. Christopher Lee's German Baron is Hammer's Dracula with a rushed hair and makeup job — his face remains bloodlessly pale. As Lee is playing a straight vampire man, he doesn't get involved in the physical slapstick. But he does contribute a good double-take or two. We can imagine the actor deciding to keep his part seriously, giving the Italian comic and the beautiful women something to react to. Instead of trashing his own horror image, Lee comes off as a good sport.
True, this is in no way a career high point. In the same year Lee would knock 'em dead with his powerful Kharis in Hammer's smash hit The Mummy.
Mario Cecchi Gori's production isn't cheap. The seaside location and the brightly-lit sets are filmed in 'Ultrascope,' an Italian anamorphic lens system. Director Steno stays wide on most scenes and keeps the 'undemanding' fun going at a moderate simmer. The comedy pacing can become poky. I'm told that many Italo movies were left long-ish, so exhibitors could split showings in half to allow mid-break refreshment sales.
This is the one feature in Eurocrypt 2 that doesn't appear to be from original prime film elements. The image is stable and clean but a bit contrasty, with light areas a little washed out. Whatever was the source, it looks as if a lot of work has gone into optimizing something not in the greatest condition.
This title has long been on our 'want to see' list. Before last year I only had a fleeting memory of it on TV in B&W, pan-scanned . . . 1964?  The good news is that Severin's encoding is an intact full Italian version (101 min.) with an Italian audio track. Severin has synchronized the English dub from the much shorter American release. The liner notes say that it reverts to Italian for scenes not in the English language version.
An entire second encoding is an Italian TV broadcast version. It carries a commentary with Jonathan Rigby and Kevin Lyons. A featurette gives us Dr. Pasquale Iannone, who contributes an illustrated lecture with the full story of comic Renato Rascel, and director Steno (Stefano Vanzina).
---
The Secret of the Red Orchid
The second disc offers Chris Lee fans an opportunity to investigate the eccentric German genre known as Krimi. In yet another story from Edgar Wallace (When the Gangs Came to London), Chicago gangsters shift their murder and extortion racket to London. Taking a broad 'tongue in cheek' attitude we would later associate with spy romps, Das Rätsel der roten Orchidee plays its fanciful crime thriller in a light near-comedy mode. The stock characters verge on caricature. Nobody takes things too seriously; the dashing cops seem to be having fun.
I've tried to watch Krimis dubbed in English, to no avail; Severin's intact presentation is in the original German language. The cast has some happy surprises, such as gorgeous Marisa Mell of Diabolik. Her secretary is virtuous yet sends an invite to hero Adrian Hoven with every bat of her eyelashes. A welcome Klaus Kinski is 'Pretty Boy Steve,' surely the only Chicago hood ever to carry an umbrella.
Given top billing, Chris Lee's FBI Captain Allerman is a brilliant sleuth come to help Scotland Yard ferret out the fiendish crooks. It's naturally all performed in textbook-clear Deutsch, which gives Lee an opportunity to show off his perfect German. It's a good role for him, if a little campy. The entire enterprise is spirited, old-fashioned corny fun — nostalgic silent serial complications, with extra stabbings and gun-downs. The business with the Red Orchids is pretty silly, indicative of the quirky-but-simple thriller gimmicks that German audiences flocked to in the early 1960s.
Severin provides both German and English audio tracks for the 84-minute picture. The aspect ratio is the original 1:66. The added value items are a pair of commentaries, Nathaniel Thompson & Troy Howarth on one track, and Kim Newman & Barry Forshaw on the other. It's not a Battle of the Bands, but expect ganz duplicated information, and serious critical mansplaining when the time comes to define 'Krimi.' I listened, as I'm certainly no expert.
---
Dark Places
This entry will likely be less familiar to most Chris Lee Fans. The 1974 possession tale is handsomely produced, admirably cast and smoothly directed by Hammer veteran Don Sharp. Drama-wise, the supernatural build-up is okay but the payoff more than a little subdued; and everything we see is far too familiar.
Bequeathed a crumbling country house, Edward Foster (Robert Hardy) is eager to move in, as the place is rumored to contain a treasure. The house is also connected to an unresolved mystery killing — the previous owner Andrew Marr may have slain his wife and two children, whose bodies were never found. When not creeping through the dank corridors, Foster finds company with three locals that express mild concern about the house's past. Neighbor Prescott (Herbert Lom) is warm and friendly, while brother & sister Sarah and Dr. Ian Manderville (Joan Collins & Christopher Lee) get more personally involved with the new owner. Ian's relationship with his sister Sarah is a bit ambiguous. She helps Foster clean a couple of rooms and eventually sleeps with him.
In mystery terms the show is lacking — we see every cliché coming. From the beginning we suspect that Foster's 'friends' have ulterior motives for their hospitality.
The assured star performances are the best aspect of Dark Places. But the name cast — Lee, Collins, Lom, Jane Birkin and Jean Marsh — serve mainly as supporting players. Most of the story is carried by Robert Hardy, a good performer but not an arresting presence. We don't really want to follow him for a full feature.
Some details are refreshingly naturalistic, as when Foster injures his leg with literally his first step onto the property — a rotted wooden bridge gives way. But the house-haunting is purely psychological — the only ghosts on patrol are the ones that creep into Foster's mind, folding the murderous past onto the present. It's an honest but less-than compelling thriller, with no content that couldn't have been seen on a 1970s TV show. The proceedings become interesting whenever Herbert Lom, Joan Collins or Christopher Lee is on screen.
Dark Places does look great — it's a new 4K scan from pristine elements, and is in perfect shape. The aspect radio is 1:85 and tracks are provided in English and French.
Nathaniel Thompson and Troy Howarth cover commentary duties, while Jonathan Rigby animates a featurette.
---
Dracula and Son
We never before checked out this French comedy from Édouard Molinaro, who would very soon strike gold with his international hit La Cage aux Folles. Not an exploitation cheapie but an attempt at a thoughtful satire, Dracula père et fils goes in its own eccentric direction.
Star Bernard Menez plays opposite the Breillat sisters, Marie Hélène and Catherine (who is also a distinguished writer and director). At least in the French version, Christopher Lee has a great opportunity for his last filmic outing as the vampire Count Dracula. It's an entirely different approach to the character — this Dracula is a bemused aristocrat, not a predatory fiend. Sure, he feeds by murdering human beings, but he's also just another guy trying to get along with some style and dignity.
The main theme is that of a noble bloodline trying to adapt to modern times. An extended prologue in the distant past gives us a Dracula who takes a lover for the purpose of gaining a son. Her function finished, she becomes his latest victim. Turning book pages eventually bring us to contemporary times. Forced out of their castle, Dracula and his son Ferdinand must reinvent themselves. Ferdinand runs away to London, determined to find a different life; he finds that he doesn't fit in. Dad follows and soon takes up an appropriate new career as a star of horror movies. Later in Paris, Ferdinand has found a way to live as an ordinary mortal. But is happiness possible?  Father is a creature of habit, and can't help but develop an appetite for the girl with whom Ferdinand wants to spend his new life.
The movie is eccentric and perhaps slow, but it also gives Christopher Lee a chance to finesse a truly charming Dracula, a guy with a sense of humor. Sure, he's a bloodthirsty plague upon the landscape . . . but we kind of like him, too. The film is subdued but agreeable, and isn't constantly trying to be funny. But we're always interested in what comes next.
Lee carries his dialogues in mellifluous French, without a hitch. And he shows a knack for light comedy we haven't seen elsewhere. His tiny comedy cameo as a biker in the California lifestyle comedy Serial doesn't really work. In his vintage guest spot on Saturday Night Live he showed no affinity at all for loose improvisation. But Lee is quite different in Dracula and Son. He seems relaxed, ahead of the joke.
The fourth disc in the Eurocrypt 2 set contains director Molinaro's 1976 original French cut (99 min.). The fifth disc carries American distributor Quartet Films' 1979 recut and redub (79 min.). Severin claims that their release constitutes a U.S. debut for the original version. It's another 4K restoration, and looks brand new, beautiful. The show overall has an attractive 'French' look with soft colors. The cinematographer leaves an entire coach sequence in the epilogue in a bluish gloom, creating an interesting mood. Again, Severin covers both French and English audio tracks.
This title is given the most attention for extras, with two audio commentaries, a new interview with Bernard Menez and older interview pieces with Chris Lee and Édouard Molinaro. An additional video piece by Patrice Leconte focuses on author Claude Klotz (Patrick Cauvin). Other details are below.
An extra Audio CD contains Vladimir Cosma's soundtrack score.
---
Murder Story
The last feature reminds us of titles that Cannon Films 'acquired' in the late 1980s — professionally produced items made with $$ backing, but not a good bet commercially, in almost any market. The prolific directing team of Eddie Arno and Markus Innocenti have a long stack of credits starting out, it would seem, in music videos. Christopher Lee is the lone star name on a show that's really about the adventures of the young lead, Alexis Denisof. The impressionable young man stumbles onto a murder conspiracy simply by probing a controversy already reported in the news.
The spirited, somewhat irresponsible youngster Tony Zonis (Alexis Denisof of Buffy the Vampire Slayer) is looking for career writing guidance. He contacts successful mystery writer Willard Hope (Christopher Lee) who shakes off boredom by helping Tony shape a new mystery plot. They choose a recent controversy to give Tony's project a structure, not realizing that they're tapping into an international conspiracy. A 'shadow organization' wants to eliminate an elusive scientist whose theories have displeased a corporate power bloc: the scientist thinks he can tap an inexhaustible source of energy, something to do with the Earth's magnetic field. Agent Corrigan (Bruce Boa) has a habit of murdering people that investigate the missing scientist, which is exactly what Tony and Willard team up to do. Lots of stalking about and an occasional motorbike chase provide generic thriller content.
Plenty of big-money movies with name stars use concepts no more promising than that of Murder Story, but the premise here is little more than a pretext for generic stalking and hit men scenes. The conspiracy operatives are so colorless, we can't remember their faces from one scene to the next. Chris Lee gives the producers full value, lending the film its only interesting content. Even the film's somewhat uncharismatic young leading man perks up when playing opposite Lee's engaging author. When Lee sits alone at a book signing event, he captures the good humor of an author wondering 'who buys the stuff I write?'
In his interview piece producer Tom Reeve explains that the film was made in Holland because British unions would forbid its filming at home (?). Thus the presence in the Netherlands of all these English folk must be established. When Tony and Willard investigate a porn theater firebombed by protesters, Tony gawks at prostitutes sitting in a store window. Since Tony doesn't look that young or that naïve, the film reminds us a bit of Night Visitor.
Co-writers and directors Eddie Arno And Markus Innocenti were sourced for a new audio commentary; they offer the expected fond memories of Chris Lee. I particularly liked the video interview with the producer Tom Reeve. Murder Story was his second film. He sticks mostly to the filmmaking, not deal-making, without explaining his connection to the company Elsevier-Vendex Film Beheer, even after we see its beautiful glass building.
In addition to a trailer we're given a marginal encoding of a bonus film, 1988's Mask of Murder. A desultory slasher film 8 years behind the wave, this Canadian-set Swedish production scored a romising cast but little else. A hooded murderer is killing young women with a straight razor. Rod Taylor's detective is traumatized by his unfaithful wife, played by Valerie Perrine. Even after he nails the killer, the slayings continue. Christopher Lee's police superintendent is good friend of the detective. Another 'deal' that hopefully made somebody a krone or two, the show gives us three honest actors unable to budge an inert drama. It's a 'completist title' for Chris Lee fans, and we hope the stars at least had a good vacation in Sweden.
---

Severin Films' Blu-ray set The Eurocrypt of Christopher Lee Collection 2 doesn't bring us another Horror of Dracula, yet serious fans will want to catch up with it — three of the shows are significant to the actor's career. They're quite entertaining, especially the Italian & French comedies, and the German krimi. It helps if one can embrace the eccentric vibes of Italian pop humor and German thriller eccentricity. Chris Lee shows more range than we expected to see — the French director Molinaro clearly had a 'different' idea for his satirical Dracula, and the actor came through for him.
As an added bonus, a full book is included. Jonathan Rigby offers an annotated rundown on a big slice of Christopher Lee's career, with plenty of input from personal experience. The book is also filled with unusual BTS photos. Rigby turns Lee's unending stream of acting assignments into a continuity, connecting the dots between the actor's work in Hollywood, on the continent, and back home in England. Rigby and his associates don't waste time simply expressing their admiration, gushing praise on their favorite actor. These Severin collections are for more discriminating fans.
Reviewed by Glenn Erickson
---
The Eurocrypt of Christopher Lee Collection 2
Blu-ray rates:
Movies: Good to Very Good
Video: Red Orchid, Dark Places, Dracula & Son, Murder Story Excellent Uncle Vampire Good
Sound: Variable, mostly excellent
Supplements:
Disc 1: Uncle Was a Vampire
Interview Commedia Dracula All'Italiana with Dr. Pasquale Iannone
Alternate Cut from an Italian Broadcast Master
Alternate Cut audio commentary with Jonathan Rigby and Kevin Lyons
Disc 2: The Secret of the Red Orchid
Audio commentary with Nathaniel Thompson and Troy Howarth
Audio commentary with Kim Newman and Barry Forshaw
Trailer
Disc 3: Dark Places
Audio commentary with Nathaniel Thompson and Troy Howarth
Interview The Cadogan Conversations with Jonathan Rigby
U.S. Teaser Trailer, Brazilian TV Spot
Disc 4 : Dracula and Son Director's Cut
Disc 5: Dracula and Son U.S. Version
Audio commentary with Jonathan Rigby and Kevin Lyons
Audio commentary with Kat Ellinger
Interview Let The Son Shine In with star Bernard Menez
Archival French TV Interview With Christopher Lee
Archival Audio Interview The Molinaro Tapes with Director Édouard Molinaro
Who Was Claude Klotz? — filmmaker Patrice Leconte discusses the writer
Archival Interview With Claude Klotz from 1976
German Credit Sequences
Trailer, TV Spot
Disc 6: Dracula and Son CD Soundtrack
Disc 7: Murder Story
Audio commentary with Eddie Arno And Markus Innocenti
Interview A British Producer In Holland with Tom Reeve
Extra feature: Mask of Murder, a Swedish film co-starring Christopher Lee
Trailer.
100 page book Christopher Lee A Career in Six Snapshots by Jonathan Rigby
Deaf and Hearing-impaired Friendly? YES; Subtitles: English (feature only)
Packaging: 6 Blu-rays and one music CD in 4 keep cases plus 100 page book in heavy card box.
Reviewed: July 13, 2022
(6753lee)

Visit CineSavant's Main Column Page
Glenn Erickson answers most reader mail: cinesavant@gmail.com

Text © Copyright 2022 Glenn Erickson