Hookers! Devil worshippers! A naughty teenage voyeur! A deadly knife, a lethal sedan and a chainsaw-wielding psychopath! Nasal Spray! CineSavant breaks with the disc-reviewing norm and abandons journalistic integrity. Well, not really, but it is a heck of a lot of fun to finally review a film I edited 32 years ago, on a happy moviemaking money-losing vacation from Cannon Films' advertising department.

Night Visitor
Blu-ray
Scorpion Releasing
1989 / Color / 1:78 widescreen / 93 min. / Street Date June (?), 2020 / available through Ronin Flix and Diabolik DVD / 22.99
Starring: Allen Garfield, Elliott Gould, Derek Rydall, Michael J. Pollard, Shannon Tweed, Richard Roundtree, Teresa Van der Woude, Teri Weigel, Scott Fults, Brooke Bundy, Henry Gibson, Kathryn Kimler, Kathleen Bailey.
Cinematography: Peter Jenson
Film Editor: Glenn Erickson
Original Music: Parmer Fuller
Art Direction: Gyongyver Sovago
Still Photographer: Elizabeth Ward
Unit Production Manager, Associate Producer: Richard J. Abramitis
Written by Randal Viscovich
Produced by Alain Silver
Directed by Rupert Hitzig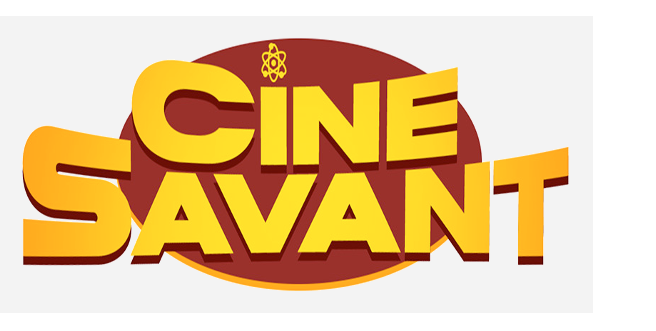 Try as I may this can't be a real review. I have no problem reviewing discs that I contribute to, but I edited this one and have had thirty years to develop a warped, self-serving attitude toward it. Just the same, I have no connection to the business end of the disc and it isn't like I need to lie about the show to protect the innocent or preserve my career (cough). CineSavant has been more of a personal blog than a straightforward review site lately, perhaps because of the COVID lockdown experience. No suffering or intolerable hardship here, but sometimes the four walls do seem to be closing in. Just a little.
So I get to tell you about 1989's Night Visitor, and what it was like to edit it back in the days of linear video editing. Oh, there's never enough written about defunct editing systems.
I got the original title wrong in my interview piece. Writer Randal Viscovich corrected me: it wasn't first called The Boy Who Knew Too Much. I'm pretty sure that title stuck in my head from a conversation I had with producer Alain Silver about the well-known 'Man Who Knew Too Much" title. Some of Viscovich's character names are lifted from Hitchcock's filmography, after all. I was happy when my proposed title Never Cry Devil was accepted by the producers; it was short and described the picture well. No 'thank you' was forthcoming, but that's okay considering that the title didn't last very long.
The promotional poster to find a distributor used some pretty interesting artwork ( ← ) but United Artists changed everything to the final Night Visitor. I think that's really dull; perhaps a bean-counter's spreadsheet indicated that movies with 'devil' in the title had difficulties with censors in some countries. I remember thinking that many horror fans would confuse the movie with the Liv Ullmann Max von Sydow The Night Visitor from 1971. Who needs comparisons with that fine and fancy picture?
Viscovich's Night Visitor is about Billy Colton (Derek Rydall), an affluent suburban kid who's both sexually curious and painfully immature. Billy plays with toy guns but also trains his telescope on the 2nd-story window next door, to spy on his sexy new neighbor Lisa Grace (Shannon Tweed). Billy also has a bad habit of telling fibs, which annoys his mother (Brooke Bundy) and bugs his school pals Sam Loomis (Scott Fults) and Kelly Fremont (Theresa Van der Woude). Tardy for school, Billy draws the rage of his perpetually furious teacher Zachary Willard (Allen Garfield). Watching with his spy glass, Billy ascertains that Lisa is entertaining men in her bedroom, but his friends scoff when he claims that she's a hooker. Determined to get proof, he climbs up to her window with a camera… and sees Zachary Willard attacking Lisa with a ceremonial dagger.
The show becomes a 'cry wolf' tale. Nobody believes Billy, not the cops (Richard Roundtree, Kathleen Bailey) nor his friends. Willard knows this and terrorizes Billy in the classroom. The boy eventually turns to Ron Devereaux (Elliott Gould), a retired family friend with police connections. But we already know that something is not right at the Willard household, where the angry teacher coddles his mentally-challenged little brother Stanley (Michael J. Pollard). The pair uses Willard's vintage Cadillac to kidnap hookers off the street, and they maintain a full Black Mass Altar in the basement for human sacrifices. The police receive insights on Satanic killers from an expert (Henry Gibson, un-billed).

Night Visitor has a remarkable cast for a low-budget horror thriller, that's for sure. Originally associated with Alan King, director Rupert Hitzig produced the pictures Electra Glide in Blue (uncredited), Wolfen and Jaws 3-D. The name actors came on board through Rupert's impressive personal connections. Perhaps a couple of careers were at low ebb, but they're all real names that mean something on a cast list. Commercially speaking Shannon Tweed was possibly the biggest name at the time. The Playmate of the Year for 1982, she is described at Wiki as one of the most successful actresses of mainstream erotica. Rupert Hitzig clearly had faithful friends in The Biz, willing to step into his horror opus without a second thought. I heard no discouraging words during the shoot; I don't think anybody felt cheated.
The movie needs those stars to keep our interest. Zachary Willard's one-man devil cult lacks mystery or suspense. Effective spook scenes are few, although I like the approach to the death house, through a ratty unkempt yard. The rough stuff is the capture and torture of a sacrifice victim, yet the violence is mostly subdued. The main unnamed victim (future adult movie actress Teri Weigel) spends several scenes with a bondage ball strapped in her mouth and makeup streaming down her face. Is it edgy or just ugly?  I'm not sure I need to meet anyone who's turned on by such content.

The predictable storyline isn't helped by thin characterizations. Having Derek Rydall (already a stunt performer) try to act like a 12-year old just doesn't work, with the result that Billy comes off as a dope, or a filmmakers' miscalculation. Elliott Gould is a trouper. He plays his cowardly ex- police lab technician in a low-key way that doesn't add much excitement, even when he uses a pump shotgun to defend himself against a chainsaw. The actors playing the other kids seem too smart and mature for their roles, although Teresa Van Der Woude nicely supports Rydall in several scenes.
The breezy, composed Shannon Tweed has only to smile and act dreamy-creamy to charm-intimidate Billy. She strolls through her brief part. The first bit of buzz heard from the set was probably baseless gossip. When the word came down that she wasn't going to play any nudity, I remember strongly that the excuse whispered was that Tweed was pregnant. Knowing her reputation as a smart businesswoman, that idle rumor could have been a clever, diplomatic way to derail further nudity negotiations.

The movie's most successful aspect is Allen Garfield's devil worshipper. Garfield took everything seriously — he seems incapable of not getting fully into a role. The result is that Zachary Willard is one tense creep, pissed off at all times except when doting on his goofball brother. As much as it can be done, Garfield gets the devil-cult story on its feet. His house is decorated with little evil knick-knacks. He and his brother jog in red sweatsuits and their good-bye routine is a cheery, "Hail Satan!"  The unique Michael J. Pollard gives his best addled troll imitation, smirking with infantile glee.
The memories of Rupert Hitzig and writer Randal Viscovich diverge somewhat in their respective video interviews. Hitzig claims he was making a tongue-in-cheek camp comedy. Viscovich says they had a harder grindhouse show in mind. The script was described to me as a horror item plain and simple. Both Hitzig and Viscovich allude to hotter material that never made it to the editing room. The script I read suggested more torture or grue, but I don't think it spelled out what happens to an additional torture victim. As I remember it, the dailies didn't have scenes of that second victim in captivity… perhaps Viscovich can correct me on that point.
The film I cut with did allot a little more screen time to Teri Weigel topless, but no additional scenes. There were also no additional gore scenes or more exploitative footage in the cellar or the black mass room — no shots of blades piercing flesh, etc.. Stanley's lechery is restricted to his creepy grin, and neither does Zachary engage in any victim-molesting. I'm pretty sure that the cut I delivered is fairly close to the finished item, with the exception of the nice-nice music video material tacked on for a new finale.
The incredible, fabulous & uneventful editorial story, for the record.
I was hired because I'd cut another horror film for Alain Silver, Kiss Daddy Goodbye. Alain was what one wanted in a producer, as he dealt straight and was always honest and supportive. I worked 12-hour days on the Culver Studios lot, in a tiny bungalow 'office' that back in the '30s or '40s must have been a dressing room. I'm grateful that my Cannon supervisor Mark Lowrie let me off for the six weeks to cut the movie. I was back in four.
I started cutting after the first week of filming; they were shooting in Mar Vista, mostly. I met Richard Roundtree and Shannon Tweed at the location. Gould, Garfield and Pollard came to the editing room twice. All were friendly and perhaps surprised to see not a full film cutting room but a little TV setup being operated by one person. Garfield was intense and full of questions. You'd think he had a big stake in what I was doing. Gould was congenial and relaxed and being buddy buddy with his co-stars — I'm not sure he even shares any shots with Garfield. Pollard hung back in the corner. He said nothing but smiled and looked mellow enough. You'd never know that he had been a big Broadway actor. Perhaps he found it easier to stay in his role than make small talk.
I imagine the word had gotten around the set to 'go see yourself on video with that editor guy.' The trick was finding the right scene to show them. I don't remember anything about Ms. Weigel's visit, which was brief and congenial. The three 'kid' actors in their early twenties came by too. I remember Ms. Van Der Woude best because she was the most outgoing. About a month later my wife and I bumped into her at a Deli out on Ventura Blvd.. Teresa was just being nice and social in a business way — and I do remember her bright smile. That was a funny 'Dagwood & Blondie' moment for me, explaining why this beautiful young woman thought I was so interesting.
Actors in general might ignore crew people but usually not the editor. On Kiss Daddy Goodbye Marilyn Burns had a nice long talk with me and I think it was for that reason. Heck, Fabian listened nicely while I told him how much I liked North to Alaska as a kid, even though the reference probably just reminded him how old he was getting.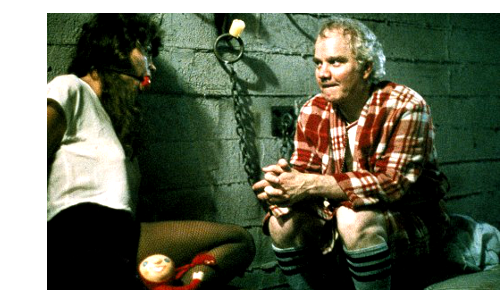 The last week and a half in the cutting room was devoted to fine-tuning. The film was going to get an R and I had it in my mind that horror in 1989 needed to be pretty gross or nobody would pay attention. I'd sell Rupert on the need to be as rough as possible. He hadn't shot exploitative sleaze or hardcore violence, but I tried in the cutting not to minimize the unpleasant dungeon scenes, or the action at the end.
For two Fridays in a row Rupert took a VHS tape home to review across the weekend. Each time he'd return on Monday to declare that it was too tough, this and that had to come out. The ending fight stayed but the dungeon nastiness was trimmed by a few shots and some leering by Stanley. Not much. The cutesy kid stuff prevailed, which must have been what my director wanted in the first place. I didn't know about the music video ending until I saw it on film. It could have been a Rupert Hitzig addition, but perhaps the producers or UA wanted it.
More arcane issues only a film editor would appreciate: The editing was done using over-scanning TV monitors, where I could not see the actual frame lines on the film. I couldn't always judge when actors broke the frame line, entering and exiting shots. Why am I happy?  Watching this good widescreen transfer, all the cuts still work well, with no mismatches or double-entrances. In the Billy vs Zachary fight they crash through a door in the Culver Studios set. Across the cut, that action matches with the fight continuation in the Mar Vista location house filmed a week before. That means that I judged well, or somebody at FotoKem fixed any problems that came up. I don't know how that would happen, because I don't think any work print was struck.
I feel I was lucky with Night Visitor. My fellow editor friends sometimes reported creative agony when trying to make sense of Triple-Z grade dailies with no continuity in action or performance, and no coverage. Producers would do a scene in one dull long shot, and then ask why the editor hadn't cut away — even though nothing else had been shot. When a scene didn't play like a movie  the no-talent directors would naturally assign blame to the editor. All of Rupert Hitzig's Night Visitor material cut well and the performances were consistent. I had choices in the cutting. I shouldn't say if I think Night Visitor is any good, but it definitely does look like a movie. It has fans. Allen Garfield's Zachary Willard has fans, too.
---

Scorpion Releasing's Blu-ray of Night Visitor is a good new HD master of a film given a limited (read: microscopic) 1989 release before appearing on a dull MGM/UA VHS. It qualified for Academy consideration, and I for one think we wuz robbed. Two years later I became the editor for MGM/UA's home video department, and had to do promos for all of their output. Some really lightweight titles ended up with an MGM or UA logo up front, but few were as humble as Night Visitor. This attractive new transfer gets the most out of the original photography. The wider frame really helps some scenes look better.
The audio is clear, especially for the pop tune worked into the proceedings at frequent intervals, and Zachary's chanting. It's interesting: I assume that Allen Garfield sourced Zachary's nasal spray business from Blue Velvet. The investigation of the killer Cadillac in Willard's garage now seems very much like scenes in the soon-to-come The Silence of the Lambs, minus atmosphere, scares or suspense.
Scorpion gives Night Visitor generous extras with separate interview featurettes for Rupert Hitzig, Randal Viscovich, and me. They wisely trimmed me down to a minimum and intercut me mainly with action scenes, so I'm a happy camper despite not being in a rush to show the piece to anyone. Hitzig and Viscovich understandably position the show as a misunderstood classic. Randal details how Zachary Willard was almost played by Chuck Connors or Jack Palance, bemoans the music video ending and tells us how his script really ended. I'd forgotten that: his ending was better.
The disc finishes with UA's trailer. The cover image of Willard's devil mask comes from the old VHS, repeated on an earlier flat DVD. MGM Home Video re-rented the mask from the prop house and slapped it on a stand for what I think is some of the least creative box art ever. When I knew I was going to be taped for the Night Visitor disc I located a 3/4″ U-matic tape of a feature blooper reel I had put together for the film's wrap party, way back when. But the post house doing the extras did not have access to that now- extinct format. Would the tape even play, thirty years later?   Back into the attic it goes, next to my Satanic torture accessories!
Reviewed by Glenn Erickson
---
Night Visitor
Blu-ray rates:
Movie: (abstain, unfair question)
Video: Very Good
Sound: Very Good
Supplements: New interviews with Randal Viscovich, Rupert Hitzig and Glenn Erickson; trailer.
Deaf and Hearing-impaired Friendly? YES; Subtitles: English (feature only)
Packaging: One Blu-ray in Keep case
Reviewed: August 27, 2020
(6334visi)

Visit CineSavant's Main Column Page
Glenn Erickson answers most reader mail: cinesavant@gmail.com
Text © Copyright 2020 Glenn Erickson