Michael Schlesinger on
Round Midnight
Bertrand Tavernier's 1986 musical drama is based on the life of the saxophonist Lester Young, played by the great bebop artist Dexter Gordon as a struggling band man named Dale Turner. Turner's highs and lows are reflected in the wonderful music on the soundtrack including Thelonious Monk and Bud Powell. Gordon is joined by other real life jazz musicians in a diverse cast including Herbie Hancock and Wayne Shorter. Martin Scorsese has a small but scintillating part as a crooked club manager.
About Michael Schlesinger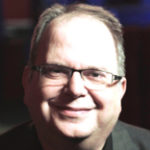 Michael Schlesinger is widely acknowledged as the dean of classic film distributors, having worked for more than 25 years at MGM, Paramount and Sony, keeping hundreds of vintage movies in theatrical release (and later DVD), and instigating the restoration of many more, including the completion of Orson Welles' 1942 documentary It's All True some 50 years later. Behind the camera, he wrote and produced the American version of Godzilla 2000, co-produced such Larry Blamire parodies as The Lost Skeleton Returns Again and Dark and Stormy Night, and has written, produced and directed several short films featuring the faux-1930s comedy team of Biffle and Shooster. No power on Earth will ever convince him that It's A Mad Mad Mad Mad World is not the Greatest. Movie. Ever.