Michael Schlesinger on
Baby Face
Barbara Stanwyck's spiky strumpet literally sleeps her way to the top in Baby Face, the Sui Generis of gleefully prurient pre-code films that made Warner Bros. ground zero for gloriously salacious entertainment before Will Hays and his fun-killing code spoiled the party. Though Stanwyck's character engages in some situations that would raise eyebrows even in 2020, she naturally has a heart of gold and and poker-faced George Brent is the lucky fella who benefits (for the time being, at least). Director Alfred Green (Invasion U.S.A.) specialized in fast-paced, low-budget exploitation fare but thanks to Stanwyck's all-out performance, Baby Face remains his most memorable achievement.
About Michael Schlesinger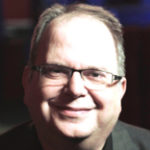 Michael Schlesinger is widely acknowledged as the dean of classic film distributors, having worked for more than 25 years at MGM, Paramount and Sony, keeping hundreds of vintage movies in theatrical release (and later DVD), and instigating the restoration of many more, including the completion of Orson Welles' 1942 documentary It's All True some 50 years later. Behind the camera, he wrote and produced the American version of Godzilla 2000, co-produced such Larry Blamire parodies as The Lost Skeleton Returns Again and Dark and Stormy Night, and has written, produced and directed several short films featuring the faux-1930s comedy team of Biffle and Shooster. No power on Earth will ever convince him that It's A Mad Mad Mad Mad World is not the Greatest. Movie. Ever.