Michael Schlesinger on
It's A Mad, Mad, Mad, Mad World 
As big as it is broad, Stanley Kramer's take-no-prisoners approach to comedy is embodied by an epic cast that includes just about every working comedian in Hollywood circa 1963. The majority of these much-loved artists are reduced to walk-ons but Jonathan Winters and Phil Silvers will not be denied—they rise above the chaos to connect with the audience in some genuinely funny segments. The film premiered as the first attraction of the then-brand new Cinerama Dome—though the hallowed theater was built especially for the three-camera process, Mad, Mad, World ended up as an Ultra Panavision 70 production.
About Michael Schlesinger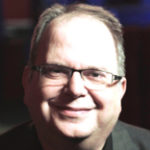 Michael Schlesinger is widely acknowledged as the dean of classic film distributors, having worked for more than 25 years at MGM, Paramount and Sony, keeping hundreds of vintage movies in theatrical release (and later DVD), and instigating the restoration of many more, including the completion of Orson Welles' 1942 documentary It's All True some 50 years later. Behind the camera, he wrote and produced the American version of Godzilla 2000, co-produced such Larry Blamire parodies as The Lost Skeleton Returns Again and Dark and Stormy Night, and has written, produced and directed several short films featuring the faux-1930s comedy team of Biffle and Shooster. No power on Earth will ever convince him that It's A Mad Mad Mad Mad World is not the Greatest. Movie. Ever.