David DeCoteau on
Beyond the Door
Ovidio Assonitis (credited as Oliver Hellman) directed this popular Exorcist rip-off, which inspired an unsuccessful lawsuit from Warner Bros. An open season of further Exorcist copies followed at home and abroad, but this was the trailblazer. Pregnant Juliet Mills alarms hubby Richard Johnson when she's possessed by a projectile-vomiting demon. It was successful enough to inspire distributors to give otherwise unrelated films release titles like Beyond the Door II and Beyond the Door III–although the original Italian title was Chi Sei? (Who Are You?).
About David DeCoteau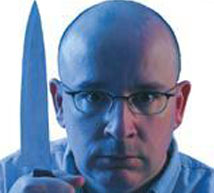 David DeCoteau has worked professionally in the movie business since he was 18 years old. He got his start through a generous offer from movie legend Roger Corman who hired him in 1980 as a production assistant at New World Pictures. In 1986, David directed and produced his first feature film for another generous film legend, Charles Band. David has gone on to produce and direct more than sixty motion pictures over the past twenty five years. He resides in British Columbia, Canada. Learn more about David and his work at Rapidheart.