David DeCoteau on
Django Kill
Giulio Questi's Euro western If You Live, Shoot was retitled Django Kill to cash in on the overseas popularity of the numerous Django "sequels", only one of which was actually connected with Sergio Corbucci's original entry. Under any title, this is one weird movie. Half-breed Tomas Milian is out for revenge on the bandits who double-crossed him after a train robbery, but the treatment is more experimental than conventional. Surreal, gender-bending, psychedelic, gothic, political, S&M, you name it, this is one of the odder movies of the genre.
About David DeCoteau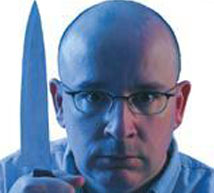 David DeCoteau has worked professionally in the movie business since he was 18 years old. He got his start through a generous offer from movie legend Roger Corman who hired him in 1980 as a production assistant at New World Pictures. In 1986, David directed and produced his first feature film for another generous film legend, Charles Band. David has gone on to produce and direct more than sixty motion pictures over the past twenty five years. He resides in British Columbia, Canada. Learn more about David and his work at Rapidheart.