Larry Karaszewski on
The Jerk
Steve Martin's stand-up act combined equal measures of the stupid and the cerebral; he turned dropping your pants into a philosophical statement. By 1979, his remarkable on-stage success had gained him enough clout to write and star in his own film. That movie, The Jerk, is an often hilarious series of vignettes that expand on Martin's post-modern stand-up routines while harking back to Paramount's silly/surreal screwball comedies of the early 30's. Produced for a lowly 4 million dollars, the film cleaned up at the box office earning over 73 million by year's end.
About Larry Karaszewski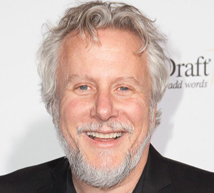 Larry Karaszewski with his writing/directing/producing partner Scott Alexander are best known for writing unusual true stories. They created the hit television miniseries "The People v O.J. Simpson: American Crime Story" for which they won the Golden Globe, the Emmy, the PGA and WGA Awards. They also won the Golden Globe and WGA Award for the film "The People vs Larry Flynt." Other movies include the Oscar winning "Ed Wood" (WGA nomination), "Big Eyes" (Independent Spirit nomination), "Auto Focus" and "Man on the Moon." The team has been inducted into the Final Draft Screenwriting Hall of Fame. Larry is an active Los Angeles cineaste hosting a long running film series for the American Cinematheque. He is also a Governor for writers branch of the Academy of Motion Pictures Arts and Sciences.