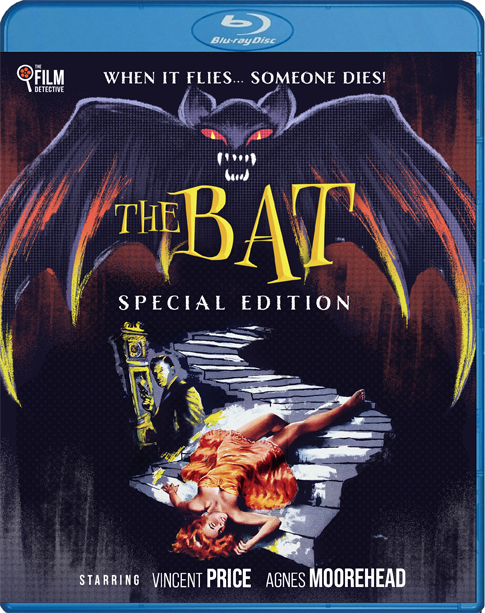 The Bat
Blu-ray
The Film Detective
1959 / 1.85: 1 / 80 Min.
Starring Agnes Moorehead, Vincent Price
Written by Crane Wilbur
Directed by Crane Wilbur

Crane Wilbur's The Bat is a murder mystery starring Agnes Moorehead and Vincent Price—but the real mystery is how Hollywood managed to pair these diabolically funny entertainers in only one film. They shared little to no screen time in 1951's The Adventures of Captain Fabian and 1957's The Story of Mankind, but in Wilbur's mild-mannered horror show, Moorehead and Price are toe to toe—and generate enough chemistry for a dozen lovably corny crime thrillers just like The Bat.
Despite Price's presence it's Moorehead's show; she plays Cornelia Van Gorder, a prolific mystery writer in the mode of Mary Roberts Rinehart—who, not coincidentally, wrote The Circular Staircase, the source material for the The Bat. As the no-nonsense Van Gorder, Moorehead's steely demeanor mirrors Rinehart's: when Mary lost her savings in the stock market crash of 1903, she set out to make a living as a writer and succeeded in a big way—forty years later Rinehart was living in Bar Harbor Maine in a seven-acre estate called Eaglesgate—and though she was tended to by a formidable staff of butlers and cooks, Mary was essentially alone.
The same goes for Cornelia who's rented a sprawling mansion called The Oaks, a stark edifice on the outskirts of town where, as in The Haunting, "… no one will hear you if you scream." But Cornelia has at least one friend to scream with; her companion Lizzie Allen, a comic-relief character played by an actress who specialized in dotty busybodies, Lenita Lane. She was also the wife of director Wilbur (they were married for 37 years).
Before Cornelia can start writing her next mystery she's forced to consider  a real one; a figure known as "The Bat", a faceless phantom with sharp steel talons who's been slicing and dicing his way across the countryside, and now he's set his sights on The Oaks—there's a cool million in negotiable securities hidden in the mansion's maze-like interiors.
Who is this bloodthirsty greed-hound? Wilbur's screenplay offers up any number of red herrings: there's Price himself as Dr. Malcolm Wells, an impetuous chiropterologist who kills off co-star Harvey Stephens in their first scene together. Stephens plays John Fleming, the bank president who stole those securities in the first place—but is Fleming really dead? And then there's The Oaks's sneaky Jack of all trades who seems to being hiding something. So many questions, and it's up to the local chief of detectives, Lieutenant Andy Anderson, to trap The Bat.
Moorehead and Price do most of the heavy lifting while the supporting cast play on the sidelines: Gavin Gordon is Lieutenant Anderson (he was the "millionaire playboy" in The Mystery of the Wax Museum and Lord Byron in Whale's Bride of Frankenstein), John Sutton is a beady-eyed butler, and Our Gang's Darla Hood plays an ill-fated bank secretary. They're a mixed bag of actors, but they all rely on the declamatory style of broadway and silent films—such juicy theatrics were surely the influence of their director.
Crane Wilbur was a prolific actor during the dawn of cinema—he was Pearl White's stalwart boyfriend in 1914's The Perils of Pauline—but when roles began to dry up he switched gears, writing and directing the first stage production of The Bat, and helming quasi-exploitation titles like 1934's Tomorrow's Children and 1935's High School Girl.
Screenwriting and storytelling were Wilbur's real strengths and he had his greatest success late in his career with the 3D pot boilers House of Wax in 1953 and 1954's The Mad Magician in 1954. He was a prodigious filmmaker but as a director he was not particularly creative—much of The Bat is staged like TV show (television's Climax adapted the play in 1956 with cast including Judith Anderson, Rex Ingram, and Kevin McCarthy). And Wilbur's art directors did him no favors: the first glimpse of The Oaks is clearly a diminutive model buried in fog to disguise its inadequacies—it looks like a haunted dollhouse.
The Bat was photographed by Joseph Biroc, a dependable Hollywood workhorse whose portfolio runs the gamut of styles: It's a Wonderful Life, Hush, Hush, Sweet Charlotte, Viva Las Vegas and Blazing Saddles are just a few examples. Biroc's work looks terrific on The Film Detective's new Blu ray, a virtual re-release of their 2018 edition. Though the transfer is described as a new restoration, it appears exactly the same as the original edition. For real Bat-fans, the folks at The Film Detective have included several new extras:
The Case for Crane Wilbur – a new documentary produced by Ballyhoo Motion Pictures
A new commentary track from film scholar Jason A. Ney
Nine vintage radio episodes featuring Vincent Price and, inside the disc case, an illustrated booklet featuring Mr. Ney's essay on Mary Roberts Rinehart, "The Case of The Forgotten Author."
Here's a look at Film Detective's 2018 release of The Bat.