Spartacus — Restored Edition
Most of us love the Trumbo-Douglas-Kubrick thinking man's leftist gladiator epic, and after several iffy disc presentations this exacting digital restoration follows through on the photochemical reconstruction done 25 years ago. It looks incredibly good, almost too good to be a Blu-ray. Kirk contributes a new featurette interview, telling us that this is the show he'll be remembered for.

Spartacus
Blu-ray + Digital HD
Universal Studios Home Entertainment
1960 / Color / 2:20 widescreen / 197 min. / Street Date October 6, 2015 / 19.98
Starring Kirk Douglas, Laurence Olivier, Charles Laughton, Jean Simmons, Peter Ustinov, Tony Curtis, Woody Strode, John Gavin, Nina Foch, Herbert Lom, Charles McGraw, John Ireland, Nick Dennis, John Dall, Herbert Lom, Joanna Barnes, Harold J. Stone, Peter Brocco, John Hoyt, Richard Farnsworth, George Kennedy.
Cinematography by Russell Metty
Music by Alex North
Edited by Robert Lawrence
Produced by Kirk Douglas and Edward Lewis
Screenplay by Dalton Trumbo Based on the novel by Howard Fast
Produced by Edward Lewis
Directed by Stanley Kubrick
I sat down at 10 p.m. to watch maybe half an hour of the new Restored Edition of the 1960 epic Spartacus. It looked far too good to just scan through, sampling scenes. I ended up watching the whole thing, marveling at the quality of the restoration every step of the way. The first time I really saw Kirk Douglas's movie was around 1979, when the old Vagabond Theater screened a 35mm reissue print from the middle 1960s. It was in terrible shape, and even I recognized that the cut was entirely different from what had been shown pan-scanned and mutilated on TV. The final scene was shorter, and had no close-ups of Kirk Douglas, hanging from his cross outside one of the gates of Rome.
Following on the heels of the terrific 70mm Lawrence of Arabia theatrical restoration, the 1991 big-screen Spartacus refit by the same team of Harris and Katz looked almost as good, and certainly made for an unforgettable movie-going experience. My youngest was six, just old enough to see it if I watched over him carefully. My oldest was twelve. She didn't have much to say afterward, so I was afraid she didn't like it, or maybe was bored. Then later that evening I heard her talking to a friend on the phone. She spent five minutes saying how impressed she'd been, by things like the ending with the rebel slaves crucified in a line of crosses as far as the eye could see. That's the sign of successful fatherhood, inculcating one's personal biases in one's offspring at an early age!

Criterion unleashed a pricey ($125.00) laserdisc with a huge complement of extras, and followed it up with a 2001 DVD that retained most of them, and remains a collector's item. Universal put out an unenhanced 1998 DVD that was nothing to write home about; in that early year of the format we were happy if DVDs didn't have major visual problems. The last disc to date was a 2010 50th Anniversary Blu-ray that attracted the slings and arrows of outraged review criticism, and was even slighted by Bob Harris, the original restoration expert. My friends in film work eventually convinced me that that disc and 20th Fox's first 2008 Patton Blu-ray did indeed have serious transfer issues.
The quality contrast in this new 2015 Restored Edition is really eye-opening. The images seem to jump off the screen. Spartacus now has more colors than I remember. Epic vistas now have more depth, and even the costumes seem improved. It's almost like watching 70mm. The photochemical restoration couldn't correct serious issues for the 1991 prints, and there had been some night scenes marred by bright blue highlights, still visible in earlier transfers. All that's gone now. Spartacus has many excellent matte paintings, and one or two that look pretty phony. Careful cleanup makes the bad ones look much better and the good ones look perfect. One shot of Laurence Olivier watching some troops marching from a window, has always looked like a bad blue-screen effect. It is now flawless as well. The clever opticals that multiplied the Roman legions in pageantry before the awesome final battle are now almost invisible — except for one freeze-frame whopper that still sticks out. How can I further emphasize this – the picture is dramatically improved.

My first disc review became a very popular item, because I used it to discuss the political differences between the writers on the film, the book author Howard Fast and the screenwriter Dalton Trumbo. They feuded over the concept of a 'Large Spartacus,' as opposed to a 'Small Spartacus.' People needn't have worried about Marxists causing real trouble in Hollywood; by the example of these two intellectuals, there's not enough agreement to keep even a fantasy conspiracy afloat for more than a few minutes. I link to the fascinating Duncan L. Cooper essays that got my imagination going. The descriptions of earlier screenplay adaptations create a mental image of a movie that might have had a very different message. Re-reading that old review makes me want to debate the movie's politics all over again.
My previous Blu-ray review examines Spartacus as a liberal movie by an actor/producer at the top of his game. The grandstanding Douglas loved to deliver big speeches on film. Yet he never looked better before or after this picture, and his gladiator-emancipator is one of his best performances.
After fifteen years of discovering new quote – subversive – unquote Hollywood pictures by blacklisted talent, Spartacus comes off as a major, major counter-attack against the HUAC mentality. Dalton Trumbo whined that the studio watered down his work, but the fact remains that much of the 3.75-hour movie is given over to position speeches. The condemnation of the Roman Empire and its Fascist dictator Crassus (Laurence Olivier) is easily interpreted as a slam against the militarism of the Cold War and its assault on civil liberties. The rush to create 'lists of the disloyal' and purge Rome of significant political opposition is opposed by the witty characters of Gracchus (Charles Laughton) and Batiatus (Peter Ustinov), a corpulent pair of decadent but practical political games-players and power brokers. Just the same, Gracchus is committed to the good of the common man. Crassus believes that his status as a patrician noble gives him the right to rule with an iron fist. Graccus's own servants are devoted to him, whereas everybody associated with Crassus lives in fear. He has the notion that he personifies Rome, and therefore has the right to absolute rule.

The truth be told, Trumbo's Spartacus is quite a stacked deck. The uneducated and unwashed slaves are by definition examples of enlightened humanity at its most noble, a lofty sentiment that isn't how things work in real life. The 'long march' of emancipated slaves features vignettes that single out a humble family, a teenaged couple, a pair of old folks and a weary married couple. This last pair must bury their child in a touching scene that I believe is part of the recovered long version of the movie. At the end Kubrick takes care to show all of them laid out as corpses on the battlefield, martyrs to oppression. Kubrick and Douglas succeed in making me emotional over this unbilled ' peasant chorus,' yet I can see how schematic and selective it is.
All the big characters exist in relationship to the ruling class. Jean Simmons' Varinia doesn't even own her own body, and has no control over what happens to her baby son. John Dall's dopey Glabrus screws up, and is banished from Roman society. John Gavin's future betrayer Julius Caesar will bide his time, waiting for the moment that Crassus makes a mistake and becomes vulnerable.

We see lickspittles like Charles McGraw's Marcellus, who for less generous radical types surely represents a pig cop who doesn't deserve a fair shake. Similarly, Herbert Lom's Tigranes comes off as an amoral opportunist. It doesn't matter that Tigranes is not the one who betrayed Spartacus. Our hero is so virtuous that Tigranes' eagerness to earn a commission is regarded as Evil.
The most fascinating character remains Peter Ustinov's Batiatus, who is perhaps so entertaining because Ustinov was allowed to spice his dialogue with his own funny asides. A self-described coward, Batiatus runs a depraved business (show business?) for the ruling class, sucking up to Crassus's elite family like an interior decorator trying to maintain a living at the gates of Bel-Air. Despite receiving a whipping, he's the 'eternal uncommitted survivor,' playing both ends of the political spectrum. Batiatus never forgets to look out for himself first.
Spartacus was described as a thinking man's epic, possibly to sidestep discussion of its politics, as a daring rebuke to the entire blacklisting / HUAC era. It breaks the mold of other ancient epics by having no religious context, as do tainted pictures like Sign of the Cross and Ben-Hur. In place of Jesus Christ, Fast and Trumbo place on the cross a proletarian rebel terrorist, a communal martyr who dispenses feel-good platitudes about a future heaven on Earth for the common working man. To my thinking that's pretty cheeky.
A reading tip: last year I enjoyed a fascinating book by J. Hoberman called The Dream Life: Movies, Media, And The Mythology Of The Sixties, which sculpts a politico-cultural history of that decade through themes in movies. It sounds trite but it's not. Hoberman's examples are well chosen and his logic sound. One of his pairs of conflicting political movies are 1960's liberal-radical Spartacus, and the right wing-reactionary The Alamo by John Wayne. Hoberman shows how they represented a tug-of-war for the emotional heart and political mind of the nation, in a big election year.
---
Practically a budget purchase, Universal Studios Home Entertainment's Blu-ray of Spartacus is now one of the best-looking discs I own. Originally filmed in Technirama, the image sparkles all the way through. Textures, color patterns and edges are sharp and defined, as if a veil had been dropped from the screen. I can recommend this disc no matter which previous version you own. The images on the disc look MUCH better than these stills I've found on the web… it was tough, but I skipped over the nude shots of Jean Simmons that are floating around out there.
The sound also seems very much improved. Having learned to appreciate other great film scores by Alex North (The Misfits, Bite the Bullet, The Wonderful Country, South Seas Adventure), his music here just seems monumental. I keep hearing North's love theme ripped off with 'almost-copies' in modern power ballads. Looking at North's credits, I see that he once composed the music for a documentary made during the Spanish Civil War. There were politically conscientious liberal talents in this country, back in the day.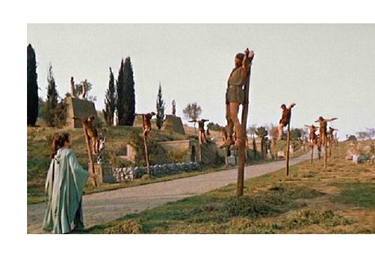 Although owners of the old Criterion disc will still want to hang on to its definitive extras, Universal has not trimmed the contents of this special edition. The extras recycle the previous Blu-ray's color footage from the gladiator school (showing the film's initial director Anthony Mann, just before being fired), a set of premiere newsreels (director Kubrick walks through one shot, ignored by the narrator) and the same selection of deleted scenes, including the ending that mysteriously removes all of Kirk Douglas's shots. I'd really like an explanation of how that came about – did somebody decide that a crucified Kirk was blasphemous?
Two of the featurettes are new. Kirk Douglas shows up to explain why he thinks Spartacus will be his most remembered film; he also shows off a great sense of humor. In a second new video piece three Universal executives tell us all about the fabulous restoration job (which it is) that Universal's film department performed on Joey's favorite gladiator movie. The end of the show now has more restoration credits, in addition to the original 1991 reconstruction credits. Do you like gladiator movies? Do you like Spartacus? You can't go wrong with this disc.
Reviewed by Glenn Erickson
---
Spartacus
Blu-ray rates:
Movie: Excellent
Video: Excellent
Sound: Excellent English, French
Supplements: new featurette I Am Spartacus with Kirk Douglas, new restoration featurette; deleted scenes, color BTS footage, premiere newsreels, trailer, etc.
Deaf and Hearing-impaired Friendly? YES; Subtitles: English, Spanish, French
Packaging: Keep case
Reviewed: October 17, 2015
Text © Copyright 2015 Glenn Erickson