Larry Karaszewski on
Captains Courageous
Rudyard Kipling's 1897 novel about the redemption of a spoiled rich kid aboard a New England cod boat  gets the MGM treatment and becomes a parable of fatherly responsibility, full of director Victor Fleming's trademark Christian symbolism. Spencer Tracy gets his first solo shot at stardom as Portuguese fisherman Manuel, a minor character in the book. Jack Conway directed two weeks when Fleming fell ill.
About Larry Karaszewski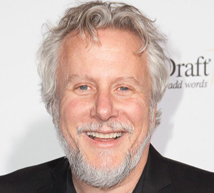 Larry Karaszewski with his writing/directing/producing partner Scott Alexander are best known for writing unusual true stories. They created the hit television miniseries "The People v O.J. Simpson: American Crime Story" for which they won the Golden Globe, the Emmy, the PGA and WGA Awards. They also won the Golden Globe and WGA Award for the film "The People vs Larry Flynt." Other movies include the Oscar winning "Ed Wood" (WGA nomination), "Big Eyes" (Independent Spirit nomination), "Auto Focus" and "Man on the Moon." The team has been inducted into the Final Draft Screenwriting Hall of Fame. Larry is an active Los Angeles cineaste hosting a long running film series for the American Cinematheque. He is also a Governor for writers branch of the Academy of Motion Pictures Arts and Sciences.