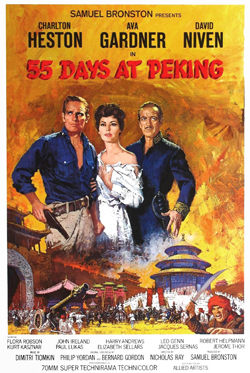 Brian Trenchard-Smith on
55 Days at Peking
Nicholas Ray's final film was an honorable attempt to combine complex political and social issues while straining to satisfy mainstream audiences' appetite for traditional epics. That strain got to Ray – he collapsed midway and was replaced by Andrew Marton and Guy Green. The 1963 film was a disappointment at the box office with contemporary screenings few and far between – leaving Jack Hildyard's spectacular Technirama photography to the dust bin of history.
About Brian Trenchard-Smith
Brian Trenchard-Smith has been burning to make genre films ever since seeing Hitchcock's Vertigo at age 13. So far he has directed 42 Crimes Against Cinema, and counting (He's an enthusiastic recidivist.) The Fantaspoa International Fantastic Film Festival recently gave him a career achievement award. His cult hits include The Man from Hong Kong, Turkey Shoot, BMX Bandits, Stunt Rock, Dead End Drive In, The Siege of Firebase Gloria. He has also made over 100 trailers ranging from Hammer horrors to Australian films of the 70′s and 80′s. His latest film is Drive Hard, a quirky action comedy with John Cusack and Thomas Jane. He hopes to shoot a Sci-Fi action picture in Tianjing, China later this year. Brian shares a passion for history with his wife Byzantine historian Dr. Margaret Trenchard-Smith. His first novel Alice Through The Multiverse, and his autobiography Adventures in the B Movie Trade, are available on Amazon and Kindle.