The Champion: A Story of America's First Film Town
Proving again that there's always more to learn about film history, Marc J. Perez's documentary tells the story of a major American film capital before Hollywood. Milestone surrounds it with a couple of hours of early silent films made in the cinema Mecca of . . . Fort Lee, New Jersey.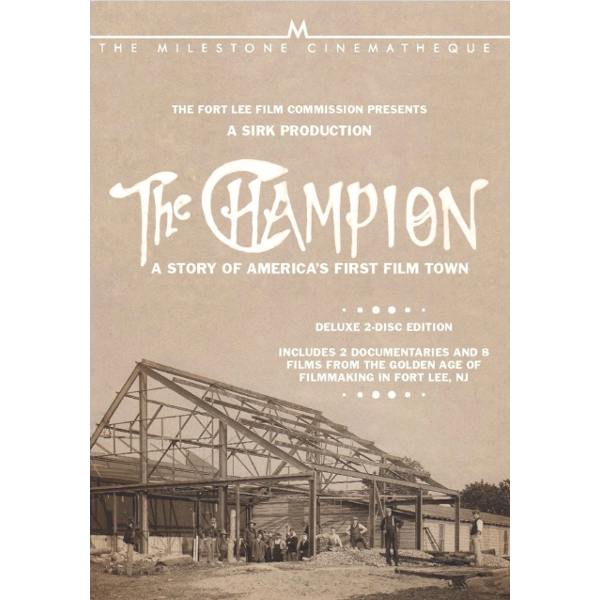 The Champion: A Story of America's First Film Town
DVD
The Milestone Cinematheque
2015 / Color + B&W / 1:33 flat full frame / 35 min. main documentary; many more short subjects / Street Date October 17, 2017 / available through The Milestone Cinematheque / 34.99
Film Editor: B.B. Enriquez
Original Music: Ryan Shore
Based on a book by Richard Koszarski
Produced by Tom Myers, John L. Sikes
Directed by Marc J. Perez
Milestone's new crash course in film history is a two-disc set centered around a 2015 documentary, The Champion: A Story of America's First Film Town. 'The Champion' was the name of a short-lived but significant film company, one of many that sprang up around 1910 in the town of Fort Lee New Jersey, then a ferryboat ride across the Hudson River from New York City.

Anyone wishing to understand the beginnings of the American film industry needs to know this story. Even in film school we were taught that Hollywood was founded when 'wildcat' filmmakers moved to California, fleeing the guns and sledgehammers of 'patent detectives.' This hired muscle had been dispatched by a syndicate founded by several film producers including Thomas Edison, that decided their patents gave them the right to levy royalties from any producer making a movie. But not long before the Hollywood exodus commenced, a couple of pioneers being harassed in Manhattan moved across the river, where buildings that could be converted into studios were cheap, and the varied terrain made possible the shooting of stories in natural settings not found on 42nd Street. A man named Mark Dintenfass founded Champion Studios in Fort Lee, New Jersey in 1910. Other studios followed, and used the wooded Jersey countryside to film westerns. The bluffs over the Hudson proved ideal for suspense scenes. Pearl White's serials were filmed there, and the cliffs literally led to the notion of serialized 'cliffhangers.'
Produced by Fort Lee community's program to promote the area's forgotten role in movie history, The Champion gives us film historians Matt Zoller Seitz and Richard Koszarski narrating, telling the tale and visiting the one remaining building that once was one of these original film studios. Also explaining parts of the story on camera are Tom Meyers, Nancy O'Mallon, Armand Pohan and Albert H. Wunsch III.
Many of the biggest names in silent films (and beyond) got their start in Fort Lee. We learn how the notion of a star system began, with personalities like Florence Lawrence, who is sometimes referred to as the first studio-promoted bona movie star in the modern sense. Vintage ads show the variety of film companies putting out all manner of entertainment. Film clips, including clips from some of the few surviving Champion Co. films, are used as well. The Fort Lee movie boom lasted only about twelve years. The legal defeat of the Patents Monopoly enabled some companies to move back to Manhattan, while the success of the newly founded Hollywood eventually pulled the bigger companies out West. The show ends with the destruction of a building for redevelopment, while showing the locals' efforts to make sure that the significance of the area isn't forgotten.
The two-disc set is filled out with films ranging in length between one reel and sixty minutes. All come with music scores, by Ben Model, Donald Sosin, and Rodney Sauer with the Mont Alto Motion Picture Orchestra.
— Ghost Town: The Story of Fort Lee is a seventeen-minute docu about the same subject, but made in 1935.

Five films represent the work of the Champion Studio, or produced by other companies through it:
— The Indian Land Grab (1910) is a simple tale of a Indian traveling to Washington to protest injustice, and the white woman who solves the problem and joins his tribe. In under eleven minutes.
— A Daughter of Dixie (1911). This Nickelodeon one-reeler sets up the same conflict as The Birth of a Nation, with a woman's brother and sweetheart ending up on different sides in the Civil War.
— Not Like Other Girls (1912) Consolidation saw Champion put under the wing of other labels. This Florence Lawrence / Owen Moore show was filmed in a new greenhouse studio addition to the Champion building. Lawrence plays a college student who does not encourage the advances of boyfriends.
— Flo's Discipline (1912) is a Universal-Victor film, and uses the face of its star Florence Lawrence in its logo. We're told that Lawrence's husband normally directed her movies. Flo plays the headmistress at a boarding school, who takes drastic action to keep the rowdy boys in line.
— Marked Cards (1913) was made under the Universal-Champion brand name, and was one of the last Champion pictures filmed before the company was phased out.
Disc two has three separate items.
— Harry Pollard's The Danger Game (1918) is an hour-long feature produced by Sam Goldwyn, starring Madge Kennedy as a Bohemian 'new woman' and supposed precursor to the next decade's flappers. Star Madge Kennedy would later enjoy a long career as a character actress.
— Étienne Arnaud's Robin Hood (1912) is a half-hour in length, an elaborate telling of the tale produced by a French company for the American market.
— Mack Sennett's A Grocery Clerk's Romance (1912) is an early effort from his brand-new company, a comedy starring Ford Sterling.
The Top photo is indeed of 'World Paragon Studios' in Fort Lee, not Champion. I found a nice related article on the site of the Palisades Interstate Park Commission: Deconstructing 'Cliffhanger'.
---

The Milestone Cinematheque's 2-disc DVD set of The Champion: A Story of America's First Film Town presents good quality prints of these vintage, surviving pictures. The new music scores are a big plus, as is an eight-page insert pamphlet with an explanatory text guide by Richard Koszarski.
End note: why would certain film fans of the 1960s already associate Fort Lee with the movies? Some of the companies making the 8mm digest films we purchased at K-Mart, White Front and other stores, were based in Fort Lee. Ken Films is the company name I remember.
Reviewed by Glenn Erickson

The Champion: A Story of America's First Film Town DVD rates:
Movies: Excellent
Video: Very Good
Sound: Excellent
Supplements: Insert Essay-guide by Richard Koszarsky
Deaf and Hearing-impaired Friendly? N0; Subtitles: None
Packaging: Keep case
Reviewed: September 21, 2017
(5530cham)

Visit CineSavant's Main Column Page
Glenn Erickson answers most reader mail: cinesavant@gmail.com
Text © Copyright 2017 Glenn Erickson