"The Most Beautiful Wife"   The 'double standard' between men and women reveals its roots in paternalistic barbarism, as demonstrated by this quality Italo crime picture about a young woman claimed against her will by a Mafia thug. The gorgeous star Ornella Muti makes her debut; the sinister Mafia punk is Alessio Orano. It's strong stuff, but not exploitative.

La moglie più bella
Blu-ray
Twilight Time
1970 / Color / 1:85 widescreen / 109 min. / Street Date September 6, 2016 / The Most Beautiful Wife / Available from the Twilight Time Movies Store24.95
Starring Ornella Muti, Alessio Orano, Tano Cimarosa, Pierluigi Aprà
Cinematography Franco di Giacomo
Production Design Umberto Turco
Film Editor Antonio Siciliano
Original Music Ennio Morricone
Written by Damiano Damiani, Sofia Scandurra, Enrico Ribulisi
Directed by Damiano Damiani
Reviewed by Glenn Erickson
One doesn't expect an Italian crime film to help bring about social change, but this show may be an exception. Frankly, its dark them fits right in with some of the provocative, pandering political blather we've heard lately, about rape sometimes being 'a good thing' – statements designed to promote a social-sexual tyranny.

This superior crime drama from 1970 is based on the real-life Franca Viola, a Sicilian teenager who defied the combined wrath of both the Mafia and her community. Viola was kidnapped and raped as a way of forcing her to consent to marriage. She held out against social pressure and death threats until the offender was convicted. Damiani's script changes the names but stays with the facts, turning the grim story into a compelling drama.
The prolific Italian director Damiano Damiani found success in a number of genres, including a memorable horror film from a story by Carlos Fuentes, 1966's La strega in amore. At the center of La moglie più bella (The Most Beautiful Wife) is Damiani's fourteen year-old discovery Ornella Muti, who brings everything needed to the role. Pretty enough to turn heads, Muti is also an excellent actress, and convincingly expresses her character's refusal to be defeated by a barbaric custom. Younger audiences know her as the to-die-for Princess Aura in Mike Hodges 1980 Flash Gordon.

The story begins deep in the heart of the Sicilian Mafia. Young thug Vito Juvara (Alessio Orano) swears loyalty as his Don goes to prison for a year. Instructed to keep a low profile, Vito is determined to prove himself a man in his mentor's eyes. Becoming infatuated with Francesca Cimarosa (Ornella Muti), a young peasant girl, Vito uses his Mafia status to intimidate a rival suitor from the city. Francesca is pleased until she realizes that Vito's domineering and possessive attitude is no pose. When he doesn't get his way Vito becomes abusive; when Francesca refuses to show him what he calls respect — silent acquiescence to his every whim – he turns to violence. Deciding that Francesca is causing him to lose face, Vito kidnaps and imprisons her on a farm, where he rapes her. That's where the horrible injustice begins. Local custom dictates that Francesca is now no longer a virgin and is thus tainted for any possible husband except her rapist. She will have little choice but to marry Vito — if he will have her. Francesca instead goes to the authorities. Not only does her family refuse to serve as witnesses, the police doubt that Francesca will carry through with her complaint, an outcome that Vito is counting on. But even when alone and cornered, Francesca will not give in.
With its shocking subject matter The Most Beautiful Wife could easily have been exploitative and pessimistic. Writer/director Damiano Damiani aims higher and scores a solid hit. In contrast to The Godfather's romantic view of the Sicilian courting scene, Damiani extends the dark satire of Pietro Germi's Seduced and Abandoned into a protest against a cruel unwritten tradition. Vito Juvara is a murderous thug but his Mafia ties afford him more rights than a feudal prince – the ability to intimidate will bend almost any lower-class person to his will. He treats Francesca's parents like dirt while promising gifts and benefits for his bride to be, presuming that her approval will be automatic. Francesca searches for an indication of affection to go with the obvious economic benefit the handsome boy can bring to her family. For his part, Vito is following the cold counsel of his Don: take a good wife who will do what she's told, and keep one's mind on business.

Like any teenager with spirit, Francesca rebels when slighted or taken for granted, choosing to walk home when a private date suddenly turns into a meeting with friends. She wants Vito to open up and share his feelings with her, and he wants her to shut up and do as he says. Then Francesca witnesses a mob killing and tries to back out of her commitment. Her public rejections infuriate Vito, who chooses to settle the issue the old-fashioned way.
The pleasant surprise in The Most Beautiful Wife is that the post-rape story doesn't devolve into a succession of lame action scenes. We instead see Francesca and Vito play a terrible game of domestic warfare. All of society seems to be behind Vito's intended subjugation of the desirable Francesca. Her father won't support her at the police station for fear of losing his pitiful house to the reprisals of Vito's friends. Francesca's little brother, the only direct witness, deserts her as well. The neighbors require little urging to support Vito's vile statement to the police: he claims that Francesca was promiscuous and is causing trouble only to force Vito to marry her. He refused after finding out that she was not a virgin. The object: make Francesca crawl and beg forgiveness, like a good piece of property.
The girl is subjected to the jeers and threats of the townspeople. Her own father refuses to feed her. Vito threatens to burn her father's miserable little granary to the ground. An older woman who went through the same thing and was eventually discarded by her husband refuses to comfort Francesca or give her advice. Backed into a corner, Francesca decides to fight back against her oppressors, in all directions. It's a compelling story.

Film industry regulators were quick to put strong limits on Damiani's hiring of the under-aged Ornella Muti, and the lack of an on-screen rape scene elevates the film to higher plane. Young Muti is magnetically beautiful in much the same way as was Brooke Shields in Louis Malle's Pretty Baby. She carries the role magnificently, especially when battling for her self-respect against heavy odds. Yet this is no insulting latter-day 'empowered woman' fantasy. The price of self-respect is high.
Vito's brutish abuse of Francesca is also mirrored in Malle's later Lacombe, Lucien, in which a despicable French punk collaborates with the Gestapo, and uses his temporary high status to force his attentions on a young Jewish refugee right in her own home. In both stories the real issue is an abuse of power by the opportunistic young male. The cruel-eyed Alessio Orano plays Vito with an almost constant murderous look on his face. He later made an excellent possible demon in Mario Bava's creepy Lisa and the Devil.
Tano Cimarosa is excellent as Francesca's tormented father, who demands that Francesca give in to Vito at the first sign of pressure. He tearfully proclaims himself a coward in public as a way of avoiding his responsibility to his daughter. Italian singer Joe Sentieri plays a reluctant killer in the pay of both Vito and his Mafia competition.
The Most Beautiful Wife keeps us firmly in Francesca's corner throughout the ordeal. This is a city where old women witness the arrest of the Don, and call out blessings to him i- the Mafia tyranny is the accepted norm. The story may be ugly, but it has an upside in that Vito's attacks and the vicious slander in the streets only make Francesca stronger. As did the real life Franca Viola, Francesca does eventually prevail.
---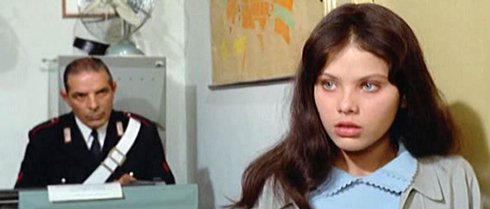 The Twilight Time Blu-ray of La moglie più bella (The Most Beautiful Wife) is a good transfer of this fairly unique Italo drama. The image looks better than the NoShame DVD from ten years ago, but is still somewhat soft. The colors are warm and pleasing. The close-ups of Ms. Muti are remarkable — at one moment she seems pre-pubescent, and the next, adult. Ennio Morricone's music score is well recorded. His main theme is typically eccentric; he would seem to still be in his 'boing-boing' odd noises period, which may have started two years earlier with The Sicilian Clan.
A documentary ported over from the old NoShame disc has lengthy interviews with director Damiani (who passed away in 2012) and the now much heavier Alessio Orano. Interestingly, Orano and Ornella Muti were married five years later. Julie Kirgo's liner notes show appreciation for the unexpected social conscience of Damiano's movie: Italian genre pictures of this time, especially horror films, are usually more exploitative and noted for their pervasive misogyny.

On a scale of Excellent, Good, Fair, and Poor,
La moglie più bella (The Most Beautiful Wife) Blu-ray rates:
Movie: Excellent
Video: Very Good
Sound: Very Good Italian and English tracks
Supplements: Isolated Score Track, Sicily, Ornella, the Mafia, and Beyond; Introduction by Director Damiano Damiani; Original Theatrical Trailer; Julie Kirgo liner notes.
Deaf and Hearing-impaired Friendly? YES; Subtitles: English
Packaging: One Blu-ray in Keep case
Reviewed: September 9, 2016
(5207piu)
Visit DVD Savant's Main Column Page
Glenn Erickson answers most reader mail: dvdsavant@mindspring.com
Text © Copyright 2016 Glenn Erickson