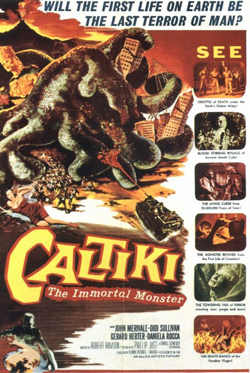 Ernest Dickerson on
Caltiki, The Immortal Monster
Described in ads as a "Slimy Glob of Doom", this large economy-size micro-organism found in a Mayan temple out-slithers The Blob. Directed by Italy's Riccardo Freda, in collaboration with DP-turned-first time director Mario Bava. Formerly a staple of late-nite TV Creature Features, this one has been hard to see in recent years but is now available as a packed-with-extras Blu ray from Arrow.
About Ernest Dickerson
In the tradition of Mario Bava and Jack Cardiff, Ernest Dickerson is an Emmy and Peabody-award winning film and television veteran. The NYU grad photographed many films for director Spike Lee, including Do the Right Thing, Jungle Fever, Mo' Better Blues and Malcolm X. In 1992 he made his feature directorial debut with Juice and has been working steadily ever since with credits like Tales from the Crypt: Demon Knight (starring TFH favorite Dick Miller), Bulletproof, Bones and Never Die Alone. Dickerson's acclaimed TV work includes AMC's The Walking Dead and Low Winter Sun, Showtime's Dexter, and HBO's The Wire and Treme, for which he won a 2012 NAACP Image Award for Outstanding Director.