Alastair Sim's School for Laughter
Staring down his prey with sunken eyes and a sinister smile, Alastair Sim was the fiend Charles Addams never got around to drawing. Sim was a quick-change artist who didn't need makeup to transform from a grasping monster into your favorite uncle – it's why he remains the greatest interpreter of Ebenezer Scrooge. Whether playing a cold-blooded assassin in The Green Man or a kindly army chaplain in Folly to be Wise he understood as well as anyone why the masks of tragedy and comedy are intertwined.
Sim is one of those figures who's been consigned to the history books for decades. But by releasing a Blu ray set of the great man's comedies in 2020, Film Movement Classics, like Scrooge, hasn't lost their senses – they've come to them.
Alastair Sim's School for Laughter 
Blu ray 
Film Movement Classics
1954, '60, '51, '47 / 1.67:1, 1.37:1 / 86, 97, 93, 82 min.
Starring Alastair Sim, George Cole, Joyce Grenfell
Cinematography by Stanley Paley, Erwin Hillier, William McLeod, Douglas Slocombe
Directed by Frank Launder, Robert Hamer, Mario Zampi, Charles Crichton

---
Ronald Searle published his first St. Trinian's cartoon in a 1941 issue of the English humor magazine, Lilliput. The sketches, done in pitch black scrawls that spread over the page like a spider's web, detailed the misadventures of a rowdy band of juvenile delinquents in a floundering boarding school. The "Saint" in St. Trinian's was strictly ironic – these young hellions were nobody's angels. Just as the Belles' popularity was soaring Searle enlisted, spending much of World War II as a POW in Singapore. Finally safe at home in 1945, he revisited the young ladies in a new series that mined distinctly darker but still hilarious material in the blackly comic vein of The Addams Family (Searle's stark style would find other applications; he was a courtroom artist at the Nuremberg trials). When director Frank Launder and producer Sidney Gilliat set to work expanding Searle's one panel gags for the big screen with 1954's The Belles Of St. Trinian's, they sent the kids back to their less aggressive posture but an undeniable aura of menace still hovered over the little brats – you didn't want to cross them.
Launder, Gilliat and screenwriter Val Valentine transformed Searle's troublemakers into flesh and blood humans (well, almost human) and gave them proper classrooms with All Nations Christian College standing in for St. Trinian's. The trio's most inspired creations were the school's headmistress, Millicent Fritton and her twin brother Clarence who makes his living at the track. Equally inspired was the casting of Sim as both twins. Sim in drag is broad comedy in every sense of the word but the actor embraces his feminine side without playing to the cheap seats – he'd be perfect for RuPaul's Drag Race if there was a division for dowagers.
The movie begins with a phone call that will benefit both brother and sister Fritton – a wealthy sultan has landed on St. Trinian's for his daughter's education due to its proximity to his stables. Millicent needs the cash and Clarence, a bookmaker more interested in horse racing than higher learning, is intrigued by the odds.
As in 1950's The Happiest Days of Your Life, a kind of trial run for Belles, greed gets the better of our lovable opportunists and their get-rich-quick schemes go kablooey in the explosively funny finale. Sim is aided and abetted by three indispensable actors, Joyce Grenfell, George Cole and Hermione Baddeley (Cole played the young version of Scrooge in Sim's 1951 showpiece). Searle's Belles take on vivid life thanks to a saucy crew of fleshy young she-devils including Hammer vamp Andree Melly and the ravishing Belinda Lee. The Belles would appear in seven more films – with their wild, spiky hair and devotion to anarchy in all its forms, they presaged punk rock by two decades. And with the release of 2009's St Trinian's 2: The Legend of Fritton's Gold, they outlasted it by another three.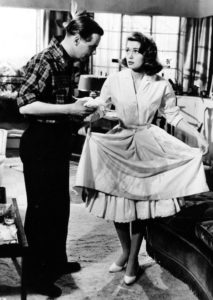 Robert Hamer's School for Scoundrels is a sour satire about moving up in the world and who to step on while you're doing it. The film is stocked with an impressive crew of British funny men including Ian Carmichael, Terry-Thomas and Sim as the life coach who leads his students in the art of oneupmanship. Carmichael plays Henry Palfrey, a born patsy in need of a spine and with the venal Sim in charge, the doctor is definitely in.
Palfrey turns out to be a good pupil – too good in fact for April Smith, his fickle sweetheart-in-waiting played by the exquisite Janette Scott. Unlike Hamer's Kind Hearts and Coronets, the film's cynicism isn't pervasive; this film's protagonist meets a much kinder fate – he gets his diploma and the girl.
Sim glowers impressively but in some respects it's Terry-Thomas's film – as the upper-class twit who comes between Henry and April he's the interloper you love to hate – even though many of his comic set pieces go on longer than they should. That could be chalked up to director Hamer's banishment from the set after falling off the wagon. The movie was completed by the tag team of Cyril Frankel and Hal E. Chester.
Directed by Mario Zampi, Laughter In Paradise is one of the most satisfying movies ever made. Sim joins Fay Compton, Guy Middleton and George Cole as four relations commanded to sing for their supper in order to collect an inheritance. Their late cousin Henry was a practical joker of the first order and his will lays out four separate tasks for each family member – all of them antithetical to each relative's nature. But the movie's emphasis is on "practical" – the assignments are especially contrived to bring out the best and the worst in the poor Russell family.
And the clock is ticking – the heirs have just seven days in which to complete their appointed duties. Compton plays  a shrewish society maven who's commanded to work as a servant. The timid Cole is forced to hold up his bank manager boss at gunpoint. Slimy lounge lizard Middleton must finally surrender to the clutches of matrimony. Sim plays an upright army man who writes lurid crime novels on the sly – he's compelled to get himself arrested. Adding to his anxiety is his fiancée Elizabeth played by Joyce Grenfell – memorably described as "an officer and a lady."
The script by Jack Davies and Michael Pertwee contains the kind of dialog that walks right up to the edge and decides to jump – Grenfell: "Don't try to fob me off!" Sim: "I would never dream of fobbing you." While Sim and company come apart at the seams in their mad scramble for the cash, Zampi wisely steps aside and lets them, as John Huston used to say, "stew in their own juice." The finale of Laughter in Paradise does not disappoint. But once we find that a few of its characters are not what they seem, the unpredictable ending is in some ways entirely predictable.
The man with the gloomiest countenance in British cinema is cast as a writer of comic books in Charles Crichton's 1947 adventure-comedy, Hue and Cry. Sim plays Felix Wilkinson whose weekly penny dreadfuls have a loyal audience in young Joe Kirby and his gang, The Blood and Thunder Boys. Joe is even more intrigued when he realizes the crimes described in Wilkinson's stories are being carried out in the streets of London by real-life mobsters. Hue and Cry is a class act all the way – Crichton's fast-paced and imaginative direction and Douglas Slocombe's brilliant photography produce a uniquely suspenseful experience – a Hitchcockian thriller for the short-pants crowd. George Auric's score is both lyrical and exciting while T. E. B. Clarke's screenplay puts Sim in a supporting role and trains its sights on the nosy kids – giving some of the movie the lighthearted atmosphere of Emil and the Detectives or The Hardy Boys.
This is an Ealing comedy (Sim's only work for the company) so it's no surprise to see Jack Warner appear as Nightingale, a grocer who becomes entangled in the boy's amateur sleuthing. One remembers Warner's coldhearted cheerfulness as Jorkin, the arrogant embezzler in Scrooge – "We're all cutthroats under this fancy linen, Mr. Snedrig." It's best to keep that in mind while watching the avuncular Nightingale charm the young detectives. The film has its poignant dimension – it's set among the actual rubble of London just after the war. Watching the youngsters scrambling over and around the bombed-out storefronts and scaffoldings is a bracing reminder of not just the children's resiliency but England's as well.
Kudos to Film Movement Classics for remembering Mr. Sim – his style of comedy (and drama) has never been matched. The transfers of each film are never less than fine – the standouts being School for Scoundrels and Hue and Cry which are gorgeous. The company continues their odd habit of doing away with subtitles – and the British brogue can be thick. They've also added a number of well-produced extras including interviews with cast members and short documentaries on certain aspects of the films (a contemporary look at the locations for Hue and Cry is particularly moving).
Here's the complete list of extras from Film Movement Classics:
The Belles of St. Trinians
The Girls of St. Trinian's featurette
Interview with film historian Geoff Brown
Interview with Dr. Melanie Williams, Sr. Lecturer in Film Studies, UEA
Interview with Alastair Sim's Daughter, Meredith McKendrick
Interview with Steve Chibnall, Professor of British Cinema, De Montfort University
School for Scoundrels
Interview with Guardian film critic Peter Bradshaw
Interview with Graham McCann, Terry-Thomas biographer
Interview with Chris Potter, Stephen Potter's grandson
School for Scoundrels restored trailer
Hue and Cry
Interview with Steve Chibnall, Prof. of British Cinema, De Montfort University
Locations Featurette