Illeana Douglas on
Theodora Goes Wild
The story of the Sunday school teacher behind a bawdy best-seller, Theodora Goes Wild opened the door to more comedy roles for the usually reserved Irene Dunne. Written by newspaper reporter Mary McCarthy, the 1936 film was directed by Polish immigrant Richard Boleslawski, no stranger to melodrama himself (he juggled all three Barrymores in Rasputin and the Empress). Melvyn Douglas, an expert in high class satire, co-stars as the illustrator of Theodora's risqué novel.
About Illeana Douglas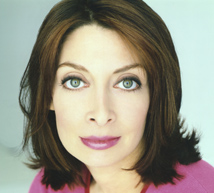 Illeana Douglas is an actress, writer, director, and also the granddaughter of two-time Academy Award-winning actor Melvyn Douglas. Some of her memorable film roles include Goodfellas, Cape Fear, To Die For, Grace of My Heart, Stir of Echoes, Ghost World and others that did very well in Sweden. Illeana created and starred in the multi-award winning web-series Easy to Assemble for IKEA. She is directing the feature Love Is Funny based on her original script. It's a comedy, yes. Illeana is the host of Trailblazing Women on Turner Classic Movies. Her memoir, I Blame Dennis Hopper: Stories Lived In And Out Of The Movies, is available now. She hosts the I Blame Dennis Hopper Podcast, available on iTunes and everywhere else podcasts can be streamed and downloaded.