When appraised in the cold light of day, The Wild Life (1984) stands as a fairly minor '80s teen comedy, lacking the flash of broader, more risqué fare like Porky's (1982) or the great characters that populated instant classics of the genre like 1982's Fast Times At Ridgemont High (more on that in a second), Ferris Bueller's Day Off (1986), or one of this critic's personal favorites, Real Genius (1985). So why are we talking about the film's recent Kino Lorber Blu-ray release at all?
In part, because of the rising talent behind and in front of the camera. The film's cast includes Chris Penn, Eric Stoltz, Lea Thompson, Jenny Wright, Rick Moranis, Hart Bochner and Randy Quaid (and Heart guitarist Nancy Wilson in a fun cameo). The film was penned by a young writer/producer named Cameron Crowe, hot off the success of penning Fast Times, and helmed by that prior movie's producer, Art Linson. Linson was mostly a producer by trade, who had a hand in producing Melvin And Howard (1980), The Untouchables (1987), Scrooged (1988), Heat (1995), and Fight Club (1999), among many others. Linson and Crowe would later reunite for Crowe's 1992 Seattle grunge rom-com Singles (1992), another Linson/Crowe collaboration with a soundtrack that outranks the movie, featuring all-time alt-rock classics like "Would?" by Alice In Chains and "Drown" by the Smashing Pumpkins.
But the main reason we're putting The Wild Life under the microscope today is because of the guy behind the exquisite soundtrack: one Edward Lodewijk Van Halen, contributing his first feature film score after previously dipping a toe into the composing world with his synthesizer-soaked score for The Seduction of Gina (1984), a TV movie about the dangers of gambling starring his then-wife Valerie Bertinelli. Credited alongside King Edward is Donn Landee, his longtime engineer (and later co-producer) on every classic Van Halen album through the 1980s. Landee departed the VH camp ahead of the tormented year-long production of For Unlawful Carnal Knowledge (1991), perhaps this listener's favorite album of the Van Hagar era.
The Wild Life
Blu-ray
Kino Lorber
1984 / Color / 1.85:1 widescreen / 96 min. / Street Date April 13, 2021 / Available through Kino Lorber / 24.95
Starring: Chris Penn, Lea Thompson, Ilan Mitchell-Smith, Jenny Wright, Eric Stoltz, Rick Moranis, Hart Bochner, Randy Quaid.
Cinematography: James Glennon
Film Editor: Michael Jablow
Original Music: Edward Van Halen and Don Landee
Screenplay: Cameron Crowe
Producers: Art Linson, Cameron Crowe
Directed by: Art Linson
Something of a spiritual sequel to Fast Times At Ridgemont High, right down to the stunt casting of its lead troublemaker with the little brother of the prior movie's lead troublemaker, The Wild Life is actually significantly less-wild than its predecessor. The film documents life just beyond high school for the non-college crowd, as represented by newly independent working man Bill Conrad (Eric Stoltz). It takes place during the last week of summer vacation before classes resume at Bill's alma matter, Alexander High School (played by the still-standing Torrance High School), and documents the adventures of a select group of kids within Bill's orbit. The movie is more a pastiche of hangouts and incidents in a very specific time, 1984, and a very particular place, the Southern California suburbs. So we'll map out a lot of the key players and the particulars of their adventures, while taking pains to make special mention of the various standout Eddie needle drops (of which there are many).
Before we even reach Bill, our nominal lead, we meet his little brother Jim Conrad (Ilan Mitchell-Smith), as he breaks into high school and smokes a cigarette in the lobby, singing along to Steppenwolf. Jim is obsessed with all things '60s, from the music down to the Vietnam War strategies. He is found out by an after-hours security guard and forced off-campus, where he promptly rigs some dynamite to explode the head off the mascot sculpture decorating the front lawn.
In a pertinent episode of the excellent '80s movie podcast Two Dollar Late Fee, hosts Zak Shaffer and Dustin Rubin astutely note that, over the course of the narrative, Jim exhibits all the warning signs of a school shooter, a concept that did not even exist in the American consciousness circa 1984. Simpler times (in some respects).
Selfish stud/slacker All-State wrestler Tommy Drake (Chris Penn) is a ne'er-well-hooligan, a high school senior with a predilection for booze and pot who works with the recently-graduated Bill at the local bowling alley. Tommy is a bad influence on basically everybody with whom he comes into contact. Though he is perhaps supposed to be a variation on Sean Penn's Jeff Spicoli character in Fast Times, Tommy doesn't share much in common with Spicoli, outside of looking a lot like him and liking to party. Tommy is a macho letterman jerk who cares only for his own immediate needs. Spicoli was funnier, a stoner metalhead surfer who wouldn't be caught dead playing organized high school sports and prioritized mischief and fun with his friends. Tommy would happily screw over his friends at the first opportunity, as we discover here.
We next meet Anita (Lea Thompson), Donut City cashier and high school senior, the ex-girlfriend of Bill. She's working a late-night shift at a lonely Southern California donut shop. Hot, mustachioed beat cop David (Hart Bochner), who appears to be at least a decade this teenager's senior, puts the moves on her while both are on duty at their respective jobs. We realize that this is the only routine they have, though Anita wants more from her beau than just a good time at Donut City.
Bill is set to move out of his mother's house and into Club Horizon (located a mere 14 blocks away from home), a sort of dumpy singles apartment (albeit with an awesome pool area) that Tommy calls the "woman palace of all time." Bill's new apartment is even pitched to him by his new building super Craig (Robert Ridgely) as "the wild life."
Bill discovers that Anita has been seeing someone new, although David's age and identity are unknown to Tommy or Bill. Even though Bill was the dumper and Anita the dumpee, he approaches her bitterly about it. At upscale clothing shop Fashion Dynasty, Anita meets up with her friend Eileen (Jenny Wright), being awkwardly gawked at by her boss Harry (Rick Moranis).
The characters are all on their unique, intersecting narrative arcs. Tommy and Bill inevitably room together, and the more mature Bill is frustrated when Tommy immediately starts eating his food and throwing ragers. After some half-hearted attempts to date around, Bill (unsurprisingly) realizes he still has feelings for Anita, who in turn discovers that David might be reticent to be seen out with her for a reason. Tommy wants to marry Eileen (mainly as an excuse to throw himself an epic bachelor party), who barely wants to date him and struggles to fend off shoplifters and the uncomfortable advances of Harry. After talking up Charlie (Randy Quaid), the Vietnam vet he idolizes, Jim finds himself disillusioned when he discovers the full extent of Charlie's PTSD.
Characters creep slowly, uncertainly towards a semblance of happiness, wisdom and closure as a new school year arrives, and most relationships and relationships conclude more or less as they should, with the exception of one coupling that is clearly doomed to expire pretty quickly after the movie fades to black.
Despite its superior soundtrack and some great cinematography covering the LA suburban sprawl, a loaded cast and a few party scenes, The Wild Life is not Fast Times At Ridgemont High Part II. The movie is decidedly less intense, and Crowe's more muted script appears determined to tone down the other movie's wackier hijinks for something a bit more realistic (outside of a strip club brawl and the closing party to end all parties, anyway).
The film does a great job of capturing a particular time and pace, and feels attuned to the real attitudes, aspirations and anxieties of this particular working-class slice of high school and post-high school-age LA teens in the mid-1980s.
The biggest issues holding it back from Fast Times-level greatness are two of its ill-fitting leads. For one, the morbid, troubled Jim's character arc hinges on one relatively minor revelation. Sometimes life happens that way, but here it feels like a quick fix. The character is also relatively flat in general. The character that the Blu-ray's commentators even jokingly refer to as "Spicoli II," Tommy, might be the biggest detriment to the picture. If Tommy actually did resemble Spicoli beyond the broad strokes of his obvious genetic resemblance and a general troublemaking ethos, he might have helped take the movie to another level. Even if Tommy was adjusted from the Spicoli mold to be a bit more realistic, in keeping with this movie's relatively more even-keeled and introspective humor, that would have been a marked improvement over the deeply unlikable jerk he proves to be here. Turning Tommy into a slightly more subtle and significantly less-cool stoner comic relief character like Slater (Rory Cochrane) in Dazed And Confused (1993) would have been a more rewarding play, and have more readily explained the relatively confounding hold he has on the other characters. There just isn't much about this guy that's particularly appealing to be around.
Practically everyone involved with the movie would go on to have bigger hits elsewhere in the 1980s, right down to theme song contributors Bananarama, who had a bigger hit that same year with "Cruel Summer," on the soundtrack to The Karate Kid.
Despite this writer's reservations about the characters of Jim and Tommy, props must still be given to casting director Don Phillips, whose eagle eye was also responsible for a lot of the star-making turns in Fast Times and Dazed and Confused (1993). The performers behind Jim and Tommy perfectly fit the vision of Crowe's dialogue, and would go on to cement their status as high-level talents with further memorable cinematic turns. Everyone else is note-perfect, too, in parts that better suit the movie. The doomed romance of the naive Anita and the duplicitous David is a special highlight, brought to thrilling life by Thompson and Bochner in standout performances.
So that's the movie. Now let's dig into the tunes.
The film contains almost 20 portions of Eddie Van Halen solo material, all recorded within Eddie's newly-constructed home studio, 5150. Below is a cataloguing of several EVH needle drop goodies throughout the film, many of which functioned as demos that would later be turned into proper Van Halen songs, with two of the band's three vocalists, across several different albums.
The instrumental track "Ripley," which would become "Blood And Fire" on the underrated David Lee Roth reunion record A Different Kind Of Truth (2012), plays when Tommy Drake tries to buy beer with a fake ID. Dean Devlin, who would go on to become a huge blockbuster producer/screenwriter collaborating with Roland Emmerich on movies like Stargate (1994) and Independence Day (1996), plays the beleaguered store cashier who ultimately denies Tommy his desired beverages. "It's casual," Tommy responds. This refrain would go on to become the only real lasting lingo imparted upon the culture by the flick.
A playful, driving track from Eddie, "Donut City," accompanies our introduction to overnight donut shop cashier Anita and her cop beau David. Eddie packs the track full of off-the-wall, Frank Zappa-esque lead flourishes. Hearing Eddie's guitar over a programmed electronic drum beat is a bit jarring compared to the jazzy, more innovative support provided by Alex Van Halen on the skins, but we make do.
Elsewhere during this Donut City sequence, we are also treated to a quick cutaway of Jim Conrad meeting up with his comrade Tony (Brin Berliner) in the 7-Eleven parking lot en route to Donut City, while Eddie plays a quiet guitar version of what would become the "Right Now" keyboard intro on the Sammy Hagar-era For Unlawful Carnal Knowledge (1991).
When Anita first meets up with Eileen at Fashion City to talk about her relationship drama, we hear the Eddie tune for "Fashion Dynasty." The song may be a pure keyboard construction, featuring a very '80s, very excellent EVH melody on synths atop a programmed drum beat. Only the slinky, slithering bass line may have been recorded away from the keyboards.
Eddie's whammy bar and squeals are in full bloom on "Peeping Tom," a track that accompanies Tom spying on his on-again/off-again girlfriend Eileen. "Out The Window," the instrumental squealing guitar song that Marty McFly uses to convince his dad George (Crispin Glover) he is a space invader named Darth Vader in a pre-Darth Vader 1955 during the first Back To The Future (1985), got its first cinematic workout here during the end of the scene, after Tom makes his way into Eileen's bedroom to talk about their long-term future, and is eventually kicked out.
Tommy pitches himself as a roommate option for Bill while "(Nearly) Good Enough" plays, which returns to score a scene where Tommy, his wrestling buddies, and Bill drink beers and smoke weed as Tommy drives the group to strip club Les Girls. "Good Enough," of course, would be the lead-off track announcing the arrival of the band's second vocalist, Hagar, on his first record with Van Halen, 5150 (1986).
"All Fired Up," a double-time early solo-Eddie rendition of the song that would become the much slower, groovier "AFU (Naturally Wired)" on the Sammy-era OU812 (1988), accompanies the raucous dance party that Tom throws in the apartment near the conclusion of the film, which ultimately results in their being booted from the apartment complex.
As Bill extols the virtues of his new pad to Tommy while striding through the center service lane between bowling alleys at work, Eddie's strutting, chugging "Strike" accompanies their conversation.
The wistful "Love Song," a gentle clean guitar melody from Eddie, plays while a forlorn Anita awaits Hart Bochner at work, sipping a soda sadly.
"Back To School," built around a yearning, hopeful synth melody that easily could have been a "Jump" sequel, scores the film's end-credits. Eddie peppers in some simple-but-effective guitar dives and rhythms throughout.
It's hard to emphasize just how terrific the Van Halen score is. Granted, this note comes from someone who literally owns dozens of Van Halen books and magazines, but any hard rock fan would be hard-pressed to find a more fantastic and era-encapsulating sound than what EVH and Landee cook up here. Almost all of the instrumental compositions are listenable via the indispensable Van Han News Desk. The pop songs that round out the soundtrack can be heard via this Spotify playlist. This critic would recommend using both these links as accompaniment for the rest of this review. I'll wait.
The movie's Kino Lorber Blu-ray exhibits a gorgeous HD remaster of the film print that really lets cinematographer James Glennon's terrific, understated camerawork, mostly detailing nocturnal Southern California youth culture, soar. The package includes an interview with Ilan Mitchell-Smith (Jim), radio ads and the film's theatrical trailer. The highlight, however, is an informative feature-length audio commentary track featuring late writer and podcaster Mike "McBeardo" McPadden and author and DJ Ian Christe, author of the band biography Everybody Wants Some: The Van Halen Story (2008), an excellent cumulative account of the band's history up to the point of publication.
During his interview, Ilan Mitchell-Smith makes the real Chris Penn sound a lot more entertaining than his "fun" on-screen character, Tommy. "Chris Penn was out there," Mitchell-Smith notes. "He was a little intimidating and weird." Ilan Mitchell-Smith tells the interviewer that one minute he would be greeting Penn, who would respond in kind, but that soon Penn would be feeding Mitchell-Smith lines like, "I got no feeling in my face at all, and I haven't for a number of years. You want to punch me in the face? Go ahead and punch me in the face!"
Mitchell-Smith, initially a ballet dancer who was discovered by a talent agent in New York, reflected that he ultimately quit acting because he wasn't passionate about it. He is currently an associate professor in the English department at California State University, Long Beach, concentrating on medieval literature.
Christe reveals that the storyline for Mitchell-Smith's army fatigue-wearing arsonist Jim was ported over from a biopic concerning the young Jim Morrison that Crowe had been writing, which explains why he feels like he was grafted over from another movie.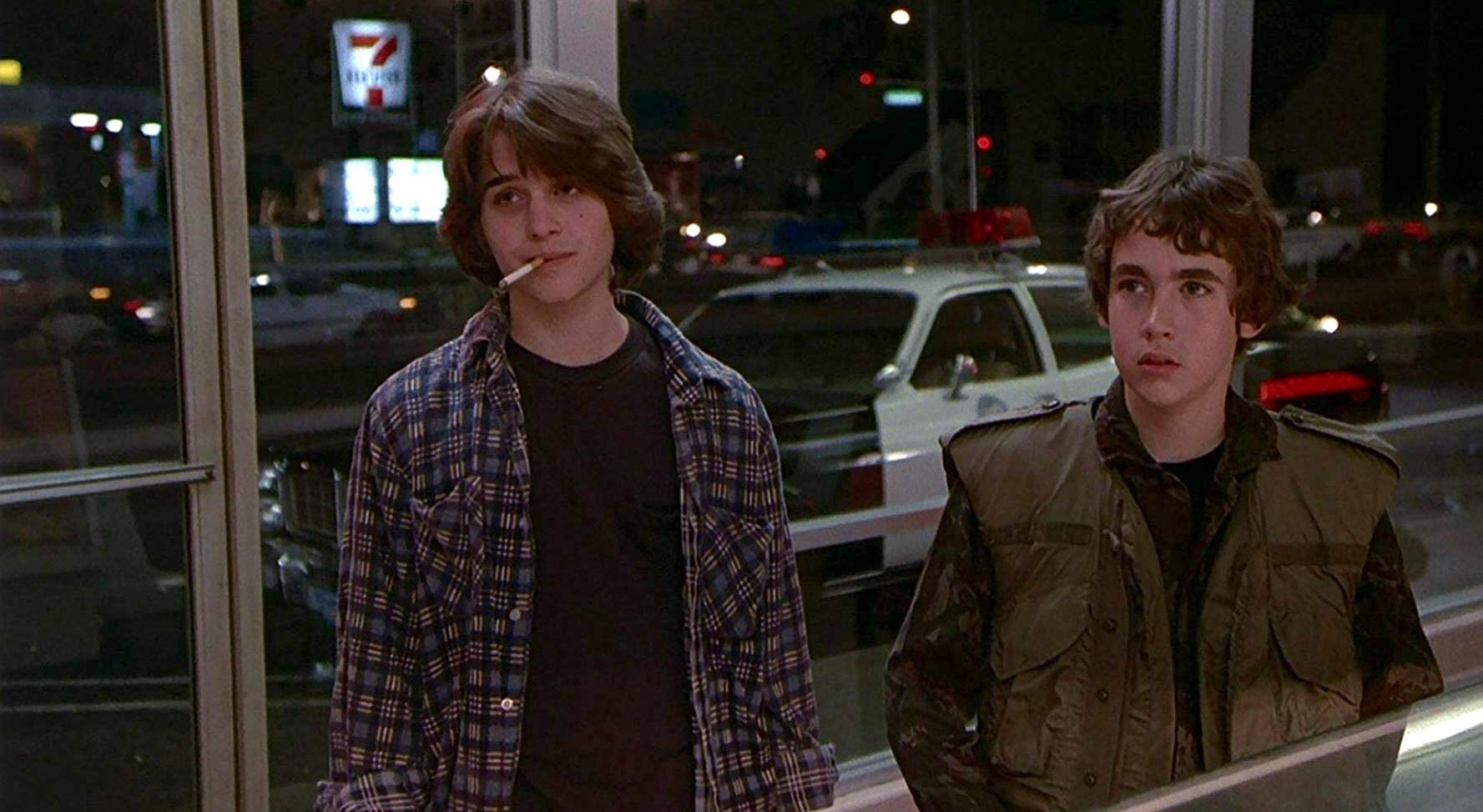 The link between Linson, Crowe and Fast Times was made explicit in the film's advertising campaign, which ultimately may have impeded the movie from repeating the other flick's success. "From the creators of Fast Times At Ridgemont High, comes something even faster," a voice-over narrator promises during the film's trailer, which unwisely features the cinematically-overused Steppenwolf song "Born To Be Wild," a favorite of '60s fiend Jim, over any of the many, many more contemporary tracks that dot the soundtrack, let alone Van Halen and Landee's terrific score. "Born To Be Wild" works as a temporal touchstone to Jim's preferred era, sure, but misrepresents the movie's chief focus: the meandering, very specifically 1984 Southern California life of the young and restless.
The film was a modest success, pulling in an $11 million domestic haul against a $6 million budget. Upon being released on home video, Mike "McBeardo" McPadden notes that a lot of the movie's pricier audio (including tracks by Huey Lewis and Madonna) was swapped out for cheaper alternate tracks. Licensing issues prevented a home video release for the film for many years. But the Eddie tracks, thankfully, have remained with the movie across every home video edition.
Van Halen forever.