Josh Olson on
The Triumph of the Swill
To celebrate the Independence Day holiday, for the entire week we're presenting what may be The Ultimate Trailer From Hell!  It's a transmission from an alternative facts universe. Keep telling yourself, It's Only A Movie. It's Only A Movie. Isn't it?
With thanks to Valerie Breiman and Mitch Watson.
Josh's sartorial T shirt can be ordered here
About Josh Olson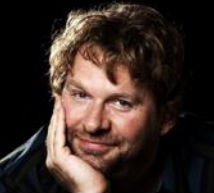 Josh Olson  was the only student in his second grade class to see The House That Dripped Blood.  Many years later, he wrote and directed the no-budget horror film, Infested, a brutal assault on The Big Chill, with zombies. He went on to write the screenplay for A History of Violence and was nominated for the WGA, BAFTA and Academy Awards for Best Screenplay. He kept losing to Larry McMurtry, but that's okay.  He co-wrote the teleplay for the Masters of Science Fiction episode, The Discarded, with Harlan Ellison, and is currently writing a sophisticated thriller, Tabloid, for Mick Jagger.