The Revolt of Mamie Stover
Now it can be told! Or maybe, now it can't be told?  William Bradford Huie's novel of creeping American ambition in Honolulu ends up as a tame vehicle for Jane Russell, who in one of her last big starring movies gives the Hawaiian scenery a run for its money. Raoul Walsh does well in the direction department, but the story has been cleaned up for Sunday School.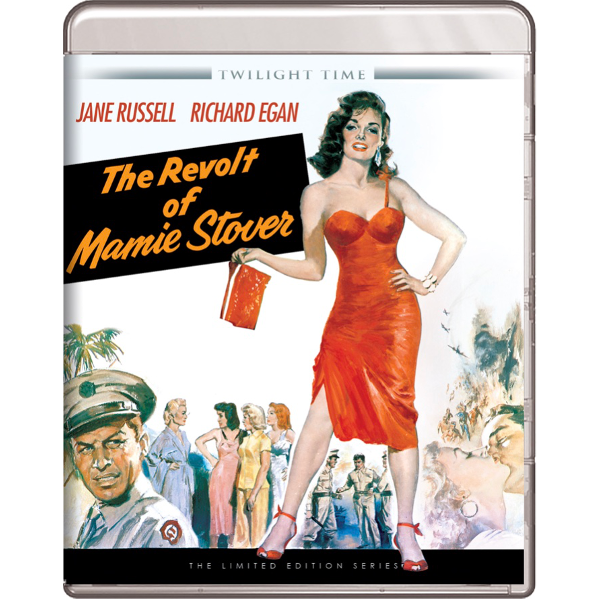 The Revolt of Mamie Stover
Blu-ray
Twilight Time
1956 / Color / 2:55 widescreen / 92 min. / Street Date July 17, 2018 / Available from the Twilight Time Movies Store / 29.95
Starring: Jane Russell, Richard Egan, Joan Leslie, Agnes Moorehead, Jorja Curtright, Michael Pate, Richard Coogan, Alan Reed, Eddie Firestone, Jean Willes, Margia Dean, Sally Todd, Hugh Beaumont.
Cinematography: Leo Tover
Costumes: Travilla
Visual Effects: Ray Kellogg
Original Music: Hugo Friedhofer
Written by Sydney Boehm, from the novel by William Bradford Huie
Produced by Buddy Adler
Directed by Raoul Walsh
What became of strong novels with 'things to say' after Hollywood ran them through the Production Code Office? William Bradford Huie wrote some fierce words about the war and American morals in both this book and his novel The Americanization of Emily. Paddy Chayefsky kept some of Huie's ideas alive for the Emily film adaptation, but the more downbeat The Revolt of Mamie Stover was wrung through the Production Code wringer, losing its hard edge and some unflattering observations about wartime profiteering. What we're left with is a good romance, with great scenery and a 'different' look at the aftermath of Pearl Harbor. But that title is a real winner, no argument there.

It's probably best to begin with Raoul Walsh's movie, produced by Buddy Adler in color and CinemaScope. It's sometime in 1941. Late at night in San Francisco, Mamie Stover (Jane Russell) is put on a freighter out of town, heading for Honolulu. Mamie opens up to the only other passenger, writer and Honolulu native Jim Blair (Richard Egan), who learns of her trouble with the police, and that she's going to work in a Honolulu dance club and clip joint called The Bungalow. A poor girl from Mississippi, Mamie isn't interested in Jim's help to secure a quiet, honest job, as she plans to get as much cash as she can as fast as she can, as to buy her way into respectability. Although the girls at The Bungalow live under the iron fist of the hardened owner Bertha Parchman (Agnes Moorehead) and her sinister strongarm man Harry Adkins (Michael Pate), Mamie manages to sneak out to see Jim. She returns the money he loaned her but continually talks about how she's going to earn enough to live on a hill with the quality people. Billed as 'Flaming Mamie,' Stover soon has a bankroll put away.
Jim has already defected from his girlfriend Annalee Johnson (Joan Leslie) and is almost ready to propose marriage to Mamie, when Pearl Harbor is attacked and war breaks out. He enlists in the Army, while Mamie decides to get rich by buying real estate from people afraid of a Japanese invasion. Jim gets Mamie to promise to stop working while he's gone, but Bertha cuts her star attraction such a good deal that she stays on at the club. Mamie doesn't fall for the Captain (Richard Coogan) who tries to monopolize her free time, but Jim finds out about her work anyway, when another soldier shares pinups he's bought. Will Jim and Mamie remain an item?
In James Jones novel From Here to Eternity the soldiers on Oahu take their pleasures at the Congress Club, a Honolulu brothel that remains open by keeping up outward appearances. The same producer Buddy Adler had to perform diplomatic backflips to secure Army cooperation for his movie version. The Fred Zinnemann movie turned the brothel into a 'social club' where soldiers simply spent their time dancing and chatting with girls. It was the basic Rite of Sanitization by the Production Code, through which American culture took on a veneer of hypocritical denial — our boys, our soldiers, just didn't do such bad things.

So Mamie Stover's big sin is simply being a dime-a-dance girl, in an establishment that enforces rules making it nearly impossible for them to see customers outside the premises. Bertha's girls are not allowed in the hotels or on the beaches, and they can't date. The setup just isn't credible, as the GIs that flock to the club do so just for the privilege of buying expensive watered down champagne and sitting with women in private rooms. The most eager of the clients spends a fortune to see his girl, just to watch her beat him in card games. Are we supposed to imagine that more happens in the private rooms?
The advertising tagline is "Why Did Mamie Stover Have to Leave San Francisco?" but the movie never tells us the answer. Just being seen in a nice hotel causes trouble for the flashy, socially unacceptable Mamie. This only makes sense if The Bungalow is a brothel, so the movie's logic is crippled from the start.
Sydney Boehm's adapted screenplay has the nerve to force Mamie to listen to lectures from a rich guy who lives on the hill. After Pearl Harbor, plenty of nervous property owners sold out to return to the States, in a buyer's market. The movie condemns Mamie for being an avaricious war profiteer, in a climate that invited profiteering. The war ended with a 300 percent increase in millionaires that received awards for patriotism. Mamie's worship of money is considered something terrible, and the only reason seems to be that she's a woman leading a personal revolt against the system that oppresses her.

Author William Bradford Huie repeatedly found powerful stories to tell, as in his source contribution to the superlative Elia Kazan film Wild River. Descriptions of his Mamie Stover book explain that it critiques American culture by showing that even a lowly prostitute could grow rich and powerful due to the 'democratization' of values during wartime. Thanks to the availability of good jobs in wartime industries, the ignorant poor and racial minorities previously subject to discrimination were able to get a leg up, creating a much larger middle class. In the book, the key must be the word Revolt. Mamie is a beautiful, motivated woman who rattles all the doors locked to her. When she fails as a Hollywood starlet, she resorts to prostitution. The movie resorts to the old fairy tale in which a woman tries to get ahead, breaks various conventions, and must of course be punished. The ending of the movie is more than a little depressing. Mamie doesn't so much atone for her sins, as she simply accepts the game that is rigged against her.
An IMDB trivia page lists a purported number of editorial changes imposed on the movie. A key scene dropped is an opening in which Mamie is picked up by a man right on the street in San Francisco, making it crystal clear that she's a prostitute. Besides cleaning up the picture, the changes would seem to make Mamie seem less superficial and venal. An imposed final scene suggests that she has turned 'good.' In the original ending, the IMDB says she continues in Honolulu as a high-priced clip-joint Jezebel.
Most everything else about The Revolt of Mamie Stover clicks nicely into place. Jane Russell plays a hardened dame quite well; from some angles her face is warm and friendly, whereas her hatchet-like profile makes her look angry. Russell carries Mamie as a classy showgirl, and eventually becomes a singer in the club. Her main song, 'Keep Your Eyes on the Hands' is an old joke with hula performances, but also links up with Ms. Russell's previous image promoted by Howard Hughes. A professional record is made of a song about Mamie, indicating that she's something of a hot-cha celebrity. Jim Blair's relationship with Mamie is really an indictment of the old Double Standard. Yes, she works in a somewhat disreputable club, but Jim's complaints only make sense if she's hooking on the side, and she's not. That mires the movie down in the fundamentalist notion that dictates that women shouldn't work, period.
The undervalued Richard Egan comes across quite well as Jim, the writer too ethical to stay in Hollywood. We're told he's a successful writer, and considering his posh lair in the Honolulu hills, we'd have to assume that he comes from money. Jim immediately signs up as an enlisted man after Pearl Harbor. Fair enough, except that he seems to expect Mamie to do nothing. Egan and Russell make a handsome couple, as he looks big enough and man enough to take her on. Therefore it seems a shame for them not to stay together.
Raoul Walsh would direct eight more movies, all competent but none a classic. He may have asked Joan Leslie from his High Sierra to play the thankless role of Jim's purebred girlfriend. Although she'd do a lot of TV work for the next 35 years, this was the talented Leslie's final feature. Agnes Moorehead and Michael Pate are excellent as the film's villains Bertha and Adkins, although we have to read between the lines to figure out their vaguely sadistic relationship. The madam and the enforcer talk mean to the club girls, keeping discipline tight so not to be shut down by the city. The humorless Bertha apparently keeps the white-suited Adkins as a lover, but she also seems to have a hard-case attraction to her star employee Mamie. By the end of the show it's almost as if Mamie is keeping Bertha. I suspect that the book is much more direct about all this.

Jorja Curtright is okay as Mamie's best pal, and I think I spotted Margia Dean (The Quatermass Xperiment) and Sally Todd (Frankenstein's Daughter) among the thirty or so club girls. The cashier is the great Jean Willes (Invasion of the Body Snatchers) who I think served the same function in the Congress Club in From Here to Eternity. 1956 was a big year for Ms. Willes — she also won a featured role in Raoul Walsh's The King and Four Queens.
Pay close attention to the voice of the steamer captain who takes Jim and Mamie to Honolulu … it's Alan Reed, who later did the voice of Fred Flintstone. Reed's a fun joker of a guy — after a few seconds, he also begins to look like Fred Flintstone…
The production is certainly attractive, especially in HD. Leo Tover's cinematography captures the sunny, breezy look of Honolulu. There's just enough gorgeous Hawaiian-shot footage to create a we-are-there illusion, with Egan and Russell splashing in the surf at Waikiki. Raoul Walsh's economical direction doesn't go in for a lot of camera angles, but is flexible enough not to look like an old man's movie.

When December 7, 1941 rolls around we expect just to see a stock shot or two, but the movie stages a pretty good effects sequence. Cutaways to miniatures of ships being hit may have been borrowed from another movie, but if so I haven't seen it. Fighter planes are nicely added to skies, especially in a scene where citizens are strafed in a pineapple field. How so many people got out to the fairly remote pineapple fields at 8 a.m. on a Sunday morning, I don't know. The frightened citizens running in the Honolulu streets motivate Mamie's brainstorm to buy up real estate in panic sales. Finally seeing Mamie Stover on TCM several years ago answered a question about some mysterious shots in a science fiction movie made the next year. I've prepared a separate show-off page about the unusual observation, A Clever, Resourceful Special Effect Surprise.
The great-looking The Revolt of Mamie Stover is one of Jane Russell's more attractive pictures after her classic appearance in Gentlemen Prefer Blondes. If the Production Code didn't have such a hammerlock on film content, this could have been a great picture too.
---

The Twilight Time Blu-ray of The Revolt of Mamie Stover is a terrific encoding of this Color by Deluxe beauty. The HD scan looks great, sharp and colorful — Jane Russell's dresses by Travilla are much classsier than those seen in her recent Hot Blood and Gentlemen Marry Brunettes. Twilight Time's box copy calls out the film's aspect ratio as 2.35:1, which should be right for 1956. But the Fox scan of the movie measures out nearer the slightly earlier, wider 2.55:1 Cinemascope ratio. The non-authoritative IMDB lists 2:55 as well. In some shots there appears to be a little dead space on the left, where the monaural optical soundtrack would go.
A music track is provided in 5.1 DTS-HD MA. Hugo Friedhofer's brassy score uses a key theme that for its first few notes exactly copies the main theme of Pete Kelly's Blues. It's still attractive. Various Hawaiian songs and older Fox-licensed cues (Kalamazoo) are worked into the club music. The movie manages at least some feel for the year 1941 — including some very attractive cars.
Julie Kirgo's liner notes extol the unappreciated film career of Raoul Walsh. The one video extra is a surviving remnant of a trailer, now completely faded. It reminds me of some of the faded Fox collection prints screened for us back at UCLA. If the film elements for the main feature faded at all, one can't tell by Twilight Time's disc, which looks sensational.
Reviewed by Glenn Erickson
---

The Revolt of Mamie Stover
Blu-ray rates:
Movie: Good
Video: Excellent
Sound: Excellent
Supplements: Isolated Music Track, Julie Kirgo liner notes.
Deaf and Hearing Impaired Friendly? YES; Subtitles: English (feature only)
Packaging: One Blu-ray in Keep case
Reviewed: July 25, 2018
(5785revo)

Visit CineSavant's Main Column Page
Glenn Erickson answers most reader mail: cinesavant@gmail.com
Text © Copyright 2018 Glenn Erickson