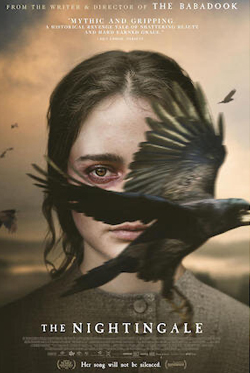 Brian Trenchard-Smith on
The Nightingale
This brutal revenge drama was director Jennifer Kent's follow-up to her sleeper hit, The Babadook. Irish actress Aisling Franciosi plays a convict named Clare Carroll whose abuse at the hands of her captors is only the beginning of the nightmare visited upon her and her family. Some scenes were so grueling therapists were made available for potentially traumatized actors. The film won the Special Jury Prize at the Venice Film Festival in 2018.
About Brian Trenchard-Smith
Brian Trenchard-Smith has been burning to make genre films ever since seeing Hitchcock's Vertigo at age 13. So far he has directed 42 Crimes Against Cinema, and counting (He's an enthusiastic recidivist.) The Fantaspoa International Fantastic Film Festival recently gave him a career achievement award. His cult hits include The Man from Hong Kong, Turkey Shoot, BMX Bandits, Stunt Rock, Dead End Drive In, The Siege of Firebase Gloria. He has also made over 100 trailers ranging from Hammer horrors to Australian films of the 70′s and 80′s. His latest film is Drive Hard, a quirky action comedy with John Cusack and Thomas Jane. He hopes to shoot a Sci-Fi action picture in Tianjing, China later this year. Brian shares a passion for history with his wife Byzantine historian Dr. Margaret Trenchard-Smith. His first novel Alice Through The Multiverse, and his autobiography Adventures in the B Movie Trade, are available on Amazon and Kindle.