Larry Karaszewski on
The Man in the Gray Flannel Suit
Based on a novel by Sloan Wilson and directed by Nunnally Johnson, The Man in the Gray Flannel Suit follows the lead of The Best Years of Our Lives as it traces the trajectory of a troubled World War II vet while at the same time explicitly addressing the effects of PTSD (referred to in the 50's-approved term for uncomfortable mental health issues as "flashbacks"). Star Gregory Peck is surrounded by a powerhouse supporting cast including Jennifer Jones, Fredric March and Lee J. Cobb.
About Larry Karaszewski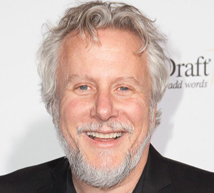 Larry Karaszewski with his writing/directing/producing partner Scott Alexander are best known for writing unusual true stories. They created the hit television miniseries "The People v O.J. Simpson: American Crime Story" for which they won the Golden Globe, the Emmy, the PGA and WGA Awards. They also won the Golden Globe and WGA Award for the film "The People vs Larry Flynt." Other movies include the Oscar winning "Ed Wood" (WGA nomination), "Big Eyes" (Independent Spirit nomination), "Auto Focus" and "Man on the Moon." The team has been inducted into the Final Draft Screenwriting Hall of Fame. Larry is an active Los Angeles cineaste hosting a long running film series for the American Cinematheque. He is also a Governor for writers branch of the Academy of Motion Pictures Arts and Sciences.