Michael Schlesinger on
The Killer That Stalked New York
Based on the Cosmopolitan story about a real-life health crisis, Earl McEvoy directs this uniquely noirish thriller from a script by Harry Essex. Evelyn Keyes stars as a smuggler sick with Smallpox trying to pass off some hot diamonds while infecting everyone she meets. The 1950 film features a great B-movie cast with Lola Albright and Whit Bissell. The music is by Hans Salter, composer for dozens of Universal monster movies.
About Michael Schlesinger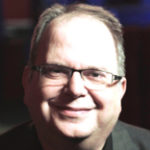 Michael Schlesinger is widely acknowledged as the dean of classic film distributors, having worked for more than 25 years at MGM, Paramount and Sony, keeping hundreds of vintage movies in theatrical release (and later DVD), and instigating the restoration of many more, including the completion of Orson Welles' 1942 documentary It's All True some 50 years later. Behind the camera, he wrote and produced the American version of Godzilla 2000, co-produced such Larry Blamire parodies as The Lost Skeleton Returns Again and Dark and Stormy Night, and has written, produced and directed several short films featuring the faux-1930s comedy team of Biffle and Shooster. No power on Earth will ever convince him that It's A Mad Mad Mad Mad World is not the Greatest. Movie. Ever.