Psycho killers long ago lost their novelty, but in 1956 Budd Boetticher and Wendell Corey gave us Leon 'Foggy' Poole, a screen original with limitless appeal. Imagine a time when 'normalcy' was so taken for granted that any weird behavior was enough to give us the chills? Foggy carries this crime potboiler with a refreshing new idea: his dangerous maniac looks more normal than normal people.
The Killer Is Loose
Blu-ray
ClassicFlix
1956 / B&W / 1:85 widescreen / 76 min. / Street Date June 13, 2017 / 29.98
Starring: Joseph Cotten, Rhonda Fleming, Wendell Corey, Alan Hale Jr., Michael Pate, John Larch, Dee J. Thompson, Virginia Christine.
Cinematography: Lucien Ballard
Original Music: Lionel Newman
Written by Harold Medford, story by John & Ward Hawkins
Produced by Robert L. Jacks
Directed by Budd Boetticher
A smartly directed mid-fifties noir with a sensational central performance from the overlooked Wendell Corey, The Killer is Loose shows director Budd Boetticher at ease with a modest budget, creating good crime-story suspense. Thanks to actor Corey, the show is also a must-see step in the development of cinematic psycho killers. Although psychology elbowed its way into screen thrillers in the 1940s, villains were rarely actually crazy, just 'Bad.' Anyone depicted as insane exhibited a reassuringly broad range of crazy behaviors — nervous tics, verbal quirks, unmistakably aberrant behaviors. In 1960 Norman Bates got all the attention as a 'nice boy who obeys his mother.' But a few others preceded him, as deranged screen killers that behave 'just like normal people.' Today we're still bothered by killers without instantaneously explainable motivations – after every mass killing, we want a pat explanation for crimes often committed just for their own sake.
The non-stellar United Artists release The Killer Is Loose is for the most part a generic crime revenge story, with the emphasis in the wrong place. The domestic problems of a detective and his wife take up too much screen time, but Wendell Corey's villain runs away with the movie anyway. He's absolutely nuts yet is the most charismatic person we see. At a Savings & Loan (at Pico and Roxbury in Los Angeles) teller Leon 'Foggy' Poole (Wendell Corey) intercedes in a robbery and gets clubbed over the head for his trouble. Only later does Detective Sam Wagner (Joseph Cotten) discover that Poole was the inside man on the job. When the police come calling Poole immediately starts shooting. Thinking him alone in his apartment, Sam bursts through a door and fires in the darkened room, killing Poole's innocent wife Doris (Martha Crawford). Poole is sentenced to ten years for his crimes. Two years of deceptively good behavior earn him a transfer to an honor farm, where he immediately busts out and goes on a killing spree. L.A. detectives go on alert, as Poole swore to retaliate against Sam through his wife Lila (Rhonda Fleming). Just as the cops are baiting a trap for Poole at Sam's house, Lila realizes what's going on and rushes home to be with her husband…
The great Budd Boetticher is known first and foremost as a maker of superior westerns, but his early filmography includes no-budget noirs, adventure stories and movies about his lifelong love of bullfighting, as seen in the superb Bullfighter and the Lady. The Killer is Loose is not quite as cheap as many B&W United Artists programmers from this time, as it has a generally good cast. Cameraman Lucien Ballard shoots with the no-frills 'police story' approach that had supplanted the earlier, more expressionistic noir style. The hazy Los Angeles sunlight is captured very well in the film's many well-filmed exteriors, which include a roadblock out in the semi-marshland behind Marina Del Rey.
Boetticher maximizes his short shooting schedule by concentrating on several cleverly constructed sequences.  Almost half of the script is an only so-so romantic story, with detective Sam Wagner trying to shield his thoughtless wife Lila from the realities of police work. Sam routinely lies to Lila, a foolish habit that would make any spouse doubtful and suspicious. For her part, the air-headed Lila can't be trusted to follow instructions even after she knows the score — she has to go running into harm's way to lend hubby her emotional support. These aren't fatal story points, they're just not very imaginative.
But the other half of the story is inspired. Wendell Corey had just made a positive supporting impression in Hitchcock's Rear Window, and his superb Foggy Poole dominates the movie.  The perpetually confused Poole got his nickname in the Army because of his poor vision. He can't seem to figure out the big picture, but he knows that people have always underestimated him. He's not tethered to any notion of personal responsibility — he feels he has no choice for doing what he does. Poole's utter calm is entirely misleading, as his skewed inner logic makes him murderously unpredictable. "What else could I have done?" he says more than once, as if his own actions are out of his control. He may be the original model for the 'innocent' psycho who sighs, 'Gee, this isn't any of my doing. It's a terrible shame but I just have to kill you.'
Prime responsibility indeed means nothing to Poole. After helping to rob a bank he provokes a gunfight with the police at his apartment. If his wife is so precious too him, why does he so obviously endanger her?  When she's shot down he insists on blaming the cops, specifically Sam. Poole's one-track logic can't be reasoned with. He's on the short list for parole but instead chooses to murder a guard (with a truly brutal improvised weapon) and rush back to carry out his vendetta against Sam and Lila.
The film's best scene is a keeper, a showcase of essential 1950s screen violence. Foggy invades the home of his former sergeant Otto Flanders (John Larch of The Phenix City Story and The Careless Years) and terrorizes Flanders' wife Grace (Dee. J. Thompson). Otto attempts a psychological approach to calm the forlorn-looking Foggy, even though Poole has a .357 Magnum leveled at his navel. As a distraction, Otto asks Foggy to remember that he was no match for him back in the South Pacific, and Poole agrees that it would be easy for Otto to overpower him. Otto's reasoning comes off like a poorly played poker hand in one of Boetticher's Ranown westerns — his only accomplishment is to convince Foggy that he has only one logical course of action. Director John Frankenheimer must have liked Boetticher's inventive climax to this scene, because he duplicated it for a violent moment in his later The Manchurian Candidate.   Every body needs milk!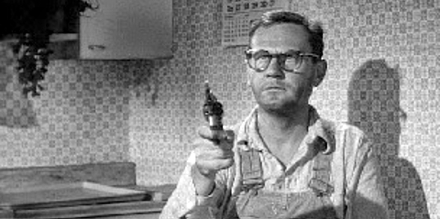 The stakeout at the Wagners' house makes for a tense conclusion that nevertheless feels like a replay of the previous year's The Desperate Hours, directed by William Wyler. The death-in-suburbia motif had already been seen in Shield for Murder and would later be repeated to memorable effect in Don Siegel's remake of The Killers and Burt Kennedy's The Money Trap, which was perhaps the last of the genuine B&W studio noirs and also features Joseph Cotten. All of these killers are trying to beat the system and buy their way into the American dream of home ownership. All they end up with is a patch of mowed lawn to die on.
The film sags when Corey is not on screen, and the entire police end of the show isn't all that compelling. The ill-cast Cotton is a bit long in the tooth to play an action-man detective. Sam Wagner's relationship with Rhonda Fleming's Lila lacks chemistry: were that aspect in balance The Killer is Loose would likely be a suspense classic. The next best performance is from Virginia Christine.  As another cop's wife, Christine gives Lila a powerful lecture about her lousy attitude (while acting Ms. Fleming off the screen). Alan Hale Jr. is a rather dumb cop who flubs a phone tap, and the dependable Michael Pate is Sam's police partner.
I suppose that the screenplay can also be faulted for not making the basic revenge situation fully believable. Hardworking police were surely offended when Detective Wagner practically apologizes to Leon Poole during the arrest. Poole has already shot a policeman, yet Wagner feels responsible for the accidental shooting of the wife?  The same odd spin on responsibility happens at the trial.  First, the judge practically apologizes to Poole. Instead of being cuffed and hustled from the courtroom, Poole is allowed to approach the remorseful Wagner and get a good look at his wife Lila as well (Top Image ↑). Poole has nobody to blame but himself and is indeed fully responsible for the death of his wife. The movie seems insistent on making him the victim, the wronged party.
---
ClassicFlix's Blu-ray of The Killer Is Loose is particularly welcome even though it isn't a special edition with a lot of extras. The previous MGM Limited Edition Collection DVD from 2011 was not a beauty.  This new Blu-ray gives the film back its original widescreen aspect ratio, flattering Lucien Ballard's camerawork and helping to disguise the low budget.
The sharpness of HD pays off in the attractive close-ups of Rhonda Fleming. Eagle-eyed noir fans based in Los Angeles will be scrutinizing street sights to identify the neighborhoods where scenes were filmed. The stretch of Pico Blvd. in the opening scene no longer has undeveloped lots, I can assure you.
Wendell Corey enjoyed lowercase leading man status for several years in the late '40s.  Although his remarkable Foggy Poole became a favorite noir footnote, his career path led only to more supporting roles — a year later he was stooging for Elvis Presley in Loving You. We'll always look upon Foggy Poole as an example of a guy who just couldn't take the pressure and flipped out – like one of the plague of unbalanced, resentful American males causing tragic havoc in modern society.
Reviewed by Glenn Erickson
---
The Killer Is Loose  
Blu-ray rates:
Movie: Very Good
Video: Excellent
Sound: Very Good
Supplements: none
Deaf and Hearing-impaired Friendly? YES; Subtitles: English (feature only)
Packaging: Keep case
Reviewed: October 22, 2017
(5560kill)

Visit CineSavant's Main Column Page
Glenn Erickson answers most reader mail: cinesavant@gmail.com
Text © Copyright 2017 Glenn Erickson
Here's John Sayles on The Killer is Loose: