Illeana Douglas on
The Incredible Shrinking Man
Like its inspiration, Richard Matheson's The Shrinking Man, Jack Arnold's 1957 shocker expertly juggles sci-fi thrills, metaphysics, and a shrewd metaphor for suburban angst in Cold War America. The film is upheld by fine performances from Grant Williams as the humiliated husband who takes up residence in a doll house, and Randy Stuart as his equally embattled wife who has the patience of Job. The life-affirming finale walks a deft line between spirituality and humanism. Producer Albert Zugsmith was simultaneously working with Orson Welles on Touch of Evil and got him to provide 45 seconds of sonorous promo narration for the ads.
About Illeana Douglas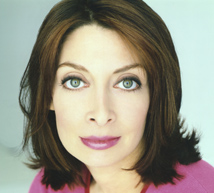 Illeana Douglas is an actress, writer, director, and also the granddaughter of two-time Academy Award-winning actor Melvyn Douglas. Some of her memorable film roles include Goodfellas, Cape Fear, To Die For, Grace of My Heart, Stir of Echoes, Ghost World and others that did very well in Sweden. Illeana created and starred in the multi-award winning web-series Easy to Assemble for IKEA. She is directing the feature Love Is Funny based on her original script. It's a comedy, yes. Illeana is the host of Trailblazing Women on Turner Classic Movies. Her memoir, I Blame Dennis Hopper: Stories Lived In And Out Of The Movies, is available now. She hosts the I Blame Dennis Hopper Podcast, available on iTunes and everywhere else podcasts can be streamed and downloaded.