The biggest, most lavish hook-up between Hollywood and the Pentagon was this Anthony Mann-James Stewart collaboration, a morale & recruiting cheer for America's intercontinental bombing air force, the service that kept the peace by holding up our side of the balance of fear.

Strategic Air Command
Blu-ray
Olive Films
1955 / Color / 1:66 widescreen (VistaVision) / 112 min. / Street Date October 16, 2016 / available through the Olive Films website / 29.98
Starring James Stewart, June Allyson, Frank Lovejoy, Barry Sullivan, Alex Nicol, Bruce Bennett, Jay C. Flippen, James Millican, James Bell, Rosemary DeCamp, Harry Morgan, William Hudson, Strother Martin, House Peters Jr.
Cinematography William Daniels
Film Editor Eda Warren
Original Music Victor Young
Written by Valentine Davies, Beirne Lay, Jr.
Produced by Samuel J. Briskin
Directed by Anthony Mann
In the 1950s America was spending its enormous military budget on a fantastic array of advanced weapons technology, the most expensive of which was an ever-expanding fleet of jet warplanes. Hollywood was enlisted in the effort to promote the peacetime defense build-up, and to show America why military vigilance was a necessity to counter the Soviet threat. Expensive color features with big stars put a warm 'n' fuzzy face on the high security aviation work underway on the nation's many air bases. Alan Ladd played an air ace, Karl Malden a maintainance chief and William Holden a test pilot. Each film preached that the development of ever more sophisticated air weaponry would save us from nuclear annihilation.

The most prestigious of the pictures is Paramount's 1955  Strategic Air Command, an expensive VistaVision epic that received prime Pentagon assistance — we see dazzling looks at the flight lines of Texas, Colorado and Florida air bases swarming with new and experimental jet bombers. Aviation fans flipped out at the authentic flying scenes — the footage of these shining silver jets can only be described as glamour photography, always backed by fleecy clouds and dramatic sunsets. It's a shame that this Cold War aviation pinup movie has waited so long to be released in such an attractive edition — the airmen who experienced this era began passing away twenty-five years ago.
The title institution is usually referred to as SAC. The bombing wing of the Air Force directly countered Soviet aggression by promising to respond with nukes should a war break out. It grew out of the WW2 'scientific' bombing research overseen by General Curtis LeMay, which annihilated civilians in more than one German city just to gather data for more efficient bombing elsewhere. A LeMay counterpart complete with cigar is in the film, played by actor Frank Lovejoy, a fixture in several '50s anti-Commie pictures. Star James Stewart didn't have to be convinced to play the role of a baseball star forced back into the pilot's seat. Stewart might even have originated the project, as he was a Full 'bird' Colonel in the U.S. Air Force Reserve. The Stewart character is a celebrity baseball star who experiences a career interruption when the reserves call him up. It's partly biographical in the sense that Stewart was a celebrity actor who continued to play a major role in the Air Force.
The show takes pains to 'have heart,' to be family and romance-oriented. June Allyson plays wife to James Stewart for the third time. Cast-wise the film is almost a replay of the big Stewart hit The Glenn Miller Story. In addition to Allyson the two films share Jay C. Flippen, James Bell and Harry Morgan in supporting parts. I once saw Strategic Air Command on a museum double bill with The Man from Laramie. When James Stewart did a doubletake at actor Alex Nicol, the audience laughed. We expected Stewart to say, 'Oh, it's you. Now, about those guns you sold to the Indians…'
James Stewart and director Anthony Mann were on a highly successful roll of hits that lasted seven years across eight pictures. Strategic Air Command is a propaganda piece to some, being a sales job to the American public. I think it's benign next to Stewart and Mann's 1953 Thunder Bay, which plays as genuine propaganda for the oil industry's desire to quash resistance to offshore drilling — it makes the case that the objections of fishermen are nonsense, that those oil rigs provide great places for shrimp to spawn, or something like that. The movie valentine to SAC isn't quite as obvious, but it does provide ample ammunition for arguments about the inequity in family and marriage politics in the 1950s.

Screenwriter Beirne Lay Jr. was the top man for successful war aviation pictures, and Valentine Davies had written The Glenn Miller Story. The first thing we see is an ominous title card: "America today is watching her skies with grave concern."  Third baseman Dutch Holland (Stewart) is initially depressed when he's called back for an 18-month tour of duty with SAC. His old buddies Gen. Espy and Rusty Castle (Bruce Bennett & James Millican) try to make it easy for him, while the crusty big cheese General Hawkes (Frank Lovejoy) is the man to please. Dutch prefers flying to being at a desk, and Hawkes likes that. Wife Sally (June Allyson, bright and chirpy as ever) is disappointed but meets the challenge with good cheer and the announcement of a baby on the way. Dutch soon grows enthusiastic about the new work. The Generals let him fly to make him happy even though, as a former pilot of B-29s, he's eight years out of date. The giant B-36 is due to be exchanged for the smaller, faster B-47, and Dutch is mesmerized by the thought of flying one. Even after crashing in Greenland, he wants to stay in the service. When his hitch is up and he's all set to return to baseball in Florida, Dutch tells Sally that he's made the big decision without her: he's staying in. America's defense is more important than personal feelings.
Strategic Air Command has all the military hardware a fan could stand, courtesy of at least a half-hour of gloriously beautiful flying scenes. They were supervised by aerial specialist Paul Mantz, who would later die filming airplane stunts on another James Stewart movie. We also see various security drills SAC throws to defend against possible sabotage. When Dutch arrives on base in civilian clothes, flags drop and General Hawkes takes personal offense. Dutch goes through various physical tests as seen in The Right Stuff. A break-in cruise in a B-36 takes Dutch from Langley Air Base in Virginia to Alaska and back in a single flight. Also like The Right Stuff, when Dutch is flying Sally is terrorized every time the phone rings. But she'll never tell him that she's upset.
Camaraderie among the SAC staffers is high. Alex Nicol plays a 'problem child' flyer who doesn't appreciate dropping his successful business to be a navigator again. Dutch puts his attitude on the mend in no time at all. Dutch flies wearing his baseball cap, forming a parallel with Major Kong and his cowboy hat in Stanley Kubrick's Doctor Strangelove. An air-to-air refueling scene was quite possibly another inspiration for the Kubrick film. It's interesting that the refueling sex scene happens just after Dutch has committed for a new tour of duty. No premarital sex for Dutch, who waits until he reenlists before doing the deed.

We see several interesting aircraft that I recognize from my father's old photos. As expected, the introduction of the B-47 is a dramatic moment, like the reveals of the spaceships Enterprise and the Millennium Falcon. Dutch falls immediately in love with this airplane from heaven. The General promises Dutch a B-47 of his own, effectively seducing him into staying inside SAC. The plane takes off with a rocket assist that comes off as pure testosterone.
With all that SAC cooperation the movie is quite a wonder. One speech explains that all this expensive 'nuke delivery hardware' will prevent war by scaring the enemy with overwhelming force. The theory is debatable but evidence points to it having worked. As far as the military is concerned, we have been in a technical state of war ever since the Iron Curtain dropped.
Yet the movie isn't fully propaganda. General Hawkes is mildly criticized as a flying fanatic; in a verbal confrontation Sally gets the better of his attempt to patronize her. Hawkes: "We've got a job to do, and getting men like your husband isn't easy." Sally: "Don't tell me your little problems general, I am only interested in results.' Hawkes: "Touché." At one point the general seems potentially dangerous. A sergeant sees Hawkes smoking his cigar next to a plane that is refueling. Sergeant: "Sir, that cigar. Doesn't the general know that the aircraft might explode?" Dutch, with a smile: "It wouldn't dare." I can't see a Soviet film poking that kind of fun its own armed forces, but then, I'm not sure I've seen a Russian film with a real sense of humor. The movie does leave some room for criticism and doubt… if one is willing to vote against James Stewart / George Bailey / Mr. Smith.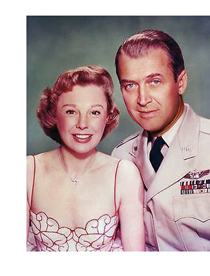 Revisionist critics have had a field day with the film's domestic drama. The cheerful home life portrayed is more or less a complete whitewash of the experience of Air Force wives. June Allyson's picture perfect missus is three kinds of supportive, and whenever she gets testy or makes negative comments she's proved wrong. The structure is a shameless reprise of The Glenn Miller Story. America's favorite bandleader is back from the dead, but fighting for Uncle Sam instead of playing music.
Sally does things that General's wives couldn't do. She gets to drive onto the air base and visit the flight offices; the generals receive her socially during working hours and even visit Dutch's baseball camp in Florida. In reality, the tension in SAC wouldn't give these men much time with their families or to socialize. It should be obvious that SAC bases are top-secret and strictly off limits; the couple of times I accompanied my father to his 'normal-security' flight line, the visit was not encouraged. Anything Sally said that sounded negative would be put in Dutch's record.
Sally is considered a ninny for not getting with the program; she collapses in self-pity when Dutch re-ups with the Air Force. She's not consulted on the decision and it's assumed that she should have no say in the matter: fighting America's enemies comes first. Sally doesn't even get to tell Dutch that she's had a baby — an Air Force doctor leaks the news first. No personal privacy for Air Force wives.
Everyone seems happy at the conclusion although Dutch is disqualified for pilot duty. It's also not likely that he can return to third base for his big league ball club, either. General Hawkes behaves more like a marriage counselor, letting Dutch out of the remainder of his second hitch, with the promise that he'll do PR and fundraising duties for SAC. For Sally the 'dutiful Air Force wife' situation is the same as what happens to her executive wife in Robert Wise's Executive Suite:  both women meekly play by the rules of 'being supportive' and announce their willingness to cave in to whatever their husbands want. After allowing the men to dictate everything — they magically get what they want after all. That's the fairy tale with military 'family' movies.
The show ends with a glorious fly-by as witnessed by the awed faces of our stars. It's great, glamorous public relations for a rich country deep into a military buildup that's claimed a huge chunk of our productivity yet has also kept us secure, if nervously so. It's the most commented-on film about the nuclear air deterrent, and anybody who wants to fully understand the brilliant, subversive satire of Dr. Strangelove needs to see it. What was necessary to James Stewart, Kubrick saw as madness. The SAC motto was indeed "Peace is Our Profession."
A couple of notes: Strategic Air Command had its premiere in March 1955 in Omaha Nebraska, the headquarters of SAC. Dutch Holland's final flight has parallels with Stewart's later The Spirit of St. Louis, when Lindbergh experiences major fatigue in the mid-Atlantic. And one last thing… the Air Force is happy to find Stewart and his navigator alive and well in the wreckage of the plane. But how did they possibly find all those guys who bailed out in the snow in the middle of Greenland?
(Note — the images here do not fairly represent the quality of the disc, which is far better.)
---
Olive Films' Blu-ray of Strategic Air Command is a glorious quality encoding of this VistaVision ode to giant airplanes gliding through skies. The added sharpness comes through, as do the bright colors. The aspect ratio is correct as well. Aviation fans fearing a sub-par presentation have nothing to worry about.
The superb encoding allows us to easily determine the few shots where special effects are used. A jet lands in a storm in one scene, while the crash landing in Greenland is similar to the visuals for the spaceship crash landing scene in George Pal's When Worlds Collide.
Olive offers no extras or commentary, which is too bad. Some really excellent critical essays on the show have been written, and they're not simply anti-military. The movie has personal connections. My father was never in SAC but he was career Air Force all through this period. I don't think he ever saw these movies and I wish we could enjoy them together now. He didn't like aviation pictures in general because the planes always crashed… he was a "why can't we just enjoy the pleasure of getting there?"  flyer, a sentiment expressed in Stewart's Flight of the Phoenix.
Reviewed by Glenn Erickson
---
Strategic Air Command
Blu-ray rates:
Movie: Very Good
Video: Excellent
Sound: Excellent
Audio: English
Supplements: none
Deaf and Hearing-impaired Friendly? YES; Subtitles: English
Packaging: Keep case
Reviewed: October 20, 2016
(5240air)
Visit DVD Savant's Main Column Page
Glenn Erickson answers most reader mail: dvdsavant@mindspring.com
Text © Copyright 2016 Glenn Erickson