David DeCoteau on
Strait Jacket
"WARNING! This picture vividly depicts AXE MURDERS!" Well, not all that vividly. Not as crappy as 13 Frightened Girls, but certainly one more step in director William Castle's mid-sixties decline. Star Joan Crawford had Anne Helm fired as her daughter and replaced by Diane Baker, whose performance she undercut in the editing room. Our favorite moment is the kitchen scene with the six-pack of Pepsi so prominently displayed.
About David DeCoteau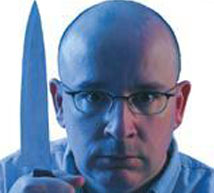 David DeCoteau has worked professionally in the movie business since he was 18 years old. He got his start through a generous offer from movie legend Roger Corman who hired him in 1980 as a production assistant at New World Pictures. In 1986, David directed and produced his first feature film for another generous film legend, Charles Band. David has gone on to produce and direct more than sixty motion pictures over the past twenty five years. He resides in British Columbia, Canada. Learn more about David and his work at Rapidheart.