Shaft's Big Score! / Shaft in Africa
Shaft's Big Score! / Shaft in Africa
Blu ray
Warner Archive
1972, 1973 / 2.35 : 1 / 104, 112 Min.
Starring Richard Roundtree, Vonetta McGee, Frank Finley
Directed by Gordon Parks, John Guillermin

---
Released in 1971 during a notoriously divisive presidential campaign, Shaft was both a middle finger to the powers that be and a sexually charged Black Power taunt – a combination that convulsed 42nd Street audiences while scaring the bejesus out of your average Nixon voter.
For that grindhouse crowd, Richard Roundtree, not Nixon, was The One and his portrayal of the street-smart detective reached far beyond The Deuce – director Gordon Parks' film cost only $500,000 but brought in 13 million at the box office. Sequels were just around the corner.
A year later Shaft's Big Score! reunited Parks, Roundtree and screenwriter Ernest Tidyman while quadrupling the budget in the bargain – the streets are still mean but the volatile mood swings that made the 1971 film a cultural touchstone are swapped out for boilerplate action movie rhetoric – Shaft had become predictable.
Shot during a bitterly cold January in 1972, the film opens in a chilly Queens funeral parlor where a man has just hidden an armload of cash in an empty coffin. Seconds later the place explodes, propelling Shaft out of a warm bed and onto the trail of the missing money.
The weary detective has to deal with a corrupt police chief and two warring mob bosses to get to Mr. Big, a Liberace-like con-man armed with a clarinet and an efflorescent toupee. Those outré trappings seem to act as some kind of wink-wink signifier about the mobster's sexual predilection until it's revealed he has a thing for the ladies – it may be the only surprise in the movie.
For a hard-boiled action thriller the film is downright leisurely in its pacing and the finale – a protracted showdown in which our hero fires bullet after bullet toward an aggressive helicopter – proves that though Shaft may be "a sex machine to all the chicks" he's a still a lousy shot.
The cast is full of memorable faces including the venerable Moses Gunn (Genet's The Blacks and a veteran of Shakespeare in the Park) and Drew Bundini Brown, Ali's cornerman. But none of these exceptional men are able to break through Parks's flat direction, even the swaggering Joe Sarnos as a cantankerous hitman. Thanks to a dispute with Isaac Hayes, Parks ended up writing the score and the loss is palpable – the soul man was as valuable to Parks as Herrmann was to Hitchcock.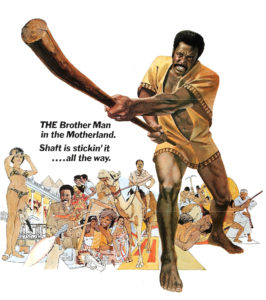 The poster for Shaft in Africa features a 3D illustration of Roundtree thrusting a wooden fighting stick toward the audience, a typically unsubtle reminder of Shaft's not-so-secret weapon.
Directed by John Guillermin, an elegant scene-setter with an expansive visual style, Shaft is quite the globetrotter in this 1973 outing, touching down in France, Spain and Ethiopia for an up to the minute take on slave trading in Europe and Africa.
The son of an Ethiopian tribal chief goes undercover to investigate human trafficking and is promptly murdered by the man behind the racket, a serpentine dilettante played by Frank Finley. The grieving monarch enlists Shaft who's made to endure a rite of passage meant to test his survival skills – fortunately the beautiful Vonetta McGee is there to resuscitate the punch-drunk gumshoe.
The movie is hobbled by cheesy exploitation ingredients like a nymphomaniac with a heart of gold but Guillermin, that rare director at home in the great outdoors, is in his element here – there's more than a bit of the King of the Jungle in Shaft's heroics including several tests of strength and cunning that would not be out of place in Guillermin's apeman epics, Tarzan's Greatest Adventure and Tarzan Goes to India.
That lighthearted tone doesn't last – the film takes on an unexpectedly somber – not to mention brutal – tone as Shaft buries more than a few friends along the way and the spectacle of enslaved immigrants is portrayed with a grim, neorealist power.
In a finale that could have been staged as a celebration but instead recalls a bloody recreation of Godard bourgeoisie-bashing Weekend and Island of Lost Souls, Shaft stands aside and allows the slaves to mete out their own justice to the The Man who enslaved them in the first place.
Perhaps due to that bleak scenario Africa tanked at the box office – MGM moved the character to television where Roundtree starred in a short lived series written by Tidyman. It was the end of the road – the Blaxploitation genre was more malleable than anyone could have predicted and the hard-charging Shaft turned out to be lightning in a bottle – brushed aside by the likes of Coffy, SuperFly and Blacula.
Warner Archives has done a terrific job with these new Blu ray releases – both cinematographers Urs Furrer and Marcel Grignon's work really shines. It's a particularly revelatory showcase for Grignon (Is Paris Burning?) – with the skilled Guillermin at his side, Grignon calls up widescreen imagery that would not be out of place in Lawrence of Arabia or Raiders of the Lost Ark.