Sampo
Blu ray
Deaf Crocodile/Vinegar Syndrome
1959 / 2:35:1 / 91 Min.
Starring Anna Orochko, Andris Ošiņš, Eve Kivi
Written by Väinö Kaukonen, Viktor Vitkovich, Grigori Yagdfeld
Directed by Aleksandr Ptushko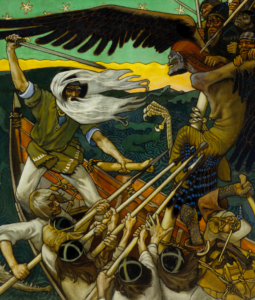 Mosfilm's Sampo, a Russian fantasy from 1959, and Paramount's White Christmas, a Yuletide bauble released in 1954, were both state of the art products of a big studio system. But each were Cold War entertainments driven by very different agendas: White Christmas was a gung ho military musical prettified by candy canes, VistaVision and Technicolor. Sampo was a movie out of time—a gravely beautiful folktale set in a bone-chilling winter wasteland. In short, America ladled on the optimism while Russia served up existential dread with a little popcorn on the side.
Mosfilm, aka "Russian Hollywood", was a monolithic entity with the combined creative juice of MGM, Universal, and Paramount under one roof—established in 1920, the studio was a dream factory for visionary directors and their epic imaginations. Aleksandr Ptushko was one such filmmaker—at the age of 27 he began his tenure at Mosfilm manufacturing marionettes for children's films before commandeering the director's chair for his own animated tales. In 1933 Mosfilm released The New Gulliver, Ptushko's feature length adventure combining stop-motion puppetry, live action, and the usual Russian agitprop (the overworked miners of Lilliput stage a revolution against the greedy monied class).
Praised by Chaplin and cited by the great Czech animator Karel Zeman as a singular influence, Gulliver was also a substantial success at the box office. Mosfilm awarded the director his own production unit, "The Ptushko Collective", where he supervised the creation of fourteen animated comedies, a freewheeling time that took a World War to distract the young filmmaker. When peacetime returned, Ptushko embarked on a series of live action folktales; 1946's The Stone Flower, 1953's Sadko, and 1956's Ilya Muromets—or as American children knew it, The Sword and the Dragon.
Sampo followed in 1959—a Russo-Finnish history lesson enlivened by magic, poetry, and heroic derring-do, it was a Classics Illustrated comic come to life in Dyaliscope and 4 Track Stereo. Ptushko enlisted three men—lyricist Väinö Kaukonen and screenwriters Viktor Vitkovich and Grigori Yagdfeld—to condense the tales of the Kalevala, a voluminous collection of Finnish folk songs that were kept alive from generation to generation simply by being sung.
Mosfilm partnered with the Finnish company Suomi–Filmi to produce Sampo and the film opens with the logos of both studios standing side by side. But Suomi–Filmi's modest crest cowers in the shadow of the imposing Mosfilm logo, a steely salute to Russian fortitude by sculptor Vera Mukhina called Worker and Kolkhoz Woman.
The sculpture fades from view only to be replaced by another statuary resting in Helsinki's Esplanadi Park; a bronze effigy of two musicians framed in front of a glorious lakeside (according to the late film scholar Alan Upchurch, Ptushko filmed the film's extraordinary exteriors in Helsinki's national parks and Lapland). The stiff-jointed figures come to life like the giant Talos in Jason and the Argonauts—but instead of laying waste to mankind, they begin to sing (Sampo is as much a musical experience as White Christmas). The primitive special effects are jarring yet otherworldly—we're not in Kansas anymore.
Andris Ošiņš is Lemminkäinen, a golden-haired adonis first glimpsed navigating an unruly river with a fallen tree as his surfboard—even in the midst of that balancing act he manages to keep an eye on the prim maiden Annikki, played by the equally blonde and beautiful Eve Kivi (all the villagers seem to share those flaxen locks, they're kissing cousins to The Time Machine's Eloi tribe). Annikki's brother is Ilmarinen, a burly blacksmith with hair as red as the flames of his forge—he's tasked with building the Sampo, a mystical horn of plenty that can feed the hungry peasants.
But Ilmarinen lacks a special ingredient for this magical recipe, the "fire of heaven"— it was stolen by Louhi, an intimidating crone with an eagle's profile and a scowl worthy of Ivan the Terrible—her crooked posture mirrors Pohjola, the craggy mountain range she calls home (a truly awful place, the film's art director, Lev Milchin, might have been influenced by painter Arnold Böcklin's Isle of the Dead).
The actor/director Anna Orochko—one of Lenin's godchildren—plays Louhi, a fearsome sorceress with diabolical tricks up her long sleeves; to force the smithy to create the Sampo for her own use, she sends her black cape fluttering across the lakes (recalling the crow-like Wicked Witch of the West circling Oz) where it finds Annikki and kidnaps her—it's up to Lemminkäinen and Ilmarinen to rescue the fair maiden. But the vengeful Louhi is no quitter—she steals the sun and reduces the planet to a frozen orb.
In 1962, Sampo was retrofitted, given a face lift by an outfit named Renaissance Films to make it more palatable to U.S. audiences—and like all face lifts, it was a botch job, a mockery of Mother Nature, not to mention Mother Russia. It wasn't enough to change the title to The Day the Earth Froze, the cast and crew were given new and preposterous monikers; Ptushko became "Gregg Sebelious", Ošiņš became the generic "Jon Powers", and Eve Kivi was reimagined as "Nina Anderson." The unkindest cut was suffered by Ptushko's film itself, losing near 30 minutes of crucial storytelling.
Gone are some of the film's most heart wrenching encounters; Lemminkäinen's death at the hand of Louhi, and his rebirth thanks to his formidable mother who literally walks across water to save him (she cradles him in a pose clearly inspired by The Pietà). And of course the dirge-like songs are missing, the melodies that gave the movie its immemorial quality, a solemn (some might say depressing) approach rarely broached by American fantasies of the 50's. In that respect, The Day the Earth Froze is not such a bad title—Sampo is the coldest of Cold War fairy tales.
Deaf Crocodile's new Blu ray is a wonderful keepsake—the reproduction of cinematographer Gennadi Tsekavyj's work can't be faulted. The disc comes with a feature-length commentary from artist Stephen Bissette and a lengthy Zoom discussion with Dennis Bartok (late of the American Cinematheque), illustrator and graphic novelist Bob Fingerman, and Mike Nelson, writer and host of Mystery Science Theater, whose take on the AIP version of The Day the Earth Froze raised hackles as well as belly laughs.
Inside the slipcase is a reprint of Alan Upchurch's essay on Russian fantasy film in general and Sampo in particular: Russian Fantastika. It was the second of a two part essay first printed in the February 1992 issue of Video Watchdog. The essay is reprinted in a faithful reproduction of VW's layout, paw print and all, and it's a pleasure to experience Upchurch's lucid and unaffected prose once again.
A shout-out to artist Tony Stella who specializes in the reimagining of classic film posters—his lush watercolors bring an epic romantic quality to just about any of his subjects (even Charles Bronson) and his art for this edition of Sampo is no different.
Speaking of art, the painting that introduces this review is 1896's  The Defense of the Sampo by the Finnish painter Akseli Gallen-Kallela.