David DeCoteau on
Ruby
Piper Laurie, still flush with her success in 1976's Carrie, is mother to another supernatural trouble-child in this 1977 possession potboiler from director Curtis Harrington (Night Tide). Laurie plays the titular Ruby whose deaf-mute daughter begins to show signs that her personality has been taken over by the spirit of her dead father, a sleaze-ball mobster executed by his own associates. Perennial tough-guy Stuart Whitman plays Laurie's current lover and Janit Baldwin, who left acting in 1984, plays the levitating teen.
About David DeCoteau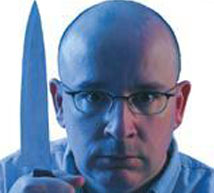 David DeCoteau has worked professionally in the movie business since he was 18 years old. He got his start through a generous offer from movie legend Roger Corman who hired him in 1980 as a production assistant at New World Pictures. In 1986, David directed and produced his first feature film for another generous film legend, Charles Band. David has gone on to produce and direct more than sixty motion pictures over the past twenty five years. He resides in British Columbia, Canada. Learn more about David and his work at Rapidheart.