Michael Schlesinger on
Paris Blues
Martin Ritt's film about struggling jazz musicians in Paris circa 1961 comes with quite a pedigree, including Duke Ellington's soundtrack, Louis Armstrong in a prominent role, and evocative black and white cinematography by the great Christian Matras (Jean Renoir's La Grand Illusion and Max Ophüls's The Earrings of Madame De…). Not to mention two superb American actors in their prime, Sidney Poitier and Paul Newman, each romantically entangled with two equally fine actresses, Joanne Woodward and Diahann Carroll. The screenplay initially paired Newman with Carroll but United Artists was having none of that.
About Michael Schlesinger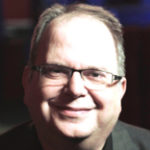 Michael Schlesinger is widely acknowledged as the dean of classic film distributors, having worked for more than 25 years at MGM, Paramount and Sony, keeping hundreds of vintage movies in theatrical release (and later DVD), and instigating the restoration of many more, including the completion of Orson Welles' 1942 documentary It's All True some 50 years later. Behind the camera, he wrote and produced the American version of Godzilla 2000, co-produced such Larry Blamire parodies as The Lost Skeleton Returns Again and Dark and Stormy Night, and has written, produced and directed several short films featuring the faux-1930s comedy team of Biffle and Shooster. No power on Earth will ever convince him that It's A Mad Mad Mad Mad World is not the Greatest. Movie. Ever.