David DeCoteau on
My Bloody Valentine
With a title so good it was adopted as the namesake of a long-running Irish band, this brutal Canadian slasher movie received some cuts itself (totaling nine minutes) for its excessive violence. Hungarian-born director George Mihalka went on to a sturdy career including the Harry Palmer opus Bullet to Beijing starring Michael Caine.
About David DeCoteau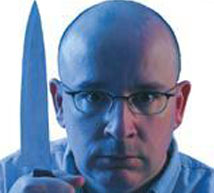 David DeCoteau has worked professionally in the movie business since he was 18 years old. He got his start through a generous offer from movie legend Roger Corman who hired him in 1980 as a production assistant at New World Pictures. In 1986, David directed and produced his first feature film for another generous film legend, Charles Band. David has gone on to produce and direct more than sixty motion pictures over the past twenty five years. He resides in British Columbia, Canada. Learn more about David and his work at Rapidheart.