David DeCoteau on
Monster on the Campus
A late entry in the 1950s Universal International monster gallery, this is mostly composed of leftover ideas and props from the glory days. Still, there's a level of studio professionalism that its indie competitors could never match. Perennially affordable sci-fi leading man Arthur Franz, infected with the blood of a prehistoric fish, turns into a Neanderthal who chases pretty coeds and comes to (natch) a bad end out on the backlot.
About David DeCoteau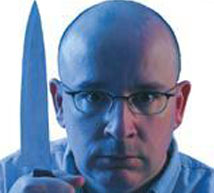 David DeCoteau has worked professionally in the movie business since he was 18 years old. He got his start through a generous offer from movie legend Roger Corman who hired him in 1980 as a production assistant at New World Pictures. In 1986, David directed and produced his first feature film for another generous film legend, Charles Band. David has gone on to produce and direct more than sixty motion pictures over the past twenty five years. He resides in British Columbia, Canada. Learn more about David and his work at Rapidheart.