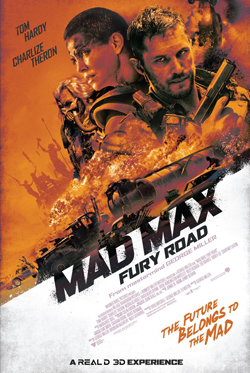 Brian Trenchard-Smith on
Mad Max: Fury Road
Director George Miller takes his adrenalized action epic The Road Warrior and injects it with an unholy supercharged mix of psychotropics and nitroglycerin. The result is Mad Max: Fury Road; no less combustible than Road Warrior but filmed with a hallucinatory fever dream zeal. In contrast to the near non-stop action sequences are sensitive, muted performances from Charlize Theron as the one-armed warrior Imperator Furiosa, broken in body but not in spirit, and Nicholas Hoult as Nux, an enslaved soldier who turns insurgent. Tom Hardy takes over from Mel Gibson as Max. Watch It's a Mad, Mad, Mad Max right here.
About Brian Trenchard-Smith
Brian Trenchard-Smith has been burning to make genre films ever since seeing Hitchcock's Vertigo at age 13. So far he has directed 42 Crimes Against Cinema, and counting (He's an enthusiastic recidivist.) The Fantaspoa International Fantastic Film Festival recently gave him a career achievement award. His cult hits include The Man from Hong Kong, Turkey Shoot, BMX Bandits, Stunt Rock, Dead End Drive In, The Siege of Firebase Gloria. He has also made over 100 trailers ranging from Hammer horrors to Australian films of the 70′s and 80′s. His latest film is Drive Hard, a quirky action comedy with John Cusack and Thomas Jane. He hopes to shoot a Sci-Fi action picture in Tianjing, China later this year. Brian shares a passion for history with his wife Byzantine historian Dr. Margaret Trenchard-Smith. His first novel Alice Through The Multiverse, and his autobiography Adventures in the B Movie Trade, are available on Amazon and Kindle.