David DeCoteau on
Kingdom of the Spiders
The spiders in director John Cardos's 1977 eco-horror film aren't giant-sized but there sure are a lot of them. A small town in Arizona is suddenly overrun by marauding tarantulas and the local vet, played by William Shatner, theorizes it's because pesticides have destroyed the creepy crawlers' natural food supply. The film has gained genuine cult status due mainly to its innumerable cable broadcasts along with the inherent absurdity of Shatner doing battle with an rampaging army of arachnids.
About David DeCoteau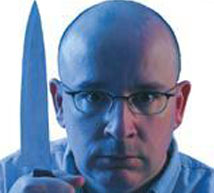 David DeCoteau has worked professionally in the movie business since he was 18 years old. He got his start through a generous offer from movie legend Roger Corman who hired him in 1980 as a production assistant at New World Pictures. In 1986, David directed and produced his first feature film for another generous film legend, Charles Band. David has gone on to produce and direct more than sixty motion pictures over the past twenty five years. He resides in British Columbia, Canada. Learn more about David and his work at Rapidheart.