Illeana Douglas on
Matinee
Joe Dante takes an alternately nostalgic and clear-eyed look at boyhood life in Key West circa 1962 where the busy military base is a daily reminder of nuclear era nerves and the movie theater is the only escape. A bigger-than-life John Goodman plays a free-wheeling director who brings his latest fright film to town in order to gin up excitement while the jets overhead inspire a different kind of anxiety. Co-starring Dante perennials Robert Picardo and Dick Miller and with a touching performance from Cathy Moriarty as Goodman's long-suffering partner in barnstorming and ballyhoo. 
About Illeana Douglas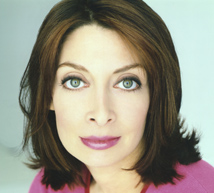 Illeana Douglas is an actress, writer, director, and also the granddaughter of two-time Academy Award-winning actor Melvyn Douglas. Some of her memorable film roles include Goodfellas, Cape Fear, To Die For, Grace of My Heart, Stir of Echoes, Ghost World and others that did very well in Sweden. Illeana created and starred in the multi-award winning web-series Easy to Assemble for IKEA. She is directing the feature Love Is Funny based on her original script. It's a comedy, yes. Illeana is the host of Trailblazing Women on Turner Classic Movies. Her memoir, I Blame Dennis Hopper: Stories Lived In And Out Of The Movies, is available now. She hosts the I Blame Dennis Hopper Podcast, available on iTunes and everywhere else podcasts can be streamed and downloaded.