Illeana Douglas on
Human Desire
Fritz Lang's fraught melodrama about love, lust and murder packs a special punch thanks to the volatile presence of Broderick Crawford as a jealous railroader and Gloria Grahame as his two-timing wife. Glenn Ford plays the poor army vet caught in their web.
About Illeana Douglas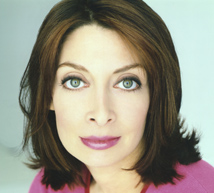 Illeana Douglas is an actress, writer, director, and also the granddaughter of two-time Academy Award-winning actor Melvyn Douglas. Some of her memorable film roles include Goodfellas, Cape Fear, To Die For, Grace of My Heart, Stir of Echoes, Ghost World and others that did very well in Sweden. Illeana created and starred in the multi-award winning web-series Easy to Assemble for IKEA. She is directing the feature Love Is Funny based on her original script. It's a comedy, yes. Illeana is the host of Trailblazing Women on Turner Classic Movies. Her memoir, I Blame Dennis Hopper: Stories Lived In And Out Of The Movies, is available now. She hosts the I Blame Dennis Hopper Podcast, available on iTunes and everywhere else podcasts can be streamed and downloaded.