David DeCoteau on
House of Whipcord
House of Whipcord, director Pete Walker's S&M take on women in prison films, could be considered a template for present-day horrors such as Saw and Hostel and though most of the violence in Whipcord is offscreen, Walker manages to sustain a queasy atmosphere that packs a contemporary punch. The story of a senile judge and his sadistic lady friend who officiate over a private "prison" for wayward girls, this 1974 film is notable for its strong performances and politically charged subtext assailing the English courts.
About David DeCoteau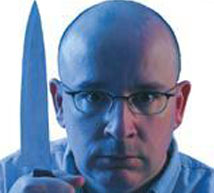 David DeCoteau has worked professionally in the movie business since he was 18 years old. He got his start through a generous offer from movie legend Roger Corman who hired him in 1980 as a production assistant at New World Pictures. In 1986, David directed and produced his first feature film for another generous film legend, Charles Band. David has gone on to produce and direct more than sixty motion pictures over the past twenty five years. He resides in British Columbia, Canada. Learn more about David and his work at Rapidheart.