Hammer Volume Two: Criminal Intent
With nearly two years of worthy Blu ray releases under their belt, ranging from traditional favorites like To Sir With Love to rare essentials like Jack Clayton's The Pumpkin Eater, it can be said that UK's Indicator has finally shed their rookie status. Their newest effort is Hammer Volume Two: Criminal Intent, a well-programmed package of that studio's little seen crime films featuring two minor classics and a couple of honorable misfires, all in glorious black and white.
---
The Snorkel
1958 – 74 Minutes
Written by Peter Myers and Jimmy Sangster
Produced by Michael Carreras
Directed by Guy Green
Featuring the sloppiest killer this side of the Coen Brothers and the least curious investigator since Chief Wiggum, 1961's The Snorkel, with its urbane villain and Riviera scenery, is positively Hitchcockian in its intent but definitely not in its execution.
Shadow of a Doubt dogs this story of a young teen and her suavely sinister father figure played by Peter Van Eyck. Van Eyck, a veteran of outré German thrillers like The 1,000 Eyes of Dr. Mabuse and budget-busting international productions like The Longest Day, brings a sideways leer and rotting smile to the role of Paul Decker, a homicidal social climber working his way through an entire family to get to their bank account.
Van Eyck's polished sadism generates some low-level intrigue in stark contrast to his listless cast mates including Mandy Miller as his suspicious step daughter, Betta St. John as her dense but beautiful companion and Grégoire Aslan as the inept sleuth who enters a crime scene and quickly exits, leaving behind a trail of unexamined clues. Armed with a snorkel, Decker's modus operandi involves hiding under a floorboard while overhead his victim is gassed to death. He leaves enough wiggle room for the dimmest detective to find him out but time and again his carelessness is rewarded.
Of course Decker's dumb luck runs out when he's moved to attempt one final murder. The sequence builds to a powerfully grim finale but gets cold feet at the last second, lacking the nerve to serve its villain his just desserts.
Directed by Guy Green from a screenplay by Jimmy Sangster, the real draw is the cinematography from Hammer vet Jack Asher (Horror of Dracula) and Indicator's transfer of his work is stellar. The extras include a fact-filled documentary, Undercover Killer: Inside The Snorkel, another edition of Hammer's Women, this time focusing on the lovely Betta St John, an appreciation of composer Francis Chagrin, Four Note Fear and the usual plethora of advertising and movie art.
---
Never Take Sweets from a Stranger
1960 – 91 Minutes
Written by John Hunter
Produced by Michael Carreras
Directed by Cyril Frankel
Behold, Hammer's most terrifying monster.
With 1960's Never Take Sweets from a Stranger the studio produced, in many ways, their one true horror film. Directed by Cyril Frankel, the movie balances authentic tragedy with the lurid shocks of a exploitation film. The result is a real anomaly for Hammer or any other company; a beautifully crafted film that doubles as a uniquely unpleasant endurance test.
Freddie Francis's gravely beautiful photography sets the tone for this glum tale about the molestation of two young girls – an attack whose aftermath is nearly as horrific as the assault itself. The culprit is the town's patriarch Clarence Olderberry (played by Felix Aylmer), a leering old degenerate who owns a police force only too ready to look the other way when trouble calls.
After sufficient moral outrage is brought to bear, Olderberry finally appears before the bar – but it's his victim who's put on trial. The besieged child (played by Janina Faye) finds herself in the witness box where she's forced to endure a second assault – this time from coldhearted barristers and a sympathetic but fatalistic judge.
The movie's grimly realistic approach to those courtroom scenes exemplifies Frankel's past work as a documentarian. He has a cool, unprejudiced eye even in the face of evil and his disdain for hysterics only heightens the horror. That horror intensifies when Olderberry's trial is dismissed – opening the door to the film's horrific climax.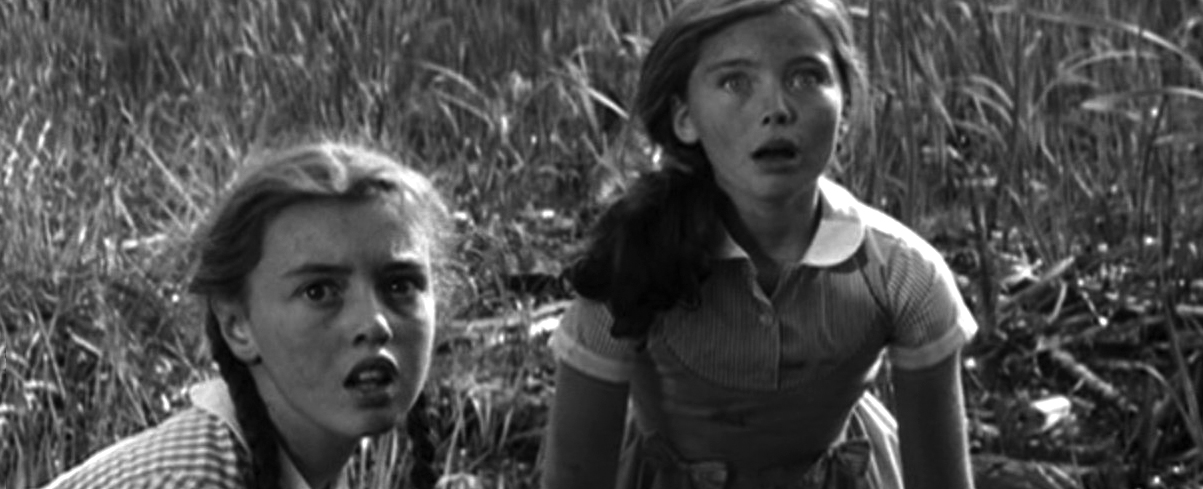 In search of nothing to do, the children are dawdling near the outskirts of town when Olderberry suddenly emerges from the woods – with his billowing white suit and pasty skin the obscene old man is near ghost-like in his appearance, the manifestation of a child's nightmare. The film's heartbreaking finale is a not-so gentle reminder to Hammer fans that real evil won't be vanquished by a handy crucifix or stalk of garlic.
Indicator has put together a solid package for Frankel's shocker, beginning with a superb transfer of Francis's fine photography, a suitable warm-up for his work on The Innocents which finds two children in the grip of a more supernatural kind of terror.
Among the thoughtful extras are the American cut of the film (Never Take Candy from a Stranger) with some nominal censorship of language, a very welcome appreciation of Gwen Watford who plays Janina's mother and an interview with Janina herself, a composed and cheerful woman who looks back on this bleak film with insight and intelligence (as the lost little Tania in Horror of Dracula she has no memories of Mr. Lee's vampire other than the aristocratic actor flapping his cape in the moonlight… what a childhood!).
---
The Full Treatment
1960 – 110 Minutes
Written by Val Guest and Ronald Scott Thorn
Produced by Val Guest
Directed by Val Guest
The Full Treatment begins where Godard's Contempt ended, with a man slumped behind the wheel of a wrecked sports car and a beautiful but bloodied blonde nearby. Gil Taylor's camera begins its ascent revealing a lyrical birds-eye view of the gruesome event as rescuers race to the scene. It's a dynamite opening and the last bit of excitement in this foot-dragging thriller directed by Val Guest.
Ronald Lewis, soon to encounter Mr. Sardonicus, plays the man behind the wheel, an up and coming race car driver named Alan Colby. The beautiful blonde is his wife, Denise, played by Diane Cilento. In the weeks following his recovery, Alan is overcome by abrupt and violent outbursts, particularly when he's near his sexy wife and his blood is up – the movie is like a werewolf movie without the werewolf (the movie's American retitling, Stop Me Before I Kill, could be Larry Talbot's lament).
Claude Dauphin plays Dr. Prade, an avuncular psychiatrist who gives Lewis the "full treatment" which includes hypnosis and sodium pentothal to exorcise the sweaty auto jockey of his demons. But thanks to Guest's less than subtle staging, even a viewer with one eye open will understand Prade's bedside manner is disguising something more sinister. The film works itself into a tizzy for its addleheaded climax with even the villain's fitfully gruesome demise making a half-baked impression.
Gil Taylor, naturally, is the star and Indicator has done his work proud (in just four years he would begin his grand streak with A Hard Day's Night and Dr. Strangelove). Their supplements include the documentary Mind Control: Inside The Full Treatment, a look at Cilento's career and the alternate U.S. cut which leaves the lovely Australian's uncensored bathtub gyrations on the cutting room floor.
---
Cash on Demand
1961 – 80 Minutes
Written by David T. Chantler and Lewis Greifer
Produced by Michael Carreras
Directed by Quentin Lawrence
In 1961's Cash on Demand, Peter Cushing stars as a friendless money hoarder who learns the error of his ways just in time for Christmas. Yes, Hammer finally got around to the story of Scrooge and the result is a tense crime thriller capped with an unexpected dose of holiday cheer.
Set in the suffocating confines of a small bank under siege by a criminal mastermind, the film has the intimacy and immediacy of an off-broadway play. The interloper is played by Andre Morrell and his easy-going crook, full of merry-0ld-England gentility, is clearly not what he seems ("I want bank robberies to be smoother, more sociable", he purrs).
Morrell's elfin spirit suggests a supernatural bent and it conforms to the fable-like aspects of David Chantler's droll screenplay. Director Quentin Lawrence, who made his bones working within the tight constraints of television dramas, maintains the suspenseful narrative with the help of a bank clock that ticks away in real time – a witty contrast to the comforting yuletide snow lightly falling by the window.
Cushing and Morrell, just a year earlier brothers-in-arms as Holmes and Watson in The Hound of the Baskervilles, lock horns with unspoken bonhomie. Morrell's sardonic character allows him to smile through the picture but Cushing is forced to retain his pinched face and grim demeanor till the feel-good finale when he's finally allowed to be as good a friend, as good a master, and as good a man as the good old city knew.
Indicator supplements this mini-Christmas classic with a excellent selection of extras including both the UK and U.S versions (the movie was brutalized in Britain, chopped by almost twenty minutes), a documentary The Perfect Crime: Inside 'Cash on Demand' and an audio commentary from Jonathan Rigby and David Miller. Arthur Grant's cinematography (Quatermass and the Pit) is razor sharp.
---
As is the case for most of Indicator's releases, Criminal Intent is region free. From Indicator's site, here's the complete list of supplements:
• HD restorations of all four films
• Original Mono audio
• New title-specific documentaries exploring aspects of each film
• Audio commentary with film historian Michael Brooke and author Johnny Mains on The Snorkel
• The Snorkel original script ending: reconstruction of the finale of Jimmy's Sangster's screenplay
• Two presentations of Never Take Sweets from a Stranger: with the original UK titles; and with the alternative US Never Take Candy from a Stranger titles
• Never Take Sweets from a Stranger introduction by actor and filmmaker Matthew Holness
• Two presentations of The Full Treatment: the uncensored UK theatrical cut; and the censored US version with alternative Stop Me Before I Kill! titles
• Audio commentary with film historians Jonathan Rigby and David Miller on Cash on Demand
• New and exclusive interviews with cast and crew members, including actors Janina Faye (Never Take Sweets from a Stranger) and Lois Daine (Cash on Demand), props master Peter Allchorne (The Snorkel) and second assistant director Hugh Harlow (The Snorkel)
• Appreciations of composers Elisabeth Lutyens (Never Take Sweets from a Stranger) and Francis Chagrin (The Snorkel) by David Huckvale, author of Hammer Film Scores and the Musical Avant-Garde
• Hammer's Women: Betta St John (2018): Diabolique magazine's editor-in-chief Kat Ellinger offers an appreciation of the American actress, singer and dancer
• Hammer's Women: Gwen Watford (2018): British cinema expert Dr Laura Mayne explores the life and career of the prolific English film, stage and television actress
• Hammer's Women: Diane Cilento (2018): Dr Melanie Williams, author of Female Stars of British Cinema, explores the life and career of the Australian theatre and film actress and author
• Hammer's Women: Lois Daine (2018): critic and author Becky Booth on the popular English film and television actress
• Archival documentaries, interviews and featurettes
• Original trailers
• Image galleries: extensive promotional and on-set photography, poster art and marketing materials
• Exclusive booklets for each film, with new essays by Kat Ellinger, Julian Upton and Kim Newman, archival interview materials, contemporary reviews, and full film credits
Here's Brian Trenchard-Smith on Never Take Sweets from a Stranger: