Bertrand Blier's edgy romp about a pair of ne'er-do-well petty-crooks will go too far for many viewers — they're antisocially chauvinistic in some really outrageous ways. Are they jolly adventurers or just terminally obnoxious?  The twisted social comedy really needs its talented cast: Gérard Depardieu, Patrick Dewaere, Miou-Miou, Jeanne Moreau, Brigitte Fossey, and a very young Isabelle Huppert. The new presentation includes a commentary by Richard Peña.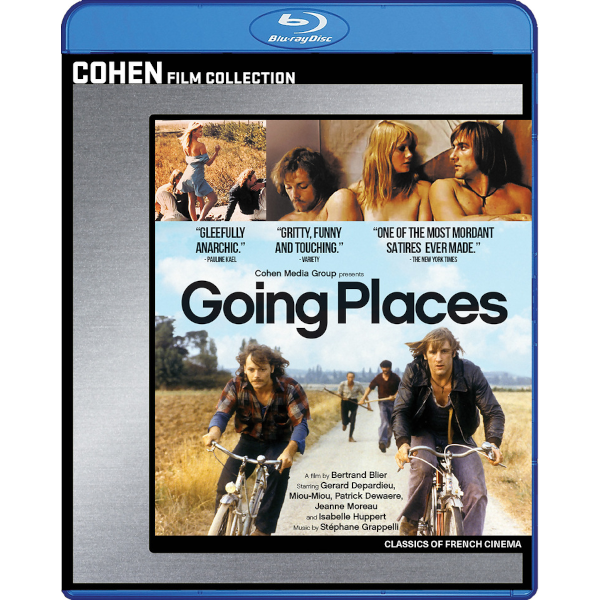 Going Places
Blu-ray
Cohen Film Collection / Kino Lorber
1974 / Color / 1:66 widescreen / 118 min. / Les valseuses / Street Date October 11, 2022 / Available from Kino Lorber / 29.95
Starring: Gérard Depardieu, Patrick Dewaere, Miou-Miou, Jeanne Moreau, Brigitte Fossey, Jacques Chailleux, Isabelle Huppert, Thierry Lhermitte.
Cinematography: Bruno Nuytten
Production Designers: Jean-Jacques Caziot, Françoise Hardy
Film Editor: Kénout Peltier
Original Music:
Written by Bertrand Blier and Philippe Dumarçay from the novel by Bertrand Blier <smaStéphane Grappellill>
Produced by Paul Claudon
Directed by Bertrand Blier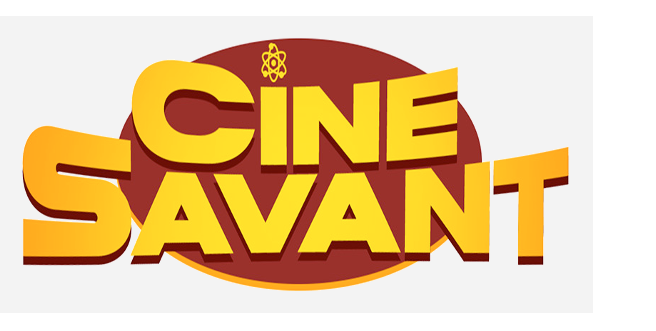 The freedom of the screen that came with America's 1968 ratings system had an immediate impact on filmmaking in Europe. The censors took a back seat, which opened the door for more violence and sex, along with exploitative content in extremely bad taste: cannibal atrocities, S&M erotica with nuns, sex torture by Nazis. As Zero Mostel said on the way to the Forum, "Something for everyone!"
Other writer-directors made better use of the freedom to cross boundaries and shock audiences. Bertrand Blier's Going Places isn't exactly a dirty movie, but it was certainly an eye- and ear-opener in 1974. French audiences received Blier's irresponsible socially liberated shenanigans as high comedy art. His irreverent road movie introduced or brought to prominence several new French personalities while providing an appropriately enigmatic role for the established star Jeanne Moreau.

The movie isn't pornographic, but it does remind a bit of filmic Henry Miller adaptations: Quiet Days in Clichy, Tropic of Cancer. Its main characters are a pair of incredibly self-obsessed bums and petty crooks, serial heels that try to bed every attractive woman in sight and molest any others that cross their path. What Going Places has that the Henry Miller movies lack is an earthy sense of humor that eventually becomes rather sentimental. By any sane measure our larcenous scamps deserve to be scourged within an inch of their lives. Teachers have to deal with clowns like these all the time. But we end up going along with the film's anarchic flow just the same.
The innocuous English-language title Going Places might have attracted casual American moviegoers looking for a lightweight romantic comedy. French audiences got more of a warning, as the original title Les valseuses roughly translates as 'testicles' and/or various off-color functions thereof (we don't wanna know). Jean-Claude and Pierrot (Gérard Depardieu & Patrick Dewaere) drift through life with a steady diet of shoplifting, stealing cars and raising holy hell. Just for fun, they terrorize a woman on the street. They then 'borrow' a fancy Citroen for a joy ride. When the owner shoots Pierrot with a pistol, they steal the man's beautiful and incredibly passive girlfriend Marie-Ange (Miou-Miou). A doctor patches up Pierrot, who has been nailed in the privates. As a gesture of thanks, the boys lift his money as they depart.

The duo's further adventures are highly sexual and shockingly illegal. There is no plan to their madness. They steal cars, motorbikes, and bicycles; when spooked by the cops they simply jump on a train to who-knows-where. Marie-Ange welcomes them at various intervals for non-stop sex, but the boys are frustrated to find that she derives no physical pleasure, no matter what they do. Alone in a train carriage with a nursing mother (Brigitte Fossey, the child star of the classic Forbidden Games), Jean-Claude and Pierrot half threaten, half seduce her into letting Pierrot feed at her breast. It's a revolting kind of half-rape.
A completely different kind of experience awaits when they accost Jeanne Pirolle (Jeanne Moreau), who they imagine will provide them with 'experienced sex.' Jeanne turns out to have just been released from prison, and they misjudge her entirely. They finally 'rescue' a rebellious teenager (Isabelle Huppert) from her bourgeois parents and introduce her to sex with the assistance of Marie-Ange. No particular judgment accompanies any of this; Jean-Claude and Pierrot behave as if they're performing a public service.

One might anticipate some cloud of morality or sword of retribution to fall on our bad-boy heroes, but nothing of the kind ever happens. American movies about hedonistic counterculture lifestyles mostly talked the talk and dispensed puritan punishments, while this French romp … well, you know. The mundane realities of life never seem to catch up with Jean-Claude and Pierrot, life's footloose outlaws.
The movie features copious nudity and plenty of raunchy (but good-humored) sex talk. With her kitty-cat name, Miou-Miou is quite a vision as Jean-Claude and Pierrot's unabashed sex partner. Most of the humor in Bertrand Blier and Philippe Dumarçay's script (from Blier's novel) is a matter of taste. One witty reversal charts with Jean-Claude and Pierrot's scandalized reaction when another lover succeeds in bringing Marie-Ange to an orgasm, something that has eluded their best efforts. They've been fishing in a viaduct like refugees from an old Renoir movie, and are so miffed that they throw their poles away and break the lawn furniture.

The film's most challenging aspect is its overall endorsement of Jean-Claude and Pierrot's cruel notion of 'fun,' as with the molestation of the helpless mother on the train. That scene's relatively positive outcome is even more insulting for being so well played. Not much later, the somber Jeanne Moreau episode introduces a note of accountability into the boys' actions … but only for a brief spell. When one plays with strangers, even these seen-it-all adventurers are bound to encounter surprises.

Barely 20 years old, freckle-faced Isabelle Huppert could easily pass for 13. Her brief scenes begin with a striking 'tell off Daddy' tantrum. Restrictive parents never seem to realize that their perfect kids will bolt from the corral given the right motivation and opportunity. Of course, things rarely turn out this well for impulsive, reckless young people.
The biggest surprise in Going Places comes when we begin to accept Gérard Depardieu & Patrick Dewaere's serious public enemies as 'charming.' Is it only because we tend to identify with film characters, no matter what they do?  Jean-Claude and Pierrot go nose to nose with fussy doctors, hardboiled store cops and even a cocksure foe with a pistol in his hand, and never back down. Depardieu's character even shows a willingness to engage in male-on-male sex play, which Dewaere's Pierrot rejects. The buddy-buddy pair remains resolutely masculine. Pierrot suffers his own crisis of manhood after the shooting incident, when his ability to perform sexually takes a vacation. It's hilarious to hear Jean-Claude coach Pierrot from the sidelines, assuring him that the condition will only be temporary. These guys are consistently funny. That doesn't mean that we would ever want anything to do with anybody remotely like them.
---

The Cohen Film Collection / Kino Lorber Blu-ray of Going Places is a sparkling, colorful transfer. The earlier Blu-ray release from Kino is certainly good-looking; this release has a slightly different aspect ratio, being remastered at 1:66 instead of a slightly wider 1:85.
The good English subtitles might interest viewers learning French, or language instructors — I'm told that Jean-Claude and Pierrot's dialogue is a constant flow of colorful obscene jargon.
This release includes a welcome audio commentary by Professor Richard Peña of Columbia University. He sees Going Places as organized as a sort of dance, with episodes that repeat-with-variation what has gone before. His description of scenes notes that Blier teases at possible sub-plots and themes, and then just letting them go — the film is more 'about' the aimless rhythym of this duo's anarchic spree.
The trailer included is not an original trailer, but a new promo edited for Cohen's theatrical re-issue.
Reviewed by Glenn Erickson
---

Going Places
Blu-ray rates:
Movie: Excellent
Video: Excellent
Sound: Excellent (French dialogue
Supplements: Audio commentary with Professor Richard Peña, Trailer.
Deaf and Hearing-impaired Friendly? YES; Subtitles: English (feature only)
Packaging: One Blu-ray in Keep case
Reviewed: November 11, 2022
(6830goin)

Visit CineSavant's Main Column Page
Glenn Erickson answers most reader mail: cinesavant@gmail.com

Text © Copyright 2022 Glenn Erickson
Here's Larry Karaszewski on Going Places: