Illeana Douglas on
Executive Suite
The president of a sprawling business empire has just died and an all-star back-stabbing party is being held by the surviving members—each one aiming for a shot at the crown. Directed by Robert Wise, the film stars a who's who of Hollywood including William Holden, Barbara Stanwyck, and Fredric March. Nominated for several Oscars, screenwriter Ernest Lehman took home the Writer's Guild Award.
About Illeana Douglas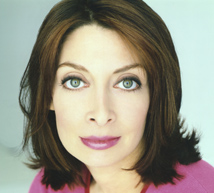 Illeana Douglas is an actress, writer, director, and also the granddaughter of two-time Academy Award-winning actor Melvyn Douglas. Some of her memorable film roles include Goodfellas, Cape Fear, To Die For, Grace of My Heart, Stir of Echoes, Ghost World and others that did very well in Sweden. Illeana created and starred in the multi-award winning web-series Easy to Assemble for IKEA. She is directing the feature Love Is Funny based on her original script. It's a comedy, yes. Illeana is the host of Trailblazing Women on Turner Classic Movies. Her memoir, I Blame Dennis Hopper: Stories Lived In And Out Of The Movies, is available now. She hosts the I Blame Dennis Hopper Podcast, available on iTunes and everywhere else podcasts can be streamed and downloaded.