David DeCoteau on
Darktown Strutters
Veteran western and serial director William Witney, a Tarantino favorite who began his career as a bit player in 1934, cashed in his Hollywood chips with this penultimate, extremely cartoony and uncharacteristic effort. New World picked it up from Roger Corman's brother Gene who produced it with Tennessee financing but was unable to find a distributor. When it proved a bit too bizarre for the general blaxploitation market, NW reissued it two years later as Get Down and Boogie, to similarly meager boxoffice returns. For years this was considered Witney's last feature, but in recent years a German-US western called Showdown at Eagle Gap has surfaced on video from Echo Bridge.
About David DeCoteau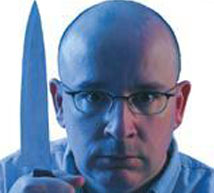 David DeCoteau has worked professionally in the movie business since he was 18 years old. He got his start through a generous offer from movie legend Roger Corman who hired him in 1980 as a production assistant at New World Pictures. In 1986, David directed and produced his first feature film for another generous film legend, Charles Band. David has gone on to produce and direct more than sixty motion pictures over the past twenty five years. He resides in British Columbia, Canada. Learn more about David and his work at Rapidheart.